Tokyo 2016 #7: Unofficial with Budamunk, 16flip, Double Double, jjj and more @ Solfa, 2016.09.10
Tokyo 2016 is a 13 part series of photo & live reports from September, 2016, documenting a deep dive into the city's various underground music scenes.
Hip-hop's history in Japan goes a long way back, as it's been going strong ever since DJ Krush (check my exclusive interview with him here!), Muro and the others laid the scene's foundations in the late '80s. Ever since then, pretty much all hip-hop sub-genres found their way to Japan…. G-Funk, gangsta rap, conscious, grime, abstract… you name it, it is (or in some cases was) there. And as Japan has always been the home for feel-good music, it is no wonder that there are a lot of very mellow, lighthearted acts as well, such as Tokyo Health Club (live + photo report), but the recent craze of dark and violent trap also has a serious following with acts like the kiLLa crew (live + photo report!). And the latter, the new generation of trap influenced acts are starting to get some worldwide attention, however the scene that's been getting the most international praise for quite some time is the more jazzy, soulful kind of hip-hop, best represented by acts associated with the Jazzy Sport and DogEarr labels. And this event was a perfect showcase of that part of the local hip-hop scene, with a dreams-come-true level lineup that featured some of the most excellent acts around, both DJs and live acts, and included one of the best known names, the boom bap addicted Budamunk, who is known mostly for his smooth instrumentals and his collaborations with both local and overseas MCs (this one being his latest).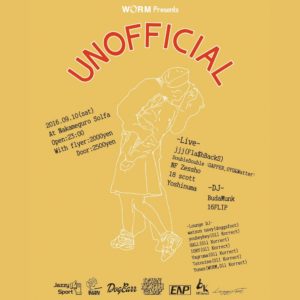 The party was organized by shoe specialist store Worm and took place at Solfa, a small venue in the Nakameguro district, that mostly holds underground electronic music events… house, techno, EDM, breakbeats and so on, but they also have a couple of hip-hop nights each month. The club itself has two halls, the main one, where about 150 people can fit in and a lounge area with a small bar (and this time a small merch table as well, jam packed with a lot of great stuff). It is a nice little club, with a very good, underground vibe, the only problem with it is that smoking is allowed in the main room, which is pretty small to begin with and doesn't really have good air-conditioning either, so in a short while there was more smoke than air in there. And well, also, it was quite dark, but that's the norm in small techno clubs, so no surprise there and that was OK actually… even when they turned off all the lights in the room except the tiny little spotlight for the mirrorball during Double Double's performance. Anyways… there were DJs playing in the lounge area as well, but the acts I came for all played in the hall… and even though I originally planned to check back to the lounge once in a while, the lineup was just so perfect in the main room, that I could not get myself to get away from there. It featured four DJs, all of them also known as beatmakers (Yoshinuma, Budamunk, 16flip and watter) and four live acts (NF Zessho, 18scott, jjj and Double Double) and while the DJs were all pretty damn good (and it was especially nice to see two of my fave hip-hop producers, Budamunk and 16flip live), as they were mostly spinning underground US hip-hop tunes, what they played wasn't that much different from what you could hear at a similar party someplace else around the world, with the exception of the few Japanese tracks that were thrown into the mix here and there. So, it was the live acts, that you definitely cannot see anywhere else outside Japan, that made the night really special.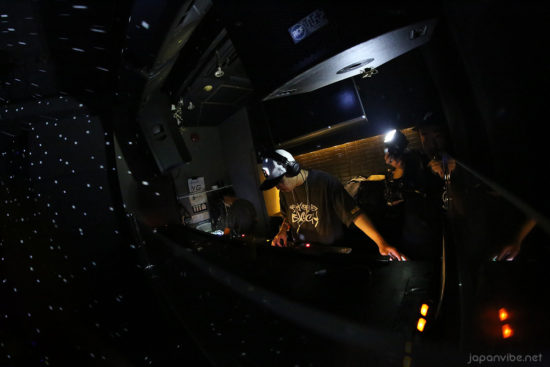 The first of those, by Fukuoka's NF Zessho (with Yoshinuma behind the decks) had that smooth, jazzy feel, that was actually more or less common in all four of the live acts, but he had the most laidback, mellow take on it and his tunes had that chill, perfect-for-summer-evenings mood. Unlike the next act 18scott (whom I actually never heard of before, I guess he is kinda new on the scene?), who had a more edgy flow, with an old-school vibe and a couple of guest MCs. He needs to work on his skills some more, but still, he was fine, however it was the last two acts that I was most curious about and it was them that made a really lasting impression. Both have one album out, both were released in November, 2014 and ranked amongst the best Japanese hip-hop releases from that year. Producer / MC jjj's Yacht Club was an amazingly diverse release, that had everything from sweet little head-bouncers (Am…) to tracks with a much darker tone (the totally mind blowing Tenchu) and he turned out to be excellent live: his unique flow and sometimes super smooth, sometimes more aggressive beats were accompanied with a very suggestive performance style. He was really good and was obviously a fave of the audience as pretty much everyone seemed to known the lyrics. And the same was true for the event's last live performance by Double Double, the duo of OYG and Gapper as well. Their eponymous album was a pretty heavy one, with some of the beats done by Budamunk and the rest by watter, who was behind the decks during their show and who also wrapped up the night after them with yet another fine DJ set. Their performance had by far the darkest tone (and not just because of the above mentioned almost complete lack of lights) with some truly sick beats. And I don't know if was intentional, but it was pretty neat how we all got from the nice and sweet sounds of NF Zessho to the somewhat depressing urban hip-hop tunes of Double Double.
During my last trip in 2009 there was only one good hip-hop show during my stay (but at least there I could see some true legends: Lunch Time Speax and the Illmatic Buddha MCs featuring Dev Large and CQ, plus the short-lived, but equally great Juswanna), so I was really glad that this time I could dig much deeper into the scene… and this one was clearly the best of the three events I went to. For a little preview of what it was like, check the gallery and my videos below or the official aftermovie here.