Tokyo 2016 #3: Tokyo Health Club, Macka-chin, Zombie-Chang, Yosa & MCpero @ Shibuya WWW, 2016.09.04
Tokyo 2016 is a 13 part series of photo & live reports from September, 2016, documenting a deep dive into the city's various underground music scenes.
After the first night's pop & electro party and the next day's hardcore madness at Antiknock, on the third day it was time for… hip-hop. And some more at the release party of Tokyo Health Club's latest album, Vibration in Shibuya WWW, a nice club located in the very heart of Shibuya's fashion & shopping area. And let's start this with a confession: even though this event was all about THC, the main reason I went there was one of their guest acts, the one and only Macka-chin, who's been my favorite Japanese hip-hop producer and MC for a long, long while (more about him here). The event's bill included him and some other acts that were featured on Vibration, but it wasn't clear if they will be there as opening acts or will just show up for their individual tracks during THC's performance… as it turned out, it was the former for most, as all the acts had a short show on their own before the main act hit the stage… except for Macka-chin, who was really just there for that one track he did with the Health Club guys. It was a bit disappointing, but it made sense actually, as besides him all the others are signed to Omake Club, the label behind THC, so the event was more like an Omake Club showcase. And while it was a very interesting event, it was also a bit of a mixed bag, with some truly amazing and some lesser moments.
When we got there a bit before the official starting time, an unannounced hip-hop act was already warming up the audience, but they soon left and a young girl called MCpero took the stage. And… honestly, I don't know what she was doing there. She had a DJ (an occasional MC) playing old-school hip-hop beats, which were OK, but the girl's rapping skills were close to non-existent. No vibe, no flow, no nothing. She sounded more like one of those bedroom acts, that record music just for fun, which is fine, but they should never be let out of the bedroom… still, she's got an album out on Omake, was featured on a THC track and got a spot here. Of course, she might get better with time and a lot of practice as it happened with some other acts… including Zombie-chang who was up next. Her debut album from 2013 was well… not very good and it sounded like an amateurish mass of indie & folk rock cliches. But when she finally returned with an EP in 2015 (get it here for free, along with a lot of other Omake releases) and an album next year, those were a world of a difference compared to her 2013 release, both musically and quality-wise. She left the rock sound behind, turned all electronic and went for an incredibly charming take on '80s influenced synth-pop. Simple melodies, playful vocals and a very sweet and somewhat melancholic atmosphere. Sure, it is all somewhat tacky, but in the best possible and most heartwarming way. And her live performance fit the music perfectly: she was standing behind her gear a bit awkwardly, singing and smiling and looked a bit like as if she was lost in her own little world. The album itself got me hooked on her music, but it was the concert that turned me into a real fan. Her set alone made the evening worth it, but there was more to come.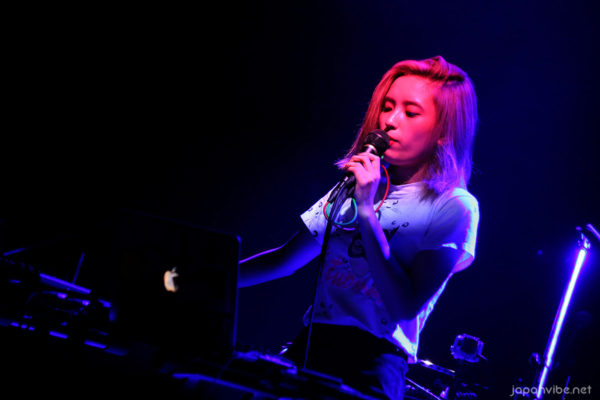 Next up was Yosa, who had an album out on Omake back in April and besides Zombie-chang, he turned out to be the other pleasant surprise of the event. The aforementioned album, Orion has a strong throwback hip-hop sound and it is nice, but nothing too special, however the music worked much, much better live. And this was in part thanks to the long line of guests: a guitarist who played in all the songs, several MCs, including Zombie-chang and the guys from Jabba Da Hutt Football Club and also, Holito, who was using a talkbox and an old Korg synth. The music is kinda jammy and groovy to start with, but it was the guests and the live sound that gave it a much needed strength and variety.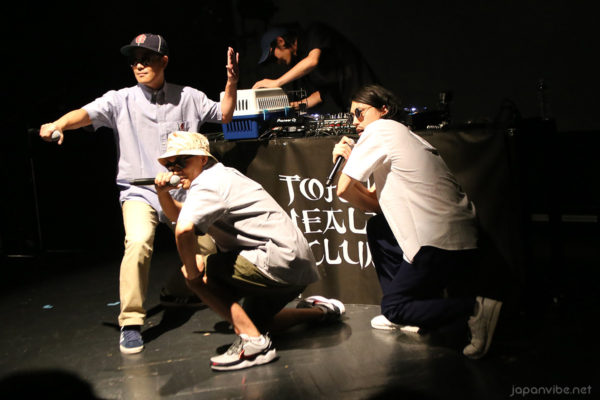 And after Yosa, it was finally time for the main act, Tokyo Health Club. They've been around for a couple of years now, since 2010 and they've been getting more and more popular lately, thanks to their old-school flavored blend of lighthearted hip-hop. Usually this kind of happy, feel-good hip-hop, akin to De La Soul and the like is not my cup of tea, but THC actually has a couple of very good tracks and their show was definitely a lot of fun. You could feel their evident enthusiasm and love for what they do and also, there was always something going on onstage. They had some short sketches, along with some references to their music videos, including their entrance (a nice reference to their most popular video City Girl) and another later, during the performance of tenjiku, when they were wondering around the stage in clothes from the video, where they mess with a lost and thirsty salaryman in the middle of a desert. And of course, there were the guests as well: MCpero, Yosa and Zombie-chang all returned for their features and after them, finally there was Macka-chin himself! He was there for the track called Zurakaru (ズラカル), was introduced as a master and teacher and he proved himself to be one as he easily overshone everyone with his stage presence and his flow was as unique and great as ever. He also gave a little speech about why he is so glad, that this kind of "happy hip-hop" is getting popular again, talked a bit about his new album, that features another version of Zurakaru and even did a little freestyle before he left. His stage time was short, but he definitely made the most out of it. And after that there were only few more songs left, including an encore and the show was over. It was a nice and interesting little event, even if, as I said, it was a bit of a mixed bag, but what was good was very good. And also, this lighter, more… "commercial" sound was a nice contrast to the other two hip-hop events I went to during my stay in Tokyo, which were strictly underground.  Photo reports about those are coming soon… and now, before the gallery, check this video that surfaced about this event with interviews and a lot of live clips.
Tokyo Health Club / MCpero / Yosa / Zombie-chang / Macka-chin / Omake Club