Tokyo 2016 #6: Foxpill Cult, Auto-Mod, Munimuni @ Ikebukuro Chop, 2016.09.09
Tokyo 2016 is a 13 part series of photo & live reports from September, 2016, documenting a deep dive into the city's various underground music scenes.
I always had a soft spot for Japan's small, but unique gothic scene (a scene, that started back in the '80s, nearly disappeared around the '90s, but had a comeback during the next decade) and back in 2009, during my first visit to Tokyo, I was lucky enough to be able to attend both of the city's monthly goth / industrial parties: Tokyo Dark Castle and Midnight Mess. Since then the latter became an irregularly held event and while TDC is still going strong, they skipped September, probably to get ready for their Halloween extravaganza at the end of October. Too bad, but fortunately there were other gothic-related events during my stay and one of these featured Auto-Mod, the band behind Tokyo Dark Castle playing with two younger, but equally awesome bands: the new wavish Foxpill Cult and the dark and strange rock group, Munimuni.
The event took place in Chop, a venue is Tokyo's Ikebukuro district, which is… well, not necessarily the best part of the city. It is safe of course, there are hardly any dangerous areas in Japan, but still, it is a somewhat shady neighborhood, a rather rundown residential area with endless rows of narrow streets and a wide selection of seedy sex clubs and love hotels. And the club itself perfectly fits the surroundings: behind a dirty door with an old neon sign above, you find a flight of stairs leading down, its walls plastered with dozens and dozens of new and old flyers, some dating back to the '90s, advertising deliciously weird bands from the darkest side of Japan's rock music scene… and at the bottom, you find a small and dark room, with a stage in one corner and a dimly lit bar in the other. Pure underground atmosphere that perfectly fits the kind of bands that usually play there… that are some of the country's most eccentric acts.
One of them is Foxpill Cult that was the first band of that night (and the only one I have not seen live before). A very oddball group, playing unique, heavily new wave influenced music with every kind of random musical elements thrown into the mix that you can imagine. Psychedelic rock infused synth pop with a bit of a hip-hop flavour, played with a post punk attitude? Why not!? Oh, did I mention the omnipresent glam rock influence that is present both in sound and looks, mixed with a bit of a goth feel? Oh, and there is a hippie looking guy playing pianica. It is insanely eclectic, but still, all these seemingly random elements fit together into an unlikely, but charming mixture and it works even better live, in part thanks to their eccentric stage presence. To get a better idea of what they sound like, check the videos for their recently released new album.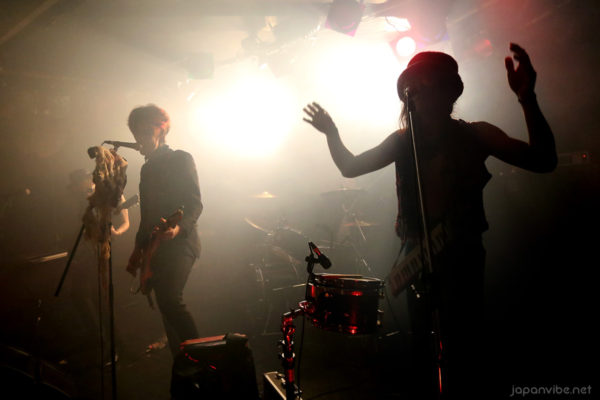 Auto-Mod was up next, led by living legend category singer / leader Genet who's been a central figure of Japan's goth rock scene since the '80s and, by launching the Tokyo Dark Castle parties in 2003 he also played a huge part in the genre's revival. The band itself also started back in the '80s, somewhat disappeared for a while around the '90s, but they've been going strong ever since TDC's inception, where they perform at each and every party, along with an always rotating lineup of guest bands and DJs. And that event attracts a lot of foreigners and is well known worldwide in the gothic subculture, so what always kinda puzzled me is why Auto-Mod never became an internationally known band? As they really got all it takes. Great songs, that follow the classic, old-school sound of the genre, but that are original enough to stand on their own and also… they most definitely got the looks and the stage presence to impress any audiences. Yeah sure, there is the language barrier, but that shouldn't be that much of a problem, so… I just don't know. Anyways, back to the show: most of the band members follow the classic, straight-out-of-the-'80s gothic look, but it is obviously Genet that attracts the eye the most, with his cross-dressing-goth-butoh-dancer outfit, make up and his theatrical performance style, that usually culminates in his trademark reading from a burning book act. But their support member, another legendary figure of the local goth underground, cross-dressing countertenor Selia managed to steal some of the glory with his distinctive visuals and mind blowing vocal capabilities. And the little dance routine he did with Genet was another highlight of the show. All this was backed with pure gothic rock & roll, that reaches back to the very roots of the genre without sounding like some kind of revival retro act… even thought the other two bands were great as well, for me, theirs was the strongest performance of the event.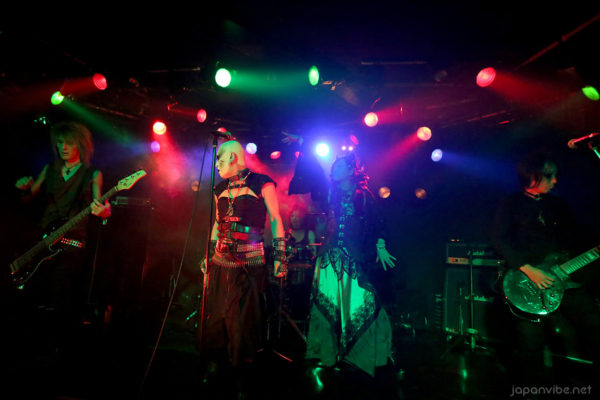 A short break, time for the black clad audience to check the jam packed merch tables and the bar and then time for Munimuni! Back in 2009 they were playing at the very first event I went to after arriving to Tokyo, opening for Lab. The Basement at Shinjuku Loft and I was blown away. I heard some of their stuff earlier and those were nice and all, but their live performance was on another level. I just expected a good show, but it was much more, dark, atmospheric and hypnotizing. And this time, they delivered the same: darker than dark rock, with a post punk edge, sometimes wandering a bit into prog-rock and other territories, performed while covered in thick smoke with only a couple of dimmed lights in the background. It is the kind of music and performance that just grabs you and takes you on a journey to some strange and dark land, with the brooding guitar feedback and the high-pitched, still soothing voice of singer Canou providing the soundtrack for the trip.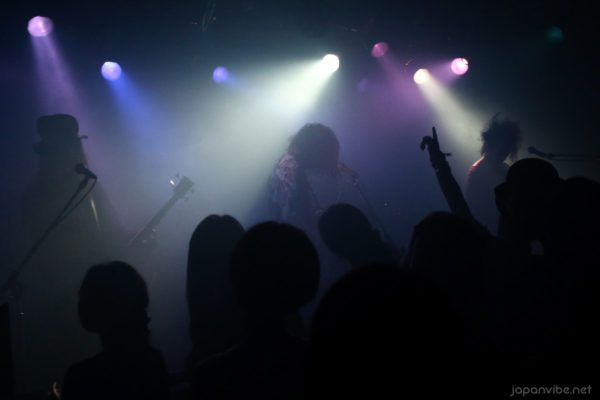 They played for about 35-40 minutes, the usual concert length at these evening events, but when we thought it was over… it wasn't. After a short break, the audience (about 100-150 people?) flocked back at front of the stage, as it was… session band time! Bands that get along well do this from time to time, putting together one-off session units, usually to play some cover song(s) and this was no different: a couple of members from all three bands returned to the stage, fronted by Canou and Genet (now without his usual make up, but sporting a fake, painted on mustache!) and madness and fun ensued in form of a Munimuni cover. A great ending to a great event. But that wasn't all for this trip's Tokyo Gothic Experience, as about a week later it was time for another excellent goth event, headlined by another legendary act, Madame Edwarda, so check back for the photo and live report about that later!
Foxpill Cult / Auto-Mod / Munimuni