From Wild Style to Butterfly Effect – DJ Krush Interview (2015.11)
DJ Krush finally released his new album, Butterfly Effect in 2015, 11 years after Jaku, his previous one, so when he returned to Budapest during the album's tour on 2015.11.19 and I got the chance to do an interview with him before the show we had a lot of topics to cover. But we also had a tight time limit, so I wanted to squeeze in a few questions about everything: the new release, the long break, his influences, and collaborations, both old and new..
While from your debut up until 2004 you was continuously releasing new material, after that you had a long break. You started to release new music again in 2011 with your monthly series, but only came out with a new album now. What was the reason for this long absence from studio works?
It began when my contract with Sony ran out and however I was still making new music after that, I wasn't sure when would be the good time to release a new album and also how to release it. You know, times changed and it was a whole new situation due to the rise of streaming and digital downloads, that happened during this period. So, I was thinking what would be the best way to release the album and that's why it took a little bit of time… and then I realized, that it's been eleven years already!
During the break, you spent a lot of time with touring, you played about 6 or 7 times in Hungary alone. Do you have any special memories from Hungary and did all this traveling changed your view of the World?
Well, maybe. I go to a lot of countries around the World and everywhere I go, I present the style of DJ Krush, but it is also my job to listen, so I might be influenced by the country and its culture. And yeah, as you said I have been to Hungary a lot of times! *laughs* People were always very kind, I got a lot of presents from fans and the audience was always very supportive and they understand a like my music. So, I really appreciate that.
You released your first albums around 1994 and on those you was already working with big international names, such as Guru, DJ Shadow, Ronny Jordan or the Mo Wax guys. How did you hook up with them?
Actually it was different for everyone, so let's list it up. DJ Shadow for example was at Mo Wax, the same UK label that was releasing my music, so James (James Lavelle, the head of Mo Wax) introduced us. And also the three of us were touring together from the very beginning, playing in Germany and around Europe. So, that's how that happened.
As for Ronny Jordan… ohh, I realized that both him and Guru passed away by now. Huhh. So… I was actually asked from Ronny Jordan's side to do a remix album from his tracks. But I did not have enough time, as they said that "Can you do the remixes in a week? Or maybe ten days?" So, I did not have any sleep and was making beats all day long. But that's how we got to know each other and later, maybe two or three years before he passed away, we did a band style performance together at Blue Note in Tokyo. Too bad he passed away, he was such a great guitar player.
And I met Guru when he came to Japan still with Gang Starr and I was taking care of them. We built up a pretty good relationship and we were like, "oh, we should do something together!", so that's what that started.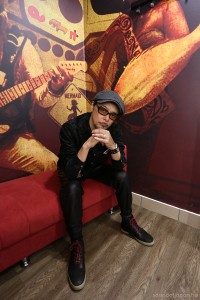 You said in an earlier interview that Wild Style changed your life. How does it feel that since then your music probably had the same life-changing effect on many others?
I am very honored if fans or young kids are really influenced that way by my music. I hope they will be also understanding and respectful and I hope they will one day have the same life style changing influence on others.
You talked about many times how you got hooked on hip-hop thanks to the movie Wild Style. But where did the jazz and the other musical influences came from? Did you encounter these before or after hip-hop?
I got into jazz after I got into hip-hop and I was doing improv sessions with a jazz band. That influenced me and got me interested in different kinds of jazz. But even before I got into hip-hop, I was already listening to the kinds of music that are the base of of hip-hop, for example I was listening to a lot of funk music already.
You always have a very interesting selection of guest artists. On the new album Tha Boss (aka. Boss The MC, from Tha Blue Herb, the legendary hip-hop group from Sapporo) is a familiar face from your earlier releases, but could you tell us about some of the other collaborators and how did you choose them?
For the new album, Butterfly Effect, my concept was to co-operate with at least one vocalist and one rapper. And for example with Divine Styler (the US rapper on Everything And Nothing) we were already in contact way before and we were thinking that it would be great to do some co-operation, to make music together and now we finally had the chance to do so. On the other side, Yasmine Hamdan (the Lebanese born, but Paris based vocalist on My Light) was introduced to me by Bill Laswell, after I heard her music, thought that it was really cool, and I asked Bill if he could get me in contact with her.
When you collaborate with a singer or rapper, do you work together on the basic concept of the lyrics, so it would fit the music? Or they are completely free to do what they want?
For this album I first explained to them about the concept, that the album itself is about the butterfly effect and also sent along the basic track. And from then on we were both involved in the process sending the track back and forth.
Butterfly Effect Release Party @ Vision Tokyo, 2015.09.18 (check DJ Krush's youtube channel for the rest of the videos)

What is DJ Krush doing when he is not being "DJ Krush"? You said a couple of years ago that you picked up photography as a hobby… are you still interested in that and do you have any other hobbies?
No, I kind of stopped taking photos, when I have free time I rather take my grandchild to the park to play catch ball or soccer and maybe I take a beer along with me.
So, when you are not DJ Krush, you are basically a regular family man?
Yes *laughs* And also, about hobbies like photography, the problem is that if I get into something I get really sucked into it, so I said, maybe I shouldn't do this and keep just one thing, so I stick only with the music.
Disclaimer: this interview was originally arranged for soundofjapan.hu.
Thanks for Mr. Tetsu Saito for the translation and for the Vinyl-Digital and Test crew for making this interview possible!