The beginning of a New Era – an interview with Crossfaith
During their latest tour Crossfaith returned to Budapest to play a sold out show at Dürer Kert on 2020.02.22.: it was their third time in the city, but their first as a headline act, so it was an important turning point both for them and their loyal local fanbase. I took this opportunity to finally do an interview with the guys, so we sat down with Kenta (vocals) and Hiro (bass) before the show and I asked them some of the usual questions about their plans and touring and all that, but we also talked about their Osaka roots, Japan's "loud rock" scene, one of their most memorable shows from a few years ago… and about the guy who set fire to his hand for fun during one of their gigs. The interview was arranged for SoundOfJapan.hu, where you can find the Hungarian translation. Some photos from the show are included at the end of this post, while the full gallery, including the opening acts, Ocean Grove and Black Futures was also posted on SoundOfjapan.hu.
You are about halfway thru the tour, how is it going so far?
Hiro: It's been great, we are sharing the bus with Ocean Grove, one of our supporting bands and they are really good guys. In Spain, where we played our first headline show and in Poland we did a great club show after last year when we played there at Pol'And'Rock, a big-big music festival. All the shows so far were great, really energetic.
You recently shocked your fans by completely purging you Instagram account, getting rid of years' of archives. Why did you decide to do that and what is the "New Era" that you mentioned in your first new posts?
Kenta: This year we started our own label which is called Species Inc., so now we are independent from major labels and major management. And now that we have our own company we first cleaned up to be able to start again, that is why we deleted all the past posts. We are going to release a new EP as well, so we really wanted a fresh start. Also, our latest album, Ex_Machina was a sort of a monument for us, so we wanted to start from scratch.
Actually I wanted to ask about upcoming new releases next… so, a new EP is coming up? Any more info that you can share about that at the moment?
Kenta: We already set release date, but I can't tell that to you yet. But it will be out this Spring.
Now that you became independent, will that also bring about a change in sound and direction compared to your earlier, major releases?
Kenta: No, not really, but we always tried to find new things to experiment with since the very beginning of Crossfaith. That will continue and also, you can expect a more mature sound from our new EP.
You released a brand new song, Endorphin just before the tour, can you tell us about that one?
Kenta: About the musical side, it starts off with a '90s rave vibe… you can hear that acid bass sound in the beginning and actually Japanese people did not notice that. But from Western people we got a lot of comments about it on Youtube, saying things like "That acid sound! It brings back memories!" So, musically the main theme of Endorphin is that '90s rave feel. And lyrically it is about people that always struggle to prove themselves, to prove their existence. Some people take a lot of drugs, others get a lot of tattoos to… kinda hide themselves, but the most important thing is the process of facing and then freeing yourself and growing up. That's what the lyrics are about.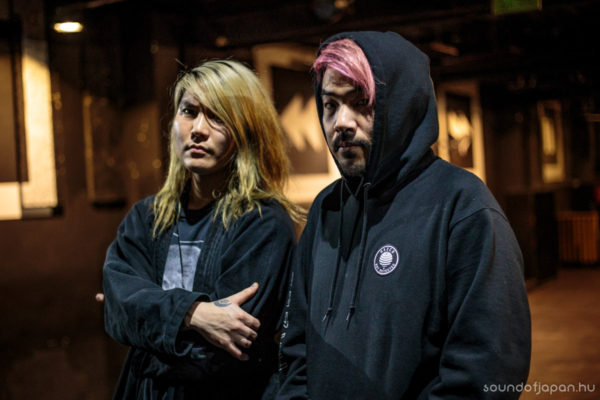 You got your international break around 2012 and more or less around the same time several other bands with a more-or-less similar sounding became very popular in Japan. Bands like Coldrain, SiM, Fear And Loathing In Las Vegas and so on, that play metalcore, post-hardcore, trancecore… Are all these bands considered to be a part of a scene in Japan despite their often very differing sound? And if yes, where is this scene heading nowadays?
Kenta: Yeah, in Japan they are absolutely considered to be a part of a scene. Still, we are one of the heaviest! But some… well, actually most of them have a very different style.
Hiro: The scene got bigger if you compare it to how it was back in 2012. For example Coldrain had its own festival just last months called Blare Fest where they even had several bands from overseas, like We Came As Romans, Fever 333…
Kenta: …and The Word Alive…
Hiro: … and big Japanese bands were there as well. So, the "loud rock scene", as we call it is getting bigger. But one thing that is different from outside of Japan is that even though the scene is getting bigger, in the crowd… if we, let's say, have a thousand people, there are only ten people that plays an instrument and only about five that is actually in a band. That's how Japan is now, that is the problem, that we don't have that many bands.
So, there isn't a new wave of young bands coming up?
Hiro: There are some, but not many. That's why even though we are in the loud rock scene, we often play with bands coming from different styles of music. Like ska-punk bands for example. Which is cool, but sometimes I wish if Japan had more bands like us that we could share the stage with.
Kenta: It is how Japanese bands survive in the Japanese rock music scene, because the heavy music scene is still small compared to the mainstream.
Over the years you collaborated with a lot of people on your releases: you worked with members of Coldrain, SiM, Rize and also, people from foreign acts such as Enter Shikari or Skindread. These bands are all quite close to you musically, however there was one collaboration that was a lot more surprising: when the US hip-hop act Ho99o9 was featured in Destroy, one of the tracks on Ex_Machina. How did you hook up with them?
Kenta: First time I heard them was when our manager was listening to them while we were in the studio and I was like "Wow, what's that!?" They play hip-hop, but they have the aggression of rock music and sound more like hardcore punk. So, that's why we picked them as guests for Destroy. (Destroy @ Youtube)
Hiro: Actually before we offered them to collaborate we also saw them live in Shanghai. We played at a festival there and even though our stage times clashed our show was cancelled for some reason, so after all we could watch them. Their show was amazing and we drank together after that (check Ho99o9's FB for a photo of that meeting). We talked and said that maybe one day we could bring them to Japan and work together in some way and that's how it started.
Kenta: And actually we also brought them to play in Japan.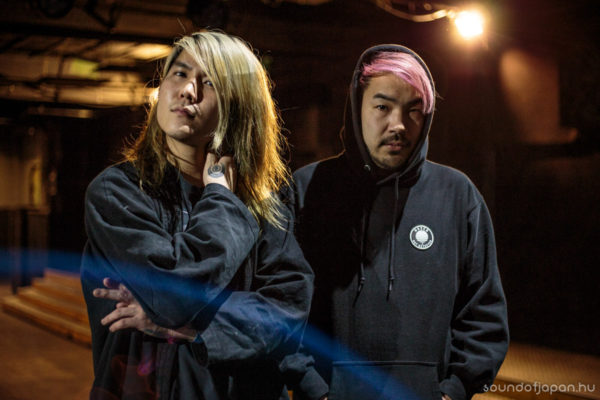 The last time you played here in Budapest two years ago, you also played in this club, opening for Underoath. And after your show I was talking with one of the venue's security guys and he said that even though he saw hundreds of rock, punk, hardcore and metal bands here over his career, he has probably never seen a band with such an incredible amount of non-stop energy on stage. How do you keep up this extremely high level of energy an go on each and every night?
Kenta: Haha, I think I do like to go hard. And I also watched so many bands playing live and I always loved the harder bands. For example Underoath is one of them. They always go crazy, everyone is headbanging and screaming each and every second. And Spencer… you can feel his emotions and how much power he puts into his screams, even when you only watch a live recording on Youtube. When I was young I watched so many live shows on Youtube, including many from them. And I just loved the bands that were heavy, but also had emotions and a strong stage presence.
Hiro: We were watching their shows when we were in high-school and while we in Crossfaith do not have any religion at all, you know, Underoath are christian guys. They pray before their shows and all that and when I see Spencer screaming I can see that he is doing it for his god. We do not have any gods, but still, when I am playing I also put all my power into it as if I am playing for someone… I don't know, maybe for myself back in the days, the younger me, who is still not sure if this is all real.
Besides Crossfaith are you guys involved in any side-projects? For example people are always wondering if Teru will ever release some EDM stuff on his own.
Kenta: Right now not really. I do guest vocals for other bands and Tatsu also plays drums for others, but that's about it. But yeah, Teru always wanted to try doing his own stuff, but at the moment we just do not have time to do side-projects, right now we need to focus on Crossfaith.
Originally you guys are from Osaka, which is known for its unusual, extreme music scene and its weird sense of humour. Did your Osaka roots have any impact on your music and mentality?
Kenta: Yes, definitely! In Osaka, in the early days of Crossfaith, around 2007 and 2008 or so, we were playing with many underground hardcore bands. I was still just around 20 or so and I learned many things from them. And I still love the atmosphere of Osaka, it is so different from Tokyo.
Hiro: I still think of Osaka as the capital of Japan! (laughs) Because most people in Osaka were born there, while Tokyo has peolpe from many different cities. And everything is different. Not just the music, but how people dress, the food… everything is really original.
Social commentary and expressing opinions on life in general are common themes in hardcore and metalcore. Bands talk a lot about what they think is the best way to live a life, what they consider to be the most important qualities in a person and so on. Do you have such messages for your audience?
Kenta: Hmmm.. it is a hard question. (thinks for a while) It is just my opinion, but I think before you go and see the world and discover faraway places, you should first be yourself, find yourself with your friends and with the people surrounding you and form your own opinions. That's the most important thing I think.
The first time you played in Budapest was very early in your career, in 2012, supporting Bury Tomorrow and Bleed From Within…
Kenta & Hiro: The bomb threat!
Haha, yes, so you remember, when the venue received a bomb threat right after the show and everyone had to go outside while the police checked the club. Have you had any other similarly weird experiences during all these years on the road?
Kenta: Haha, actually the bomb threat was the worst case, I also mentioned during other interviews that it really terrified me. But there was so many other weird stuff… I don't know…
Hiro: The food poisoning?
Kenta: Yeah, that too! But in Thailand, during our show one of the guys in the audiences set his hand on fire. I think he wrapped it in some paper kind of stuff, then he poured oil on it and set it on fire. Then at the end he threw it all on the floor.
Hiro: That's Thailand, hah!
Kenta: That is how they enjoy the shows there! (laughs) That was the craziest one, but actually after that we played again in Thailand several times and the rest of the shows were amazing.
You tour a lot both as a headliner and as supporting act. What are the pros and cons of each and which one do you prefer?
Kenta: They are sort of different. I have to keep my voice clean and be in a good shape in both cases, but when we are headliner, we have longer sets, so it is more challenging. And which one do I prefer? Hmm… I prefer headline. Because then it is our stage, hah! You know, but being support is fun as well. Killing headliners… it is very fun. And I noticed that we haven't got offers as a support act from Europe for a long time, I think because we killed too many headliner bands. (laughs)
And my last question is about something that happened years ago. Back in 2015 you did a very special concert at the world heritage site of Nikko Toshogu Shrine. How did that happen and what was it like?
Hiro: Wow, you know about that show?
Kenta: Actually we got that offer from Red Bull. They asked… you guys wanna play in some different kind of situation and location? And the fun thing is that just before that meeting, we talked that we would love to play at some world heritage site, that it would be cool to do something like that. And right after that we got the offer from Red Bull and we were like… OK, maybe world heritage? A place like Nikko would be fucking awesome! But it is a famous place and I look at it as a temple, so I thought they are like… super strict about religion. And I sing stuff like "Fuck You!", "Go To Hell!", "Kill 'em All!", but still, they welcomed us. And it turns out that the boss of the temple loves Iron Maiden! (laughs) We were like… wow! He eventually said that "You guys are so heavy and I love your music and please come back again"! So… music has no borders. Literally.
Thanks for the interview!
Thanks to New Beat and Kinda Agency for making this interview possible!
Crossfaith – Live @ Dürer Kert, Budapest, Hungary, 2020.02.22 / Live gallery