EU dates for GRIM and a new 8″ from Jun Konagaya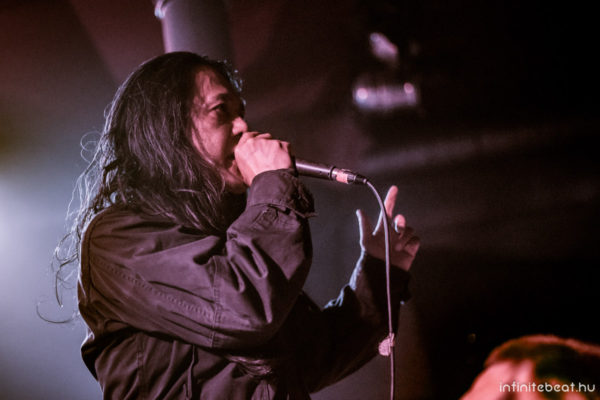 Even though in the current situation unfortunately all tour and concert announcements seem so uncertain, the two European shows that Grim announced recently are still months from now, so let's hope they will not be affected by the pandemic.
The first one will take place in Paris at a two day festival, organized by Au-delà du Silence, a French promoter specializing on industrial, dark ambient, power electronics and more. This time teaming up with Tesco Organisation the 19th part of the Kosmo Kino Plaza event series will feature acts associated with the German label, including Grim that released two LPs there (Orgasm and Factory Ritual). The festival will take place on 2020 Jul 17 / 18, with Grim's performance on the second day and Jun Konagaya already announced the line-up which will feature him, his usual companion Masahiko Okubo aka. Linekraft and guitarist Dainichi Maekawa (who worked on several Grom releases and also performed with them in Mannheim back in 2016). The festival will also feature Galerie Schallschutz, Detrimental Effect, Am Not, the first ever shows by two recent Tesco signings, Deathpanel and the mysterious African Imperial Wizard and… a solo performance by Linekraft!
Then, several months later Grim, again teaming up with Linekraft will return to Europe to perform at this year's edition of the annual Wroclaw Industrial Festival. It will be held between the 5th and 8th of November, the day of the performance is not yet public and only a handful of acts were announced so far… but Linekraft will also have a solo show at that event!  As will Suicide Commando, Thighpaulsandra, Salt and Geneviéve Pasquier.
2020.07.17 / 18 – France, Paris: Kosmo Kino Plaza XIX @ Les Voûtes (fb event)
2020.11.05-08 – Poland, Wroclaw: Wroclaw Industrial Festival @ Sala Gotycka (fb event)
And on related news: Jun Konagaya, the man behind Grim released a new 8″ vinyl recently on the New Zealand based Independent Woman Records (it was announced on 2020.030.17, but no actual release date was given). Ikai is limited to 55 copies and features handmade inserts, it was however sold out upon announcement in less than a day.
Jun Konagaya
Ikai / 8″ lathe cut
A.Underworld
B.Unusual Book