Disc Shop Zero's legendary owner Naoki E-jima passed away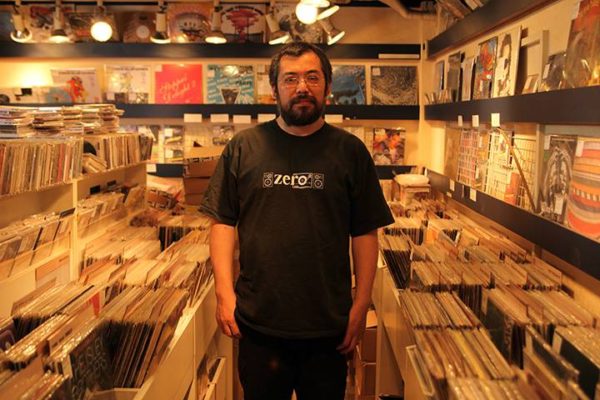 image from Naoki's FB page
I just got the news that Naoki Iijima aka. Naoki DSZ E-jima, owner of Shimokitazawa's Disc Shop Zero passed away about two weeks ago… and I felt that, even if I got the news late, I just have to pay tribute to this amazing guy and share some memories. He opened his shop back in 1993, moved it to its current location in Shimokitazawa in 2002 and DSZ became known not just locally, but also internationally as a goldmine for anything Bristol bass music and everything dub or dubstep related. Beside handling UK and global releases, Naoki was also a huge supporter of the local scene: he launched a label and party series called BS0 with some of his friends, he wrote several articles and he was a central figure of Japan's bass music scene. I've been following Japan's dubstep scene from the beginning and I quickly learned that if there was any new release from the local producers on tiny private local labels, DSZ's webshop was the one and only place that certainly had them in stock. After ordering some of these otherwise impossible to get, extremely limited CD and CDr releases (often bundled with DSZ exclusive bonus discs) through his online store I eventually visited the shop and met Naoki when I went to Tokyo in 2016.
The map came really handy as Disc Shop Zero was in a small street, up in the 2nd store of a building and the shop itself was not big either… but it was literally crammed with rare vinyl and CD releases. At first glance the shop was a delightfully chaotic maze of endless rows of records, but Naoki was happy to help if you couldn't find what you were looking for. At that time there were two brand new releases from local dubstep producers on my shopping list and I was not disappointed: he had both of them. One was in the new arrivals bin, while the other was so fresh, it wasn't even out on the shelves, so he gave me a copy straight out of the box it arrived in. We talked a bit about the local scene, the up-and-coming producers, the releases I ordered from him over the years and Naoki, who was sitting behind his counter (also packed with huge stacks of CDs and vinyls) turned out to be and extremely nice guy, the kind that you could just visit any time to chat and hang around. When I asked if he might have some Japanese dub or dubstep releases that I do not have, he paused for a moment, then went to the shelves behind him and returned with volume 4 of the Blue Flame Dub compilation, which turned out to be an amazing album and I am forever grateful for him for introducing to me to that excellent series.
I went to a lot of record shops during my stay in Tokyo, but none left such a deep impression in me as DSZ and it was in huge part thanks to Naoki's amazing knowledge and personality. He was one of those true enthusiast, who devoted his life to spread his knowledge and love of music. And DSZ was more than just a shop, it was a true home for everyone who loved dub, dubstep and bass music, while Naoki himself was not just a shop owner, he was more like a father figure for many younger DJs, producers and music fans. We truly lost one of the great ones.
He died on the 11th of February following his battle with cancer at the age of 48, leaving a wife and two daughters behind. But his story did not end here: some of his friends decided to re-open the shop for a limited time and starting from the 1st of March, up till the end of April, DSZ will be open again every Monday and Tuesday from 17:00 till 19:00 and on weekends from 14:00 till 21:00. So, if you are in Tokyo, be sure to visit the shop to pay tribute to a great guy that we lost and pick up some good records while you are there (shop map @ DSZ website). Also, Dommune will air a memorial show for Naoki including many old friends (info here), while UK's Exit Records released several exclusive tracks digitally that were previously only available as dubplates to help the family with the proceeds. You can get this amazing release, that includes music from Goth-Trad and many others here. There is also another compilation at works and the FB page, Raising Funds For Naoki DSZ, that was originally launched to help Naoki to pay hospital bills when he announced in January that he has to close DSZ indefinitely due to his illness now serves as a collection of tributes and memories.
R.I.P. Naoki Iijima (1971-2020)
Photo of Naoki E-jima is taken from his Facebook gallery.
All other photos by Japan Vibe.