Tokyo 2016 #9: Nudge 'em All, Casablanca, Eichi Miyamoto @ Koenji High, 2016.09.12
Tokyo 2016 is a 13 part series of photo & live reports from September, 2016, documenting a deep dive into the city's various underground music scenes.
While my last trip to Tokyo back in 2009 seemed to be all about gigs with independent rock bands (with four or five such events), this time it seemed to be a lot more about hardcore and hip-hop and the only proper indie-rock show I went to was this, that featured two pretty great and interesting bands: Nudge 'Em All and Casablanca. (Well, OK, TsuShiMaMiRe was also kinda like that, but they are way too diverse musically to be called indie-rock and the other two bands were very different there).
The event took place at Koenji High, a popular venue in Tokyo's Koenji area and it was organized by the two above mentioned groups, but they also had a special guest act opening for them, Eichi Miyamoto (宮本英一), who is better known as the singer / guitarist of Syurispeiloff, a band hailing from Sapporo. While with his band they play sweet and melodic indie pop / rock kind of music, his solo act was that very typical "singer-songwriter with an acoustic guitar" kind of act, that's been extremely popular in Japan ever since the first wave of Bob Dylan inspired folk rock acts rose to fame back in the early '70s. He was OK, not necessarily the best of his kind, but still OK. And while I was never that big of a fan of this kind of music (well, with a very few exceptions) it was still great to bump into one of these kind of acts as well, as they play such a vital role in the Japanese music scene. So, not my kind of music, but it was a nice experience nonetheless.
Next up was Casablanca which is pretty much like an indie / garage rock super group. The project started in early 2016, they have one really great album out so far and the members of the trio are: Yoko from one of the best and longest running all-girl rock bands, Noodles, that had its 25th anniversary last year. Sawao Yamanaka (山中さわお) from another long running band, The Pillows, that formed in 1989 and is mostly known overseas for their soundtrack for cult anime FLCL. And Shinya Kusube (楠部真也), drummer of Radio Caroline, a "newer" band, that started in 2003, stopped for a couple of years in 2009 and reformed in 2014 (and has a living legend level local garage rock hero, Koji Ueno amongst its members). Casablanca has a bit unusual lineup, as besides the drummer, they have two vocalist / guitarists and their music is an interesting mixture of the most essential characteristics of the three above mentioned bands: the mellow indie rock of Noodles, the macho, blues rock influenced garage rock of Radio Caroline and the fun, punkish spirit of The Pillows. But Noodles is clearly the one they are closest to and not only because Yoko is the lead singer in all, but one of their songs, but musically as well. At this point they hadn't played live much and as their debut album, Another Story hit the stores just two weeks before this gig, this was almost like an album release party, which probably played a huge part of this being a nearly sold out show. As their songs aren't too long (Another Story has nine songs and clocks just a bit above 27 minutes) they played all of the album tracks and to fill in the usual, approx. 40-45 minutes playtime, they also included a cover section in the middle. Which was nice, but maybe a bit too… predictable? They picked the most well known Pixies song, Here Comes Your Man and played two (!) Beatles tracks after that, Little Child and Can't Buy Me Love… so, no surprises there, really. And those weren't especially interesting covers either, their own songs however were a different matter altogether and sounded even stronger and tighter live. Their music brings back memories of the best '80s indie-rock acts and even though they are a new band, the decades of experience clearly shows and they work together extremely smoothly onstage. I really hope this won't turn out to be a short lived side project and they will be back with more releases sometime soon.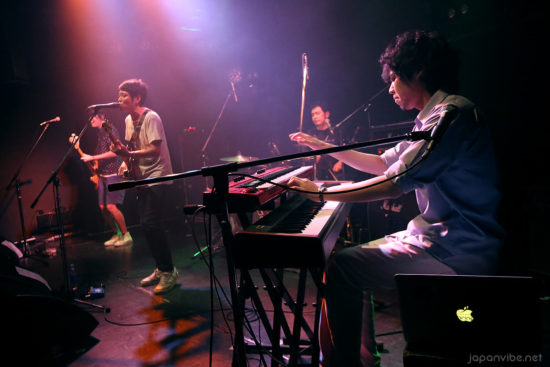 The evening's last band was Nudge 'em All, a very nice little band, that's also been around for quite some time: they formed back in 1996, so last year was their 20th anniversary and they are one of those kind of acts, that never had a big break, but that does not seem to bother them much, as they have a very dedicated fan base, so they just go on and do what they like to do. Which is a lighthearted take on indie-rock, with an overall feelgood vibe, that they mix with a wide variety of influences… a bit of a punk rock edge, power pop melodies, some funky jamming… And all this makes their music positively unpredictable, so, even though all their tracks have that similar, very lighthearted sound, still, they are all quite different and their music never gets boring. And all this comes with those somewhat high-pitched and nasal vocals that are so common amongst indie bands in Japan. The audience was mostly made up of people in their thirties and forties, so, probably people that's been the fan of the band and rock in general for a long, long while (with just a couple of younger rock kids mixed in), so it felt like the kinda gig that people heading home from work go to, to have some fun at the end of the day and have a break from the boredom of office jobs… or from housekeeping duties for the housewives. And I guess the melodic, fun nature of all three of the acts are serving the purpose quite well. Nothing wild, nothing revolutionary, just simply music played with a lot of love. And while I definitely do like music with an edge, it was really great to have a bit of a break and go to a more laid back and fun kind of show for a change.
Nudge 'em All / Casablanca / Eichi Miyamoto
(I did not get permission to take photos during Casablanca's show, so… no pictures from that except that one with the setlist.)