Tokyo 2016 #8: TsuShiMaMiRe, Kinoco Hotel, Kids N Cats (AT) @ Fever, 2016.09.12
Tokyo 2016 is a 13 part series of photo & live reports from September, 2016, documenting a deep dive into the city's various underground music scenes.
A week after the Endzweck / Forward / Meaning show I was back to Shindaita Fever again, but this time for bands of a very different kind: all-girl rock groups have been a huge thing in Japan for decades now and this evening featured two of the finest ones around nowadays… along with a strange duo from Austria. This gig was the first date of TsuShiMaMiRe's (check the interview with their singer here!) nationwide Gaitare Mamire Tour 2016 which saw them team up with a couple of foreign acts: We Are The Asteroid from the US, Korea's Ego Function Error and Austria's Kids N Cats who played at this one and almost all the other shows. And at some on the nights they were joined by local acts as well and for Fever they picked the brilliant Kinoco Hotel to open for them.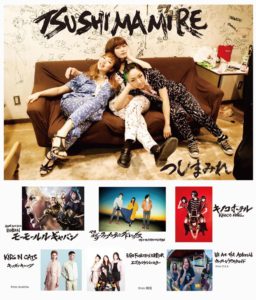 Kinoco Hotel is one of those many Japanese bands, that are obsessed with the '60s, playing music that is heavily rooted in that era's garage rock and beat scene. However while many of those other bands go for an as-faithful-as-possible reproduction of that '60s sound, after their first couple of releases, Kinoco Hotel took it to the next level and started to incorporate elements of new wave, '70s psychedelia and who knows what else into their music. I already saw them twice back in 2015, during their short UK tour (click here for a photo gallery from those gigs) and they were quite awesome, so I was really happy that I could check them out again, especially as they released yet another great album (Marianne no kakumei) since. And they were just as good as I remembered. At both UK gigs, they seemed a bit stiff in the beginning (but eased up quite a bit later), I guess because it was their first time playing abroad, but here, they were on full power during their whole set… even during the songs from the recent album, which had a noticeably more restrained sound than it predecessor. Which is probably best exemplified by the album's lead track, onedari Strange Love (おねだりストレンジ・ラヴ), but even that sounded a lot harder live, than its nice, but almost popish album version. And their stage antics were as wild as ever with singer Marianne Shinonome climbing atop of her synth and doing her strict dominatrix act, waving her horsewhip around all the time… I almost expected her to get some ropes out to tie up a few fans from the audience. A damn great live band… and I really hope they will be returning to Europe for a longer tour sometime soon.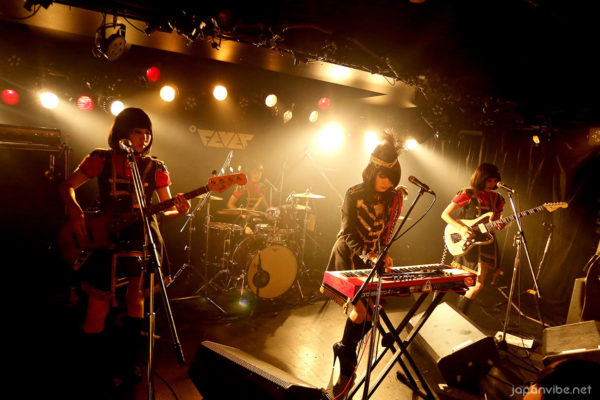 After a short break it was time for Kids N Cats, the guests from Austria and… well, they were interesting. Not really my kind of music, but interesting. They mostly follow that synth-heavy electroclash sound that was so popular about ten years ago, but they do that with a bit of an experimental edge and their music has a naive, childish side as well. And all this is mixed with some general weirdness, that is present in everything they do: their music, their music videos, their unusual stage antics and their costumes, complete with utterly strange headpieces. Japan is full of underground bands, that are a bit on the weird side (well, sometimes not just a bit… I mean… they even have shrimp-men playing jazz funk…), so, I think the quirkiness of Kids N Cats didn't look as unusual here as it may do back in Europe. And the audience actually seemed to like them a lot, but they just didn't really do the trick for me.
Unlike the main act, which was of course TsuShiMaMiRe! A band that is not that easy to describe musically. Even though they call themselves art punk and that description indeed fits some of their tracks pretty damn well, their style actually changes from song to song. Besides those more edgy tracks, where the raw energy of punk is present, they also have a lot of songs that fall more into the alternative / indie rock category and ones that are closer to almost radio friendly pop rock, not to mention those cute and naive ones where singer Mari's affection for kids' music (that she also mentioned in the interview) truly shows. They released a lot of albums since they formed and while I liked their earlier ones as well, their latest, 2015's Abandon Human is by far my favorite: while it maintained both the energy and charm of their previous works, it was also a lot stronger and more mature. And they turned out to be just as great live… kinda like Shonen Knife on acid. And it is easy to compare the two bands: two all girl, three piece groups, that draw their inspiration mainly from punk rock, but also have a childish side (and both love to sing about food!). But while Shonen Knife never goes too crazy on stage, TSMMR definitely does. Their energy is just incredible, bassist Yayoi is playing with her whole body in an almost acrobatic manner and they are all over the stage all the time.. well, of course except their drummer Mizue, who was just being cute behind the drums (and who, just a couple of days ago announced her withdrawal from the band after 17 years together, so from now on they will be working with a session drummer). And the evening's absolute highlight was their signature Brain Shortcake from their 2007 album, which had Mari going all crazy, leaning against the audience, while climbing atop of the railing at front of the stage and have someone hold the mic for her. It was explosive. I heard a lot of great things about their gigs before, so my expectation was kinda high, but they did not disappoint and I am really glad, that after touring the US several times, they finally set their eyes on Europe recently.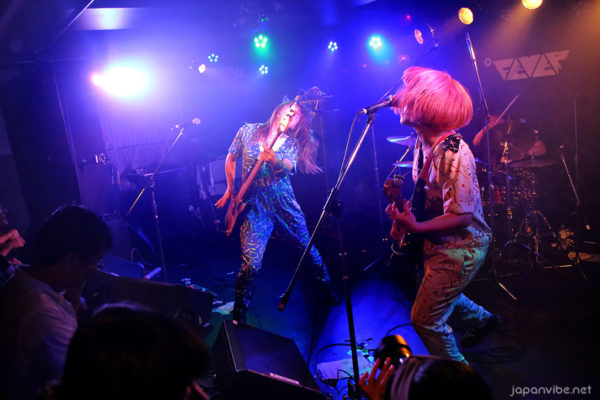 Check the photos below and sorry for not having more from Kinoco Hotel's part of the show, but they still have the "send us your photos for approval" rule and they only OK'd three, so, here you go: