A Japanese noise & experimental Who's Who by Ochiai Soup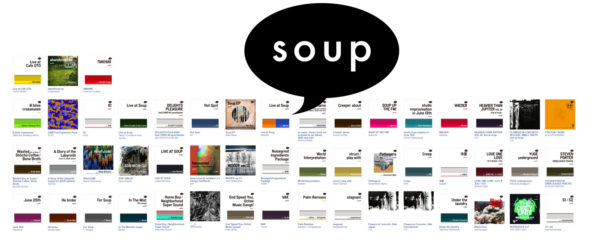 While the music industry and live music in particular was hit especially hard by the pandemic, there are also some great things coming out of all this nightmare… and one of these is a series of releases by Ochiai Soup, a small club in Tokyo, known for hosting mostly experimental acts. As most clubs, they also had to close or operate only with very limited capacity, so, offering fans and regulars a way to help them they teamed up with their musician friends and started to release exclusive material through Bandcamp on a "name your price" basis. It worked out great and what started out as a relief effort soon turned into a who-is-who of the Japanese noise and experimental music scene and overall one of the best things in recent years to emerge from that part of the underground.
It all started with a track by Yousuke Fuyama last April and since then they dropped 48 other releases, the latest one being an EP length, four track one by Risaripa (Gallhammer's drummer). So far the series included some of the biggest names of the noise scene, including Toshiji Mikawa (of Hijokaidan and Incapacitants fame), Astro, Pain Jerk, K2, Government Alpha, some special projects like MikaTen (T. Mikawa and ex-idol Tentenko), some other acts like experimental rock trio Nisennenmondai, dub group Preparation Set and electronic music producer ENA and also countless lesser known projects. A couple of foreign acts (like Lasse Marhaug and EVOL) also joined in and there were four compilations so far with both local and international acts, that also included some well known names, like Linekraft, Kazumoto Endo (aka. Killer Bug) and Guilty Connector.
So, if you are into noise and experimental music, this series offers and amazing opportunity to get some great new music from the big names and to discover some new favorites… and all this while you support a superb little live venue in Tokyo!