Metal from the frozen north: an interview with GYZE
Melodic death metal outfit GYZE is one of the most promising emerging acts in Japan's metal scene nowadays and besides getting more and more popular at home, they also have a growing international fan base as well. After playing a handful of shows in Europe during the past few years, they had their first longer EU tour this spring, supporting Battle Beast from Finland and Majesty from Germany. I sat down with them before their show in Budapest to ask them a few questions and we ended up doing an in-depth, career-spanning interview where they talked about the band's history, plans, influences, the Japanese metal scene and their snowy homeland, Hokkaido. Also, check the photos from the show at the end of the post!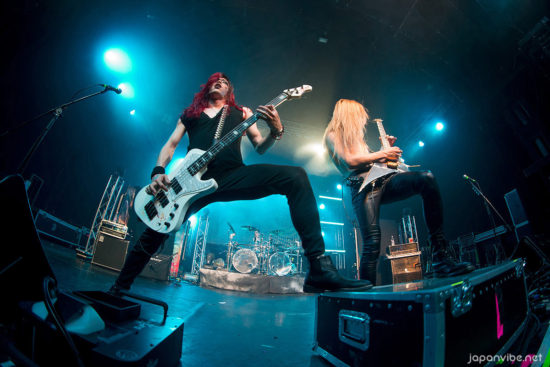 First, could you please introduce yourselves and tell us a few words about the band?
Ryoji: I am Ryoji, vocalist, guitarist and main composer of GYZE.
Shuji: Hi, I am Shuji on drums.
Ryoji: And he is also my brother!
Aruta: Aruta. Shouting and playing bass.
Ryoji: We play melodic death metal and we also include folk melodies from Japan and other countries in our music. We are active since 2011, but before that, for a while we worked under another name, Suicide Heaven. It changed when the huge earthquake hit Japan in 2011 and we decided to start a new band and we also moved to Tokyo. Our name comes from my father's hair saloon, which was named after the Egyptian city with the three pyramids, but we use different spelling. And it fits us well, as we have three members, just as the city has three pyramids.
Did growing up in the snowy northern island of Hokkaido have any influence on your music and lyrics? Especially on the new album, that you returned there to record?
Ryoji: Yes, and indeed, especially the new album was influenced a lot by the atmosphere and melodies of Hokkaido. I moved back to Hokkaido three years ago and I started writing songs for the third album. And we also use the language of Hokkaido's native people in some of the titles. So, it is very unique… and it is the sales point of our third album! *laughs*
You just recently released a new music video for the song called The Bloodthirsty Prince. Was that also shot in Hokkaido?
Ryoji: Yes, we were shooting near two lakes in Hokkaido. One of them is close to my hometown, Sapporo and the other one was Lake Shumarinai, which is also referenced in one of the song titles, Black Shumari and it is up in the northernmost part of the island.
There are a lot of Japanese bands that are well known worldwide, but almost all of them are from Tokyo and Osaka and maybe some from Nagoya, but people don't know much about the music scene of Hokkaido. So, what is it like?
Shuji: There are many bands, but not many of them are good.
Ryoji: And there isn't a good market for bands either. But… we don't care, we are just writing songs and tour, so it is no problem for us. And yes, Tokyo and Osaka are the main music markets in Japan, so we are also mainly active in Tokyo. It is somewhat like Paris in France for example, where that is the center of almost everything.
Back to the new album: were there any noticeable changes or new musical directions compared to your earlier works?
Ryoji: I did not change my song writing style, I just write what comes naturally. But as I mentioned before, I moved back to Hokkaido and that gives inspiration. All the nature around or when I go to the river for fishing, it all affects me and my style.
And why did you decide to move back to Hokkaido?
Ryoji: The other two guys are still living in Tokyo, but I felt very stressed out there. There are a lot of people everywhere, the flats are small and one day I noticed that it is bad for my songwriting. And as I am the main songwriter, it is a very important thing for us.
As far as I know, the new album was only released in Japan so far. Do you have plans for an international release as well?
Aruta: I hope that we can release it in Europe as well.
Ryoji: Our first two albums were released in Italy, but we have to change label as that was a small one with little promotion. But we also changed label in Japan, we moved from Victor JVC to Universal, so now we have to also choose a good label in Europe.
You are touring more and more outside Japan. Were you aiming for an international audience from the beginning?
Ryoji: We were playing overseas for the first time in 2014, when we went to Korea and Taiwan and we also toured in Asian countries later, for example, two years ago we toured in Taiwan and China with Carcass, Children Of Bodom and Dragonforce. Our first time in Europe was also two years ago, when we played in Germany and we returned last year for Summer Breeze in Germany, More // Than // Fest in Slovakia and a solo show in Poland. So, this is our third time in Europe.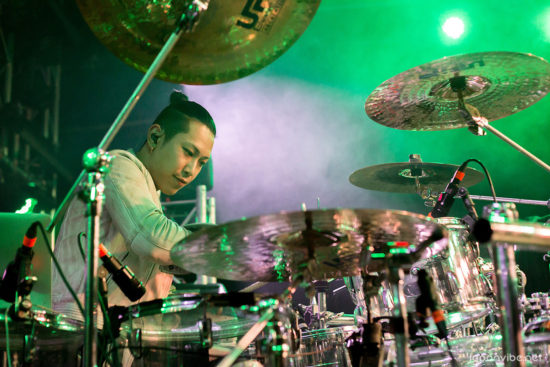 And about this tour: how did you hook up with Battle Beast and Majesty?
Ryoji: We were invited by the European promoter to join this tour. We are in contract with Dragon Production, a European booking agent. So, we thought it is a good chance for us.
Do you get along well with the other bands? (Right at this moment, one of the guys from the other bands knocked on the door, slammed it open and, even thought it was late afternoon shouted "Good Morning!! Guten Morgen!!" and left.)
Ryoji: *everyone laughs* Just like that!
Aruta: All the members of Battle Beast are very kind and the guys from Majesty are funny. Best friends!
Shuji: They are nice guys, good songs, good people and of course awesome show every night. I like them!
Ryoji: When I watched Battle Beast at the very first day of this tour, I felt so nervous, as their vocalist is so awesome, so fucking awesome! She is already my favorite female heavy metal vocalist!
And speaking of favorites: what kind of music do you usually listen to get inspiration?
Ryoji: Recently I haven't been listening to heavy metal, only a lot of classical and folk music and some Japanese pop. Maybe it adds to our unique style. Because if I listened only to metal, it would be boring. All the songs are similar, so I have to get inspiration from other genres. And I especially like Liszt Ferenc from Hungary!
He seems to be very famous in Japan.
Ryoji: Yes, I agree. Also, in Kamuy, one of our new songs, we included a short part from Hungarian Dances by Brahms.
Shuji: I use relaxation music for inspiration, as I don't like death metal. Of course, there are many many good bands, but I just don't like death metal.
And then how did you end up playing death metal?
Shuji: It is my life study.
Ryoji: It is funny, that he is a very good death metal drummer, but he does not like death metal.
Aruta: And for me, it was Yngwie Malmsteen and as a bass player, Jason Newsted, formerly of Metallica.
Shuji: Mmm… good bassist!
So, we know about your musical influences, but where do you drew inspiration to write your lyrics?
Ryoji: *Thinks for a bit, then points at their manager* From her! *Everyone bursts out laughing* But actually it isn't a joke, she helped a lot with lyrics. But otherwise I get a lot of inspiration from nature. Also, I always wanted to tell stories to people and recently, when everyone is using social media, I could tell everything I want to our fans through facebook, but that would be boring. I am a musician, so I have to tell things by writing songs and lyrics.
You are the main composer of the band, but do the three of you finalize the songs together at the end?
Ryoji: First I write the songs, every note of them, then I ask the others and based on their opinions, I make re-arrangements, but basically I am always writing alone.
There are a few Japanese metal bands that are known worldwide, like Loudness, Outrage and a few more, but people don't know much about Japan's death metal or heavy metal scene in general. So, what it is like?
Ryoji: There is a good market for heavy metal in Japan, but all the bigger bands are older ones. Like Loudness, that's been around for more than 30 years. They are almost my father's age! And most of the fandom is also quite old.
So, there are no new heavy metal groups and fans?
Ryoji: Well, there is a band called GYZE in Japan now…! *laughs* They are newcomers and I think they are very good!!
For long years, by far the most popular Japanese rock / metal acts in Europe were visual kei bands. What is your opinion about the visual kei scene?
Ryoji: Hmm, hmmmm… It is good. Yeah, I think it is good, especially rhythm wise. The original visual kei groups were very unique and musically very good, but recently many of the bands are only about the looks. Make-up, costumes, but they can't play well and their music is not really good. So, I like it, but I think it is a little bit strange. And my other problem is that there are almost only girls in the audience, that are more interested in looks and atmosphere, than in music. It is wrong, I mean, we are musicians, we want people to listen to our music!
You also had a accessories brand called Black Bride, is it still active?
Ryoji: Yes, it is still active and I just made this *points at the neck of his guitar*, a string muter. It turned out good and it will be on sale in Japan and maybe worldwide as well.
And after you finish this tour, what's next for GYZE?
Ryoji: After we go back home, we will start our Japanese tour, around eleven shows and then we hope to come back to Europe for some festival shows. But of course we would like to tour in Europe again as well. And maybe next year, we will start to organize a metal festival in Hokkaido. We plan to invite overseas bands, especially from Europe and also, all the huge Japanese metal bands to Hokkaido. Also, just last month, we started our movie project. It is a documentary *points at their manager again who's been filming the whole interview with a small video camera*, we will be shooting for four years and it is about the goals that we have. Four years from now we want to play at Wacken open air festival, hopefully main stage and we are shooting the process of how we are we working to reach that goal.
GYZE is:
Ryoji: guitar and vocals
Aruta: bass and vocals
Shuji: drums
GYZE official site / facebook / instagram / youtube / twitter
GYZE @ Barba Negra Music Club, Budapest, Hungary, 2017.04.05