Crossfaith EU tour… starting today!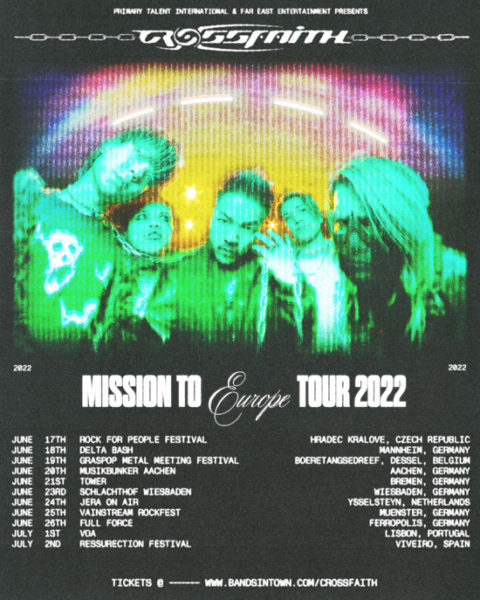 Last minute news: Japan's most popular metalcore band Crossfaith is launching its first post-covid European tour today! This current tour is mostly about festival appearances with a couple of club gigs added in-between and 6 of the 11 shows will take place in Germany. The band's previous EU tour happened in early 2020 (just before covid hit) where I had a chance to do an interview with them:
Interview with Crossfaith from 2020.
Since then they released a remix EP and a couple of digital singles, all marking their very welcome return to harder, edgier sound after their previous shift towards the more melodic and radio-friendly side of metalcore.
The strange thing about the tour is that the band kept a somewhat low profile about it for some reason: it was only announced on their Instagram and Twitter accounts a few weeks ago and the Japanese language version of their website, while the English part only lists a few of the shows and there is no mention of the tour at all on the FB account? Anyways, check below for the full list of shows and two of their more recent music videos:
Mission To Europe Tour 2022
2022.06.17 – Czech Republic, Hradec Králové: Rock For People
2022.06.18 – Germany, Mannheim: Delta Bash
2022.06.19 – Belgium, Dessel: Graspop Metal Meeting Festival
2022.06.20 – Germany, Aachen: Musikbunker
2022.06.21 – Germany, Bremen: Tower
2022.06.23 – Germany, Wiesbaden: Schlachthof
2022.06.24 – Netherlands, Ysselsteyn: Jera On Air
2022.06.25 – Germany, Münster Am Hawerkamp: Vainstream Rockfest
2022.06.26 – Germany, Ferroporis: Full Force
2022.07.01 – Portugal, Lisbon: VOA
2022.07.02 – Spain, Vivero: Ressurection Festival