TsuShiMaMiRe @ Dürer Kert, Budapest, 2017.05.16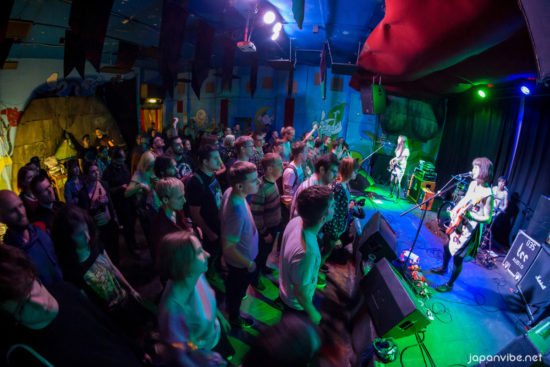 When I saw TsuShiMaMiRe's excellent show in Tokyo last September, I had absolutely no idea that in just a bit more than half a year I will be working with them as a local promoter, handling their show in Budapest, Hungary. Especially as their first ever EU tour was announced just around the same time, mentioned first in the email interview we did before the Tokyo show. Shortly after they returned to Tokyo from their European adventures in November / December they announced yet another tour and I ended up with an offer from their tour manager for a show in Budapest. It was a risky one: a Tuesday night with a band that not many people heard about here, but their gig in Tokyo was so amazing, that it was just impossible to decline the offer. And at the end it turned out great with a jaw-droppingly amazing show and over 90 people which is pretty fine for a Tuesday.
Since their first EU tour there was one important change: Mizue, their drummer, who's been with them since the beginning, decided to quit after 17 years, but fortunately singer / guitarist Mari and bassist Yayoi managed to recruit Maiko as a support drummer, who turned out to be a perfect replacement. For the Budapest show (which was the third date of the tour) we had two pretty great female fronted local supporting acts: the old-school deathrock group, Rats Kill Bats representing the punkish and the indie pop act 40 Days representing the more melodic side of TsuShiMaMiRe's insanely diverse sound. After the opening acts finished, the three girls took the stage and presented a best of like selection, playing for over an hour, including four tracks from the latest album, 2015's Abandon Human and a lot of old favorites, like Speedy Wonder, the opening Sex On The Beach and of course the adorably crazy My Brain Is Short Cake. That closed the main set of the night, but of course they returned for an encore, even though only a short one, performing the Powerpuff Girls related Hyper Sweet Power before they left and Yayoi went to the deal with the crowd gathering around their jam-packed merch table.
One of the things that make TsuShi so great is that you would never expect from these little, totally lovely girls to rock so hard and so crazy on stage. But they do and we are very lucky that after all those years and all those domestic and US tours, they have finally decided to visit to Europe as well… so, let's just hope it won't be long till they return for yet another round of shows!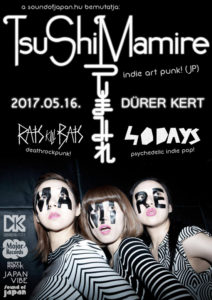 TsuShiMaMiRe setlist:
01 Sex On The Beach
02 Fafafa
03 Bubbles
04 Fantastic Adventure Land
05 Slowly Wonder
06 Crazy For You
07 Dream Of Love
08 HANAMI
09 Bad Dream Bear
10 Beginning
11 Human Coating
12 Jaguar
13 Speedy Wonder
14 Time Lag
15 My Brain Is Short Cake
encore
16 Hyper Sweet Power