Food, love & art punk – an interview with TsuShiMaMiRe
TsuShiMaMiRe is getting ready for its current tour in Japan, that involves a bunch of quite interesting local and international acts… and also, they are preparing for their first ever European tour. So, in our email interview with Mari, we talked about these tours and about the band's history, influences and lyrics!
TsuShiMaMiRe's style is very diverse… alternative rock, indie, garage rock, punk, naive childish melodies and so on. How did you come up with this unique mixture, what were your main influences?
Thanks!!! At first, we were a cover band of Blankey Jet City, a very famouse three piece Japanese rock band. So we were influenced a lot by them. And also we have very different favorites. At first, I love kids' songs from Japan and Japanese pop songs, Mizue loves heavy rock, metal and hard core and Yayoi loves classical music and funk music. And now, we always look for cool songs from the World, we don't care about what kind of music it is. We always want to make very original music.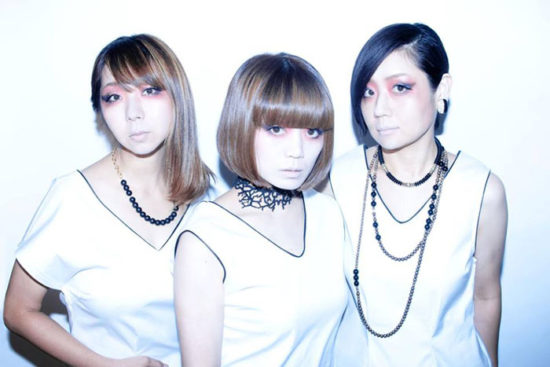 How did the three of you originally got together and form the band?
We were at the same university in Chiba (a city near Tokyo) and we were in the same band club and we are the same age!!!! So at first we were good friends. And when I went to the live show of Blankey Jet City, I was really really moved by their style of music. Blankey Jet City was 3 boys band, so I decided I have to make 3 girls band! I wanted to be like them!!!! I talked about that to Mizue and Yayoi and we formed the cover band of Blankey Jet City and the band name was Bla-Gal!!!! Haha! And we were very beginner players, so we couldn't play well… we needed more more more and 3 years later, we could play Blankey Jet City pretty well! We could play at 25 songs from them! But by now, I almost forgot how to play… mmmmm.
Anyway, we really loved to play with this 3 girls, so naturally, we started to make our original songs!
Your latest album, 2015's Abandon Human had strange cover art, depicting the three of you shrink-wrapped, like meat in a supermarket's freezer. What was the concept behind the photo shooting?
HaHa!!! Thanks! Yes! The cover art looks awesome, right? Our lead track of this album is Human Coating, we wanted to show "Human Coating" in visual. And "Human Coating" is about the human relationship. Everybody has something different. Even if we are good friends, we couldn't know everything about friends as each people has some barriers. But we love each other. So we wanted to show these things at the cover photo!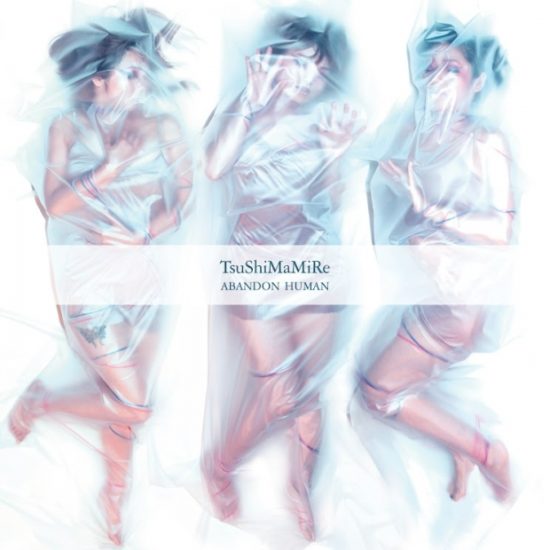 While it also has lighter songs like Hang Out!, the Abandon Human album seemed to have a bit darker, more serious atmosphere than you previous releases. Was that your intention?
Oh! We didn't think about that! But when we made the songs of Abandon Human, there were so many bad news in the world… about a terrorism, earthquake… I think it made us a little bit dark and serious. But I want to sing about something happy!!!
Shortly after Abandon Human, you also released a limited album with a monthly theme, what was the story behind that one?
I think we gave all our power to Abandon Human and I think it is a little bit serious, that is why you felt that it is a bit darker. After Abandon Human, I wanted to make non-sense songs! Every month, in the rehearsal studio, we relaxed and we thought about the month and we talked about our new favorite songs and we got some hints from these songs. And we made a monthly song each month! It was really good time for us! At first we didn't think about selling them, but our recording engineer Soichiro Nakamura called me and said "you should release Monthly Songs". And he helped me mixing and he did the mastering. It was really fun!!!!
Your lyrics are in Japanese, so most of your foreign fans do not know what are you singing about, so could you tell us a bit about that?
Yessssss!!!!! I wanna tell about our songs!!!! But we have 117 songs now!!! What song do you wanna know? I can explain for you! We almost always sing about food and alcohol and love and peace!!! Especially FOOD and LOVE is very important part of TsuShiMaMiRe!!!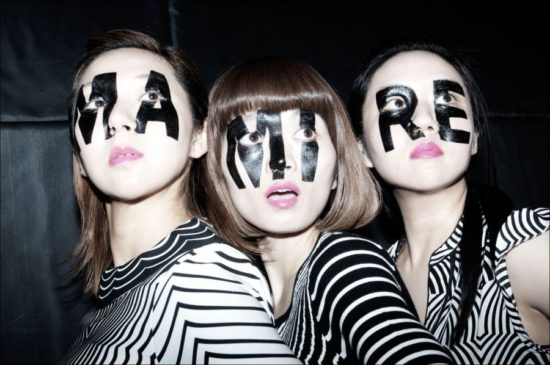 And what does "TsuShiMaMiRe" mean?
Our bassist Yayoi's family name is TsuShiMa and my name is Mari and our drummer is Mizue. And "Mamire" means "Mix together" in Japanese. So it's a part of our names + mix together! So we are "TsuShiMaMiRe"!!! This is our original word. So we never change a band member!
Earlier you worked with a couple of different record companies, including Benten and Victor, but the last few years you released all your stuff on your own label, Mojor Records. Why did you decide the start your own label and do you also release music from other artists or only TsuShiMaMire CDs?
Only TsuShiMaMiRe! We understood that our dreams can come true only with Mojor Records! Of course the other record companies helped us very much though. It's so much fun, that we take care about our future ourselves. It's our life!
You toured in the US several times. How was you first invited over there and is the audience there very different from the Japanese?
First time was so awesome. Our life was changed! We had a small audience in Japan. It was maybe 5–10?! But in U.S., our first show was in L.A. and there were 200 people. And they screamed for our music! And second show was in Austin, TX. There were 500 people. And also they really loved our music! We got a really big chance in U.S. and U.S. tour made us more tough and more cool!
As far as I know you have not been to Europe yet…? Are there any plans for a tour over here?
YESSSSS!!!!! Our first tour is this December!!! I can't wait to go!!!! Please check our schedule on our website!
During your upcoming domestic tour in September, you will play with a lot of interesting bands, including several local acts and Kids N Cats from Austria. How did you pick the bands for this tour?
KIDS N CATS contacted me last year. It's just one e-mail! They knew our music from their friend. When I saw their MV Tip Tip, their music really moved me. And they decides to come to Japan to make songs with us in September. So I decided, that we have to do the tour with them! I want to show their music to our audiences and our friend's bands in Japan. And on this tour, I booked 3 bands from other countries. One is KIDS N CATS. The other bands are Ego Function Error, that comes from South Korea and We Are The Asteroid, that comes from the United States. It's really exciting!!!!!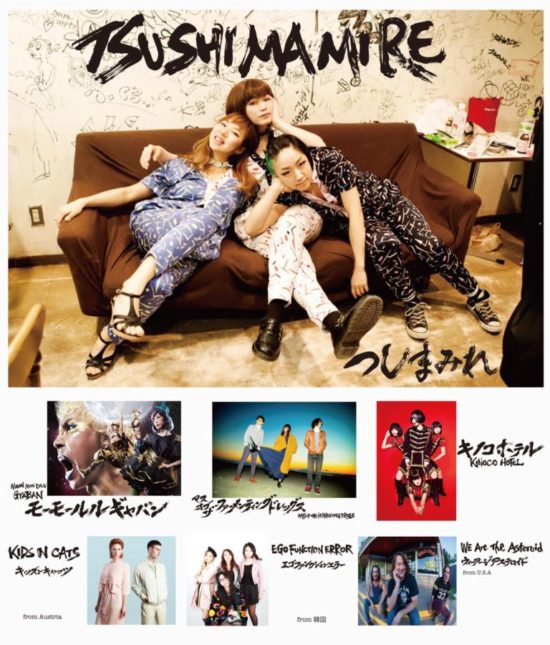 What is the live house scene like in Japan? Is it difficult to get along and make a living as an indie band?
It's good! If the band is cool the band can make money.
It seems that Japan has more all girl rock bands, than any other country. What do you think, what's the reason for this?
I don't know… Sorry!
And as an all girl band, do you consider girl power and gender equality an important issue?
I don't know! But girl's power is stronger than boys, I think. And girls are very smart and have a lot of passion. And girls are KAWAII! I think girls are very lucky.
Thanks for the interview!
TsuShiMaMiRe official site / facebook / youtube