Tokyo 2016 #4: Endzweck, Forward, Meaning @ Shindaita Fever, 2016.09.06
Tokyo 2016 is a 13 part series of photo & live reports from September, 2016, documenting a deep dive into the city's various underground music scenes.
Three days after Chain Reaction 2, it was time to return to the hardcore scene, but while the event at Antiknock was (almost) all about NYHC, this one had a more varied lineup. It was the Tokyo stop of US hardcore group Trash Talk's Japan tour and both this and at the other two shows (at Osaka and Nagoya) had a very interesting selection of bands opening for them, including Razors Edge, Palm ("Japan's answer to Converge") and the amazing Endon, whom I also had the luck to see live a week or so later. The event took place at Fever, a club with an approx. 400-500 capacity in Shindaita, very near the Shimokitazawa disctrict, that is mostly known for its (indie-)rock venues.
The hall was quite crowded even when the first band, Endzweck hit the stage and for me they were the main reason to choose this event from the incredibly wide selection of options the city's clubs had the offer. They formed in '97 and in a couple of years became one of the leading names of the local hardcore / metalcore scene, that had its first golden age around that time. They remained active ever since and up till 2009's Ulysses, they released a new album every two or three years. After that they switched to putting out hard-to-get-outside-Japan 7″ singles, played only local shows and kind of disappeared from the radar of international fans, but finally, at the end of 2015 they returned with a new full length, the excellent Tender Is The Night. It was a very solid album, maybe even better than their earlier ones, so no wonder they were on my "should see them live" list. And they did not disappoint: they turned out to be an awesome live band, with a lot of energy on stage and their two decades of experience showed a lot, but they also clearly enjoyed every moment of their stage time, as if they were still young, enthusiastic kids. And their special, emotionally charged mixture of angry, screaming vocals and old school melodic hardcore, that follows on the footsteps of bands like Fugazi also worked really great live. Too bad the world tour they were planning after the album never happened, as the audience would definitely love what they do (I believe their last European tour was in… 2008? And their last US tour happened even before that).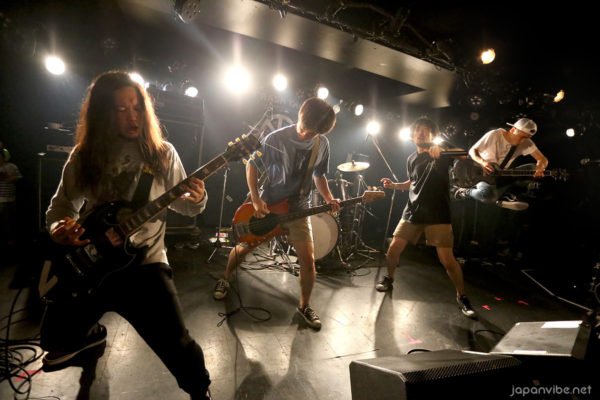 The next one Forward and even though they formed around the same time as Endzweck, their roots go way back to the early '80s, as the band was started by the former vocalist and bassist of Death Side, one of the most important bands from the early days of Japanese hc… that was also amongst the bands that gained considerable international notoriety thanks to their unprecedentedly raw and aggressive music. And Forward pretty much picked up where Death Side left off and maybe even took it all a couple of steps further: they take hardcore punk back where it came from, when it was basically punk rock gone berserk. Fast paced, raw, powerful and aggressive with a healthy dose of heavy guitar riffs thrown into the mix. And Forward is all this, complete with Ishiya's low, rough vocals. He is a living legend kind of figure on the local scene, in part because of his musical background and in part because he looks like the true incarnation of punk, with a huge mohawk, a bunch of patches, mostly of other classic Japanese punk acts, such as Lip Cream and a rather nihilistic attitude. Actually the band topping my must-see-live list was Gauze, probably the most notorious local hc band from the early '80s, that is still active to this day, but unfortunately they weren't playing anywhere while I was in Tokyo… However Forward was a more than fitting substitute, their show was like a trip back to the early days of the scene. Yeah, sure, the guys are not young kids anymore, but they still got the edge that's needed to make it all work and their music is just as rough and powerful as ever.
Compared to the above two Meaning is a new band… well, if you can call a band "new", that's been around since 2004. So, they have been around for more than ten years now and are signed to Pizza Of Death, Japan's most prominent punk label, led by Ken Yokoyama from Hi-Standard, so that alone gives them a lot of exposure, but they came to be best known for their insane live shows… and when I say insane, I mean that: non-stop stage diving, crowd surfing, people flying and being at top of each other all the time and their singer taking walks at top of the crowd… just check out this video to get an idea. Their music however is not as insane as their shows, it is quite straightforward melodic punk rock with a bit of a metal edge here and there. Not bad, definitely not bad and their shows are just as crazy up close and personal as on their videos, so even though it wasn't really my kind of music, if anyone's into this blend of melodic punk, it is more than worth to check 'em out. And after them came Trash Talk, the evening's main attraction… that I unfortunately had to skip. So, unfortunately no photos of them, but for the rest… check below: