Acid Mothers Temple European Tour!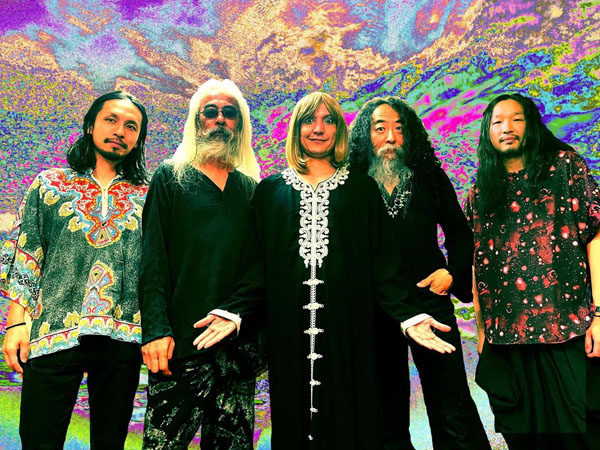 Acid Mothers Temple's main incarnation, Acid Mothers Temple & The Melting Paraiso U.F.O. is currently touring Europe after a years long break! After skipping 2020 due to covid they also had to cancel their 2021 tour due to the same reason, but now they are back finally and while they've already been on the road for 10 days, there are still a lot of shows ahead of them as they are staying in Europe until the second half of November.
Playing 46 shows altogether (!), they will be staying in the UK for the most part of the tour's first half, then move to France, Spain, Portugal, Italy, Germany and a few other countries. Check the full schedule below.
In related news, the band went thru a member change since their last time in EU, as Wolf, their bassist, who's been with them for five years quit AMT late 2020 and they are now touring with their new bassist (officially, "bass, hex man") Shozo Sawano, who is in a Kansai area psychedelic rock band called Unranu, but is also involved with several other bands.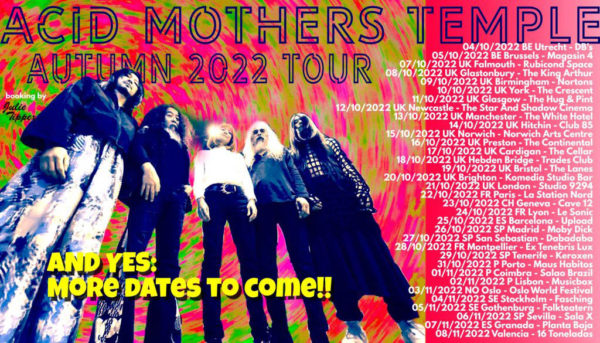 MetaReboot Tour in Europe 2022
2022.10.04 – Netherland, Utrecht – DB's
2022.10.05 – Belgium, Brussels – Magasin 4
2022.10.06 – UK, Margate – Elsewhere
2022.10.07 – UK, Falmouth – Cornish Bank
2022.10.08 – UK, Glastonbury – The King Arthur
2022.10.09 – UK, Birmingham – Nortons
2022.10.10 – UK, York – The Crescent
2022.10.11 – UK, Glasgow – The Hug & Pint
2022.10.12 – UK, Newcastle – The Star And Shadow Cinema
2022.10.13 – UK, Manchester – Rebellion
2022.10.14 – UK, Hitchin – Club 85
2022.10.15 – UK, Norwich – Norwich Arts Centre
2022.10.16 – UK, Preston – The Continental
2022.10.17 – UK, Cardigan – The Cellar
2022.10.18 – UK, Hebden Bridge – Trades Club
2022.10.19 – UK, Bristol – The Lanes
2022.10.20 – UK, Brighton – Komedia Studio Bar
2022.10.21 – UK, London – Studio 9294
2022.10.22 – France, Paris – La Station Nord
2022.10.23 – Switzerland, Geneva – Cave 12
2022.10.24 – France, Lyon – Le Sonic
2022.10.25 – Spain, Barcelona – Upload
2022.10.26 – Spain, Madrid – Moby Dick
2022.10.27 – Spain, San Sebastian – Dabadaba
2022.10.28 – France, Montpellier – Ex Tenebris Lux / Eglise de la Maison des Choeurs
2022.10.29 – Spain, Tenerife – Keroxen
2022.10.30 – Spain, Vigo – Radar Estudios
2022.10.31 – Portugal, Porto – Maus Habitos
2022.11.01 – Portugal, Coimbra – Salao Brazil
2022.11.02 – Portugal, Lisbon – Musicbox
2022.11.03 – Norway, Oslo – Oslo World Festival (Waq Waq Kingdom)
2022.11.04 – Sweden, Stockholm – Fasching
2022.11.05 – Sweden, Gothenburg – Folkteatern
2022.11.06 – Spain, Sevilla – Sala X
2022.11.07 – Spain, Granada – Planta Baja
2022.11.08 – Spain, Valencia – 16 Toneladas
2022.11.09 – France, Marseille – L'Embobineuse
2022.11.10 – Italy, Torino – Magazzino sul Po
2022.11.11 – Italy, Bologna – Covo Club
2022.11.12 – Italy, Mezzago – Bloom
2022.11.13 – Italy, Mestre – Argo16
2022.11.15 – Germany, Berlin – Lido
2022.11.16 – Germany, Frankfurt – Dreikönigskeller
2022.11.18 – Germany, Hamburg – Stubnitz
2022.11.19 – France, Lille – Métalu
2022.11.20 – Belgium, Liege – Kultura