Tokyo 2016 #11: Endon, Unarm, Collapse Society, Preparation Set, Belgrado (SP) @ Earthdom, 2016.09.17
Tokyo 2016 is a 13 part series of photo & live reports from September, 2016, documenting a deep dive into the city's various underground music scenes.
In Japan (just as anywhere else) most shows where several bands play together are built up around a certain music style, however they seem to have a tendency to just throw all expectation right out the window once in a while and come up with totally unexpected lineups, including acts playing music as different as possible. I've seen some really strange things in the past (Like… Merzbow playing with a bunch of indie-rock bands? Now, that was weird.), but
this event really had one of the most most unusual lineups ever. The main act of the night was Belgrado, a coldwave band from Spain and opening for them were: Unarm and Collapse Society, two raw-as-hell crust punk groups, Endon with their insane mixture of noise, black metal and who knows what else and Preparation Set… a live dub group! An unlikely selection, but… it worked. It worked so damn well.
The event took place at Earthdom, one of the most important venues in Tokyo for extreme music, located in Shin-Okubo, right above the somewhat shabby night life area of Shinjuku and just next to long rows of Korean restaurants and shops selling low quality KPop bootleg merch. The small sign and the stairs that take down to the club are barely noticeable, but once you get down, what awaits you is a pure underground vibe, with endless lines of old, mostly punk and hardcore flyers on the wall, a small concert hall, an another room for the makeshift bar and the merch tables. And of course, people with spiky jackets and spiky hair. Pure throwback '80s punk atmosphere.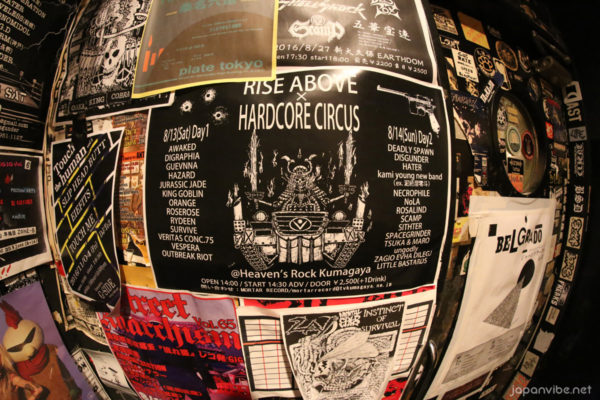 The main reason I came to this show was to see Endon. And not only because their debut album, Mama was great or because they are one of the most talked about new Japanese band on the international extreme and experimental music scene. But also because I've heard many people saying that they just must be seen live, as that's where their music really works… and it could not be more true. While Mama definitely is a very heavy album, it somehow still lacks real impact and doesn't fully take advantage of its potential for full-scale audio destruction. Onstage however their insane mixture of noise, black metal and the most brutal elements of hardcore, grindcore, death metal and at some points, even psychedelic rock truly comes alive. Two from the five piece band, on guitar and drums, are responsible for the more metal part of the sound, while other two are responsible for the almost never ending wall of noise and the whole set was balancing between the two extremes. At some points the sound shifted more towards grindcore and black metal, but then, again and again, everything got lost in the massive, engulfing waves of noise. And sometimes, suddenly it all got quiet and calm, with silent, almost dronish parts, that made the following gradual return to noise and brutality all the more effective. And atop of all this, you have Taichi Nagura, whose vocals are like the last, desperate cry of humanity marching towards armageddon and annihilation… with a fitting, frenzied performance style. Mind-blowing. Truly a must see band. I hope their upcoming second album will be able to better recapture the totally devastating effect of their live shows with the help of Converge's Kurt Ballou. But in the meanwhile, just check out this live video from last November to get the idea of the awesomeness, that is an Endon concert.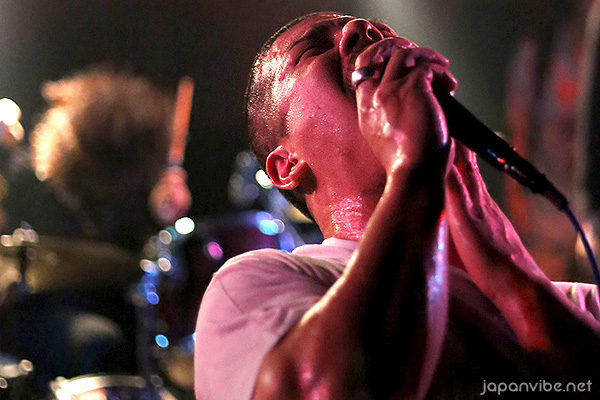 They were followed by Unarm, whom, along with Collapse Society, that performed later are two of Japan's many crust bands, but while the latter has been around since the early '90s, the female fronted Unarm is relatively "new". They had their first releases out about ten years ago and became known for their sound that is particularly raw and dirty, even with crust standards. And their show was just like that as well: short, brutal and noisy tracks with wonderfully primitive, but effective guitar riffs, played at rapid-fire speed and over-the-top shouting and screaming vocals with politically charged protest lyrics. Collapse Society on the other hand had more of a nihilistic sound and attitude. They were not a bit slower though, just while Unarm had more of a let's-start-a-revolution kind of vibe, they were more like "ehh, just fuck it all!". They were noisy, angry, their sound was maybe a bit closer to really old-school grindcore, but still, them and Unarm were the only groups that perfectly fit together that evening.
However, playing between the two of them, we had Preparation Set, a four member live dub band, that was musically sticking out of the event's lineup as much as possible. I couldn't find a lot of info about them, but they've been around at least since 2011, and it seems that performing next to extreme bands is nothing new to them: they regularly do shows with heavy bands and their only release I could find info about is a split with Zenocide, a grindcore / sludge band from Tokyo. Their music however was neither extreme, nor experimental, it was just plain old, classic dub, done well. Real, real well. Some people moved to the bar room to chat and have a few drinks, but most of the audience stayed and enjoyed the show, bumping their heads to the bass-driven beats. And it was great to have a bit of chill and a break from all that brutality. I wanted to pick up a CD or something from them after the show, but all they had was a t-shirt (a pretty great one though), so I ended up with that and when I told their keyboardist / merch man, how much I loved what they did, he was all like "Oh no, we are not really good, nothing special, never mind us!". But to hell with that, they are definitely a band to keep an eye on!
The other band sticking out of the lineup was of course the night's main act, Belgardo, a cold wave / post punk group from Europe on the first date of their six stop Japan tour (that not just started, but also ended in Tokyo a week later at Antiknock, where they teamed up with another batch of pretty extreme bands). Belgrado formed only a few years ago, but they are quickly getting more and more popular in post punk circles, and what sets them apart from other similar bands is that even though they are from Spain, their singer, Patrycja who is from Serbia, is singing in her native language. And that gives their music a bit of an exotic feel, as besides being typical melodic post punk, their sound also evokes the Eastern European underground scene of the '80s. And their music in general has a very strong '80s vibe: it is melancholic, old fashioned dark wave, complete with the wailing, echoing guitar sound, that was so popular amongst that era's post punk bands. And it is not just the music, but the appearance as well, as Patrycja looks like someone straight out of a synth pop or new wave band from that period. But even though their music is clearly rooted in the past, it is still fresh and the audience just loved them… and as with Preparation Set, nobody seemed to care one bit about genres, only if the band was good or bad. But, while it does not show in their sound, Belgrado actually has some loose connections to the crust / punk scene as some of the members also play in D-beat punk bands… and the fact, that their Japanese tour was arranged by one of the guys from Collapse Society somewhat explains the lineup, but still, it was really great to go to a show where the only thing that mattered was the quality of music.
Next up, in the penultimate part of the Tokyo 2016 series: same night, different venue with more gothy goodness!