Charisma.com returns with new music video and their first major album!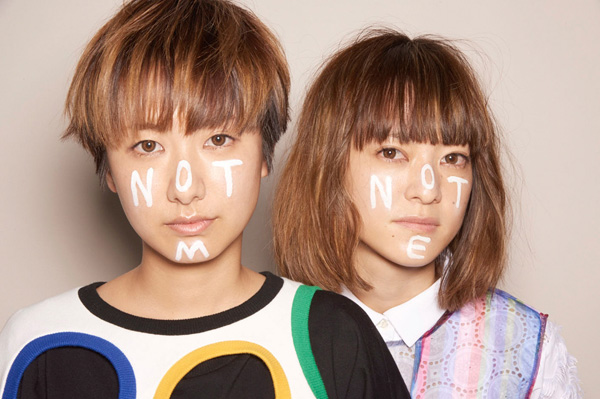 The mini album called unPOP, the latest release from pop / hip-hop / electronic dance music duo Charisma.com, that they dropped last November (details here) unfortunately turned out to be quite mediocre. But looking back at it, it actually seems more like an effort to tie up loose ends, as besides two new songs it only featured tracks that they made for commercials and promotional campaigns in 2015 and 2016. So, it seems that they needed to get those out of their system before they could move on and concentrate on their upcoming new album, which is also their first under a major label (Warner Japan).
And not not me, the 11 track album is promises to be an excellent release: the songwriter lineup they gathered to help them out is just amazing and includes acts such as the recently reformed late '90s Shibuya-kei-ish group Cibo Matto or Shacho from the self-defined "death jazz" band, Soil & "Pimp" Sessions. Besides the detailed track listing and the cover artwork, they also released a music video to promote the release for the track called #hashdark and it is easily the best Charisma.com song in a while, accompanied by the very atmospheric video, that sees the girls taking a walk through Tokyo's empty streets late night, visiting some iconic spots, such as Tokyo Tower, Asakusa's shopping street, the Metropolitan Government Building, Tower Records or Shibuya's famous scramble crossings (both the better known one besides the station and the other at front of the MODI building, a few corners away from there):
Updated (2017.03.06): Another video, this one is from the recording sessions for a track called Classic Glasses. And while #hashdark had the typical Charisma sound done well, this one goes to discover new directions with its jamming slap bass style, featuring Hama Okamoto from Okamoto's. So… so far this album sounds very promising!
Updated (2017.03.21): And yet another video, this time a simple, but very clever one that can be viewed both in horizontally and vertically mode and that sees the duo's members trying to reach for their car key (yeah, that's all the story, but it is more than enough, believe me). And the song itself, the album's title track, turned out to be a more laid back tune, that's another thing we could rarely hear from them before, but they did a great job with it. Seriously, this album just sounds better and better with each new preview!
not not me
2017.03.22
01.#hashdark // produced by: PABLO a.k.a. WTF!?
02.Like it // produced by: KO-ney
03.Yajiuma Dance // produced by: Cibo Matto
04.意地easy // produced by: ALIKICK
05.Lunch Time Funk // produced by: 西寺郷太 (Gōta Nishidera) from NONA REEVES
06.classic glasses // produced by: ハマ・オカモト (Hama Okamoto) from OKAMOTO'S
07.だったらshow me // produced by: Tokyo Recordings
08.婿においで // produced by: 社長 (Shachō) from SOIL&"PIMP"SESSIONS
09.メキメキmore // produced by: 岩渕マサル (Masaru Iwabuchi)
10.Chicken boom // produced by: 荒木真樹彦 (Araki Makihiko)
11.not not me // produced by: 蔦谷好位置 (Koichi Tsutaya)