Kikagaku Moyo's European tour dates for June, 2017!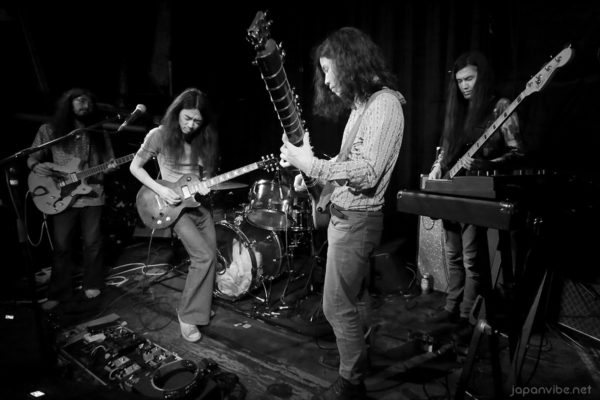 After last year's extensive touring around the world, the young psychedelic rock group Kikagaku Moyo will hit the road again this summer when they will return to Europe for another long series of concerts. The tour will start on the 5th of June and will last till the end of the month, covering nine countries, including a couple of festival appearances: Beaches Brew Festival in Italy, Freak Valley Festival in Germany, and Netherland's Best Kept Secret Festival (where they play alongside Radiohead, Arcade Fire and such). So, go and check them out if you can, they are truly amazing live!
Check the live & photo & video report here from their show in Vienna last year.
2017.06.05 – Italy, Ravenna: Beaches Brew Festival
2017.06.06 – Italy, Torino: Blah Blah
2017.06.07 – France, Toulouse: TBA
2017.06.08 – France, Clermont Ferrard: Raymond Bar
2017.06.09 – France, Rennes: Mondo Bizzaro
2017.06.10 – Belgium, Antwerp: De Single
2017.06.12 – Germany, Cologne: King Georg
2017.06.13 – Germany, Munich: -Milla
2017.06.14 – Switzerland, Lausanne: Romandie
2017.06.15 – Switzerland, Zürich: Zukunft
2017.06.16 – Germany, Mannheim: Maidfeld Derby
2017.06.17 – Germany, Netphen: Freak Valley Festival
2017.06.18 – Netherlands, Beekse Bergen: Best Kept Secret Festival
2017.06.19 – France, Paris: Espace B
2017.06.20 – UK, London: Moth
2017.06.21 – UK, Manchester: Deaf Institute
2017.06.22 – UK, Leeds: The Library
2017.06.23 – UK, Brighton: Hope & Ruin
2017.06.24 – France, Lille: La Malterie
2017.06.25 – Luxembourg, Luxembourg: Rotondes
2017.06.26 – Germany, Nuremberg: Z-Bau
2017.06.27 – Germany, Leipzig: UT Connewitz
2017.06.28 – Czech Republic, Prague: Theremin
2017.06.29 – Germany, Berlin: Badehaus