Shoegaze, noise and psychedelia: an interview with Qujaku
Qujaku (formerly called The Piqnic) ranks amongst the most interesting acts to come from Japan the last couple of years and their heavy, noisy, yet trippy mixture of shoegaze, psychedelic rock and krautrock is quickly gaining international recognition. This Spring, after their earlier, shorter ventures, they returned to Europe for a long tour that had 26 shows across the continent. I went to see them in Brno and we agreed there to do an email interview after the tour's end. This is the result of that, so, read on to find out more about this excellent group's history, influences, European tours and side projects.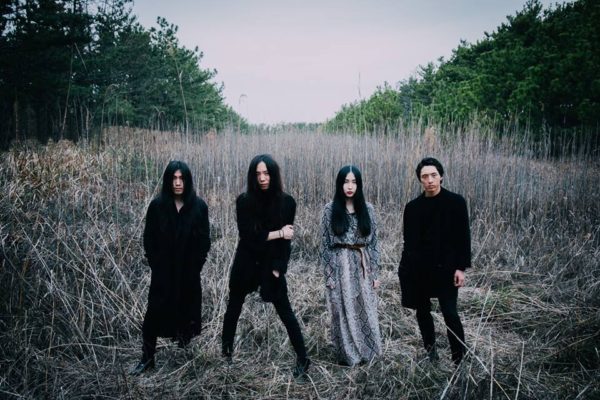 You were touring Europe from mid-April till late May. How was the feedback? And how would you compare the European and Japanese audiences?
The response was really good. Whenever we play in Europe, we feel that the European audience is more straightforward than the Japanese. They dance when they like the music and they just leave when they don't. It depends on the person though. Japanese people watch performances more quietly. They watch live music until the end even if it's not what they like. We like both though. As performers, we get motivated to play in front of both audiences.
Your music falls somewhere between shoegaze and psychedelic rock. What were your main influences as a band and what kind of music each of you listen to?
There aren't any particular influences as a band. We've been influenced by all the music we've listened to. Each member likes a variety of music. We all listen to any kinds of music. Rock, classical, jazz, contemporary, electronic… anything really.
When and how did the four of you meet each other and decide to form a band together? And had any of you been in another band before Qujaku?
At the beginning each of us had been in different bands and we all met at live music venues. Shuya formed Qujaku once Shuya and Hiromi had got in the same band. It was 4 years ago, and 2 years later, Soushi joined the band after the first guitarist left.
How did you choose the name The Piqnic and why did you decide to change it to Qujaku? And what does Qujaku mean?
There aren't any particular reasons or meanings. We renamed it because we just got bored of the name. QUJAKU means a peacock, by the way.
You recorded a song called "Let It Die – yuu" for a PS4 game soundtrack. Is that the same "Yuu" that appeared on your new EP? And how did you get involved in the Let It Die project?
Yeah, they're the same song. There was a competition of the project to be played in the game, so we applied and got picked. 'yuu' is our favorite track, by the way.
The other new song, gyakushi from their latest EP, live in Worchester during the Spring tour.
Video by King Dave.

Your first European tour happened very early in your career, shortly after you released your first album. Did you already had plans to go international when you started the band?
We didn't really have plans to tour Europe. We were thinking it'd have been nice if we could've played live abroad though. We were just lucky meeting some nice people, which has eventually led us to tour Europe. We really thank all the people helping us.
You release your records on So I Buried, could you tell us about that label?
We met the director of So I Buried in August 2014. His priority is always artists, and not commercial success, we really like his attitude. The other releases from the label are very interesting too, so check them out.
Even though you have a quickly growing international audience, your recordings are quite difficult to buy from Europe. Do you have plans to set up a bandcamp store or have other kinds of worldwide distribution?
We don't have plans to set up things like that right now, but we think it'd be nicer if more people knew us and got our recordings.
Your music has European roots, but do you think living in Japan had any specific influence on it?
Yeah, definitely. We think we can create our music because we live in Japan. Shizuoka, where we live, is especially filled with nature and it is peaceful and we must be influenced by such environments.
Do you consider yourself a part of any specific music scene in Japan? Or are there any local bands that you feel related to?
We've never felt we belong to anywhere and we don't want to.
Qujaku in Brno, Czech Republic, 2017.04.24
Japan has a huge and very diverse music scene. With so many bands around, is it difficult for a new band to reach people with music and build an audience?
It's not only in Japan, it's always hard to build an audience anytime anywhere. But, we think it's important to keep doing what you do and never give up creating your own music.
Could you tell us about your lyrics?
Life and death.
While all lyrics are credited to Shuya, music is always credited to Qujaku. Do you work on new songs together while jamming or one of you brings a song idea and you work on that together?
Some songs were made during jamming and some songs were based on Shuya's ideas. There isn't one particular method. But basically, we make songs by repeats of practices and live performances.
Both Soushi Mizuno and Hiromi Oishi has solo projects, and Hiromi also makes those handcrafted items you always have on your merch table. Could you tell us about those side projects and do the others have projects besides Qujaku as well?
Soushi's solo project is totally different from QUJAKU, calm music with just an acoustic guitar and vocal. A half of the CD of his solo contains original songs and the rest is remix, so it'd be great if people who aren't keen on acoustic music listened to it too. His solo and NITOU, which is Soushi's new side project, are both the music Western people can get familiar to, so he'd love those projects to get more activated in Europe too.
Hiromi started making rings for herself originally and she makes them for fun. QUJAKU's merch table gets more vivid so we started selling them. Regarding Hiromi's solo, she likes pianos since she was little and she wanted to do something with the piano songs she's made, that's how it came out. She'll keep making songs in her own way.
And finally: what's next for Qujaku after the EU tour?
We'll get some rest, and then, we'll start working on a next one. We're sure you'll love it.
Qujaku is:
Vocals, Guitar – Shuya Onuki
Bass – Hiromi Oishi
Drums – Ryo Habuto
Guitar – Soushi Mizuno
Qujaku official site / facebook / instagram
Soushi Mizuno bandcamp / Hiromi Oishi soundcloud
Thanks to Shuichi Yasuda for his help and translation!
ZyouK, perfomed in Budapest, during their first EU tour in 2015. Video by Japan Vibe.