Crossfaith @ Dürer Kert, Budapest, 2018.06.26
Before their new album scheduled for August and the following EU tour, Japan's metalcore heroes Crossfaith embarked on a shorter European tour, that included some solo shows, but mostly saw the band playing at festivals and hopping on other band's tours as supporting acts. These included shows with Bullet for My Valentine, Modern Life Is War, Cancer Bats, Bury Tomorrow and Underoath. They played three gigs with the latter that also included one in Budapest, so, I went to see them… for the fourth time altogether. The previous ones included two headliner gigs in Vienna and their only show in Budapest up till now, that happened back in 2012, during one of their first EU tours. And if you are too lazy to read live reports and all you wanna do is to scroll down to the gallery, it's OK, I'm just gonna sum it up for you: even thought all the previous ones were great as well, this was the best Crossfaith show I've seen so far.
Back in 2012 they visited Budapest as a support act and now returned as such, which meant a shorter set, but… what an amazing set it was! Their headliner tours in Europe were always promo tours for their current albums and focused on new material, however this festival + support act tour was more about getting new people hooked. So, for them it was more like a showcase and as a result the set list was more like a Best Of selection, picking some of the finest tracks from their back catalogue. And it was a real feast for old fans who got hooked on them back in the Zion EP era: they played for about 50 minutes and even skipped their two latest singles, Wipeout and The Perfect Nightmare in favour of oldies, that included three tracks off Zion, some songs from their EPs, Omen, their classic The Prodigy cover and some of their finest tunes from Xeno and Apocalyze, the two albums they released since they broke into the international metalcore scene.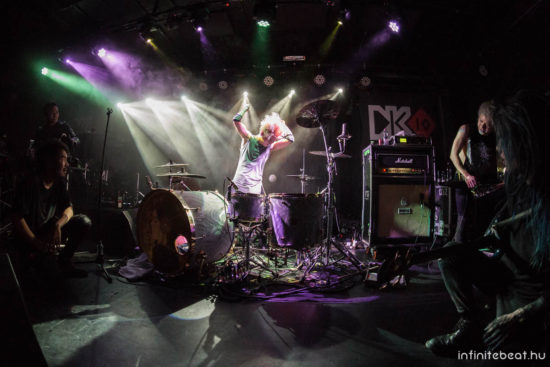 So, it was a dream set list, but good tunes alone are not enough of course, what made the show so damn great was the totally incredible amount of energy that they just radiate from the stage. They gave it all they got and they put 100% effort into each and every second of the show. They started off with Monolith, one of their early fan favorites and the stage just exploded… along with the first couple of rows where their local fan base gathered, but soon the room was full and it was party time for all. Their music, the unique blend of sometime aggressive, sometimes more melodic metalcore and a healthy dose of EDM works fine on their releases as well, but it really comes alive at their shows, where they suck you into their world in a minute and from that moment on, your only problem is, that you won't be able to decide if you should dance hard or mosh hard. Even at that show in 2012 they were very good live, but they got much better since and even though they got pretty huge since within the scene, they did not lose their edge… and they clearly still put all their hearts and souls into what they do and are having a damn great time in the process. I don't know how many of the people who came for Underoath knew Crossfaith from before, but I am pretty sure everyone was blown away and after their set, even the club's security guys were raving about them, saying that they very rarely see a band that's so original and one that puts on such a great show. As a live band, Crossfaith managed to keep all the youthful energy of their early days and just took it all to the next level and it is no wonder at all that they got so big internationally in such a short time. And in just a few weeks, we will also see what they have to offer on their new album.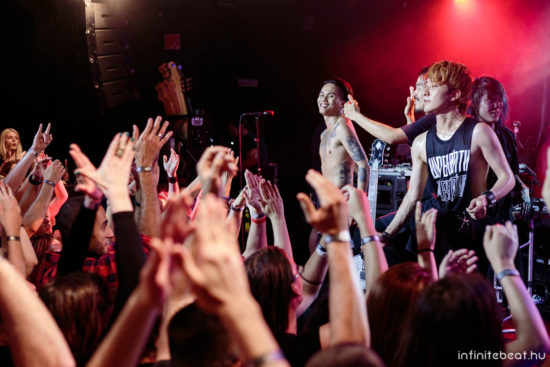 Across The Future 2018 Tour @ Budapest
Monolith (Zion EP, 2012)
Rx Overdrive (New Age Warriors EP, 2016)
Freedom (Freedom EP, 2017)
Jägerbomb (Zion EP, 2012)
Omen (The Dream, The Space, 2011)
System X (Xeno, 2015)
Xeno (Xeno, 2015)
Counting Stars (Apocalyze, 2013)
Devil's Party (Xeno, 2015)
Countdown to Hell (Apocalyze, 2013)
Leviathan (Zion EP, 2012)