Online streams this weekend by three young rock bands straight from Tokyo!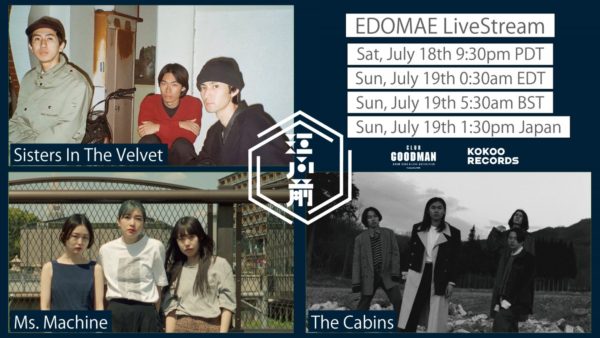 This whole covid crisis is turning pretty much everything upside down and it hit the live music scene especially hard. Musicians however try to adapt to the situation creatively, which includes many many concerts streamed online… of course these can never really be the real deal and replace the atmosphere of actual live shows, however many bands use this as an opportunity to reach new audiences all over the globe. Including the three young Tokyo-based rock bands that will stream their show this weekend from Akihabara Goodman, a venue known as one of the homes of Japan's experimental and avant-garde scene.
The bands include:
The Cabins, which formed in 2018 and mixes heavy psychedelia and a bit of punk with '70s inspired experimental rock music (think of something like Gong).
Ms.Machine, a three-piece all-female band, active since 2015, which (based on their song titles) is clearly heavily influenced by Sweden and which plays quite unique music, that balances between post-punk, post-rock and shoegaze.
Sisters In The Velvet – The newest of the three is this rock group, that's based in Shimokitazawa (a part of Tokyo that is famous for its indie rock clubs and scene) and plays a mixture of shoegaze and alternative rock, influenced mostly by bands from the '90s.
Below is the link and date (in different time zones) for the live stream, plus a music video from each of the bands.
KOKOO RECORDS presents EDOMAE Live Stream
The Cabins / Ms.Machine / Sisters In The Velvet
EDOMAE LiveStream
Sat, July 18th 9:30pm PDT
Sun, July 19th 0:30am EDT
Sun, July 19th 5:30am BST
Sun, July 19th 6:30am CET
Sun, July 19th 13:30am Japan