Miyavi @ Barba Negra Budapest, 2019.10.21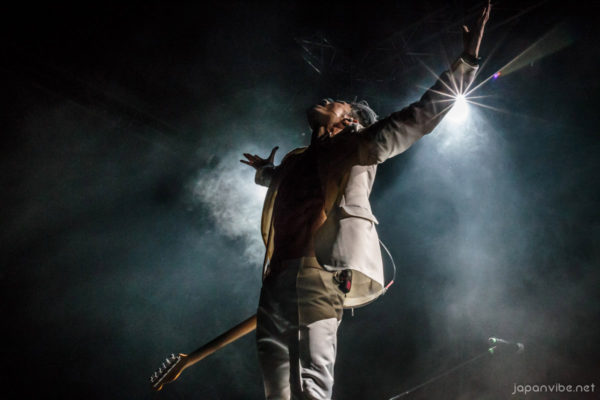 The first time Miyavi played here in Budapest was in October, 2009, so now, this October, when he returned almost exactly 10 years later it wasn't just another chance to see what he's up to recently, but it was also a very good opportunity to reflect on these past ten years. Back in 2009 he was still in his visual kei poster boy era and it may sound harsh, but he was hardly more than an annoying and egocentric little kid, playing rather terrible and pretentious music. But then things changed… he married, left the visual kei appearance behind, got rid of his support band and started to experiment musically… and he emerged drastically changed. From that time on he went for a pretty unique sound, that, for a certain extent, was rooted in his earlier music, but was actually very, very different: it is still rock based, but flirts with pop quite one bit as it was first displayed on his 2010 album, What's My Name?. And his followig EU tour in 2011 was also drastically different: it was only him and his drummer called Bobo on stage and instead of the teen idol kind of show that we got two years earlier, we were treated with a fun and groovy gig, with a massive dose of jamming and with a very different overall attitude.
And since then, he has been refining that sound and that kind of live show with better and better results… or so was the case up till his latest concert in Budapest in 2017. That one was still a decent one, but it introduced some changes: besides good old Bobo, he was also joined by a DJ and his music started to go to new directions as well. His latest studio album at the time, 2016's Fire Bird was yet another great example of him refining and developing his trademark pop-rock sound even further, but the show itself was a departure of sorts, going for a more… "international" sound. And by international, I mean one that sounds a bit too much like anything you can hear on pretty much any radio stations worldwide playing mainstream music. It was a somewhat strange gig, that was fine, but one that simply lacked the punch that his previous ones delivered (as after 2011 he also returned to Budapest for two more excellent gigs in 2014 and 2015) and what made it even weirder is that he seemed to be avoiding the mic as much as possible. And his subsequent releases went even further to this direction: he released Samurai Sessions 2 and 3 in 2017 and 2018, that were collaborative albums that saw him teaming up with different singers and musicians for each tracks and that was going for that very international, very mainstream sound even more. Which was not a problem itself… the problem was that these songs (with a few exceptions, like the instant classic Rain Dance) were… just not really good. You could simply hear that he is just not in his element, he is trying to do something that he is just not that good at.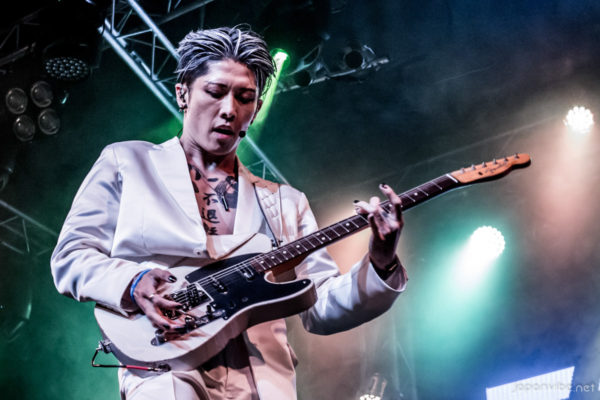 However after those two somewhat disappointing releases, he returned with a new studio album, No Sleep Till Tokyo this summer and finally it was a true return to form in every sense of the world: it marked a return to his Fire Bird era sound, taking it one steps further from that point. Yet again, the music was fun, it was groovy and it featured that unique mixture of pop and rock that he was so good at. And it also included several new instant classics that simply cried out for live performances, with their upbeat, danceable rhythm and sing-along chorus parts. While Miyavi quit Budapest during his 2018 EU tour (and we were not missing out on much probably, as he did that one in association with a Korean tour management company that is infamous for its overpriced tickets, ridiculous "vip" packages and bad organization), but fortunately his No Sleep Till Tokyo tour included our city again and his show, just as his album, was a true return to form.
The setlist centered around the new release, but as it was a pretty long show, almost hitting the two hours mark, he also had time to include a lot of old ones, going back as early as 2006. Most of the older tunes were from the last couple of albums though and the songs from the new full-length blended in perfectly with those and besides one or two slower tunes, the whole set was very upbeat and had a very positive vibe. And not just the music: Miyavi stopped a lot between songs to talk to the audience, speaking about his family, his movie roles and his work as Goodwill Ambassador for UNHCR (United Nation's refugee agency) and the audience also had a bit of a surprise for him and with small star, cloud and moon shaped signs held up, they turned the whole hall into a skyscape during one of the finest (and at the same time popiest) new tunes, Under The Same Sky.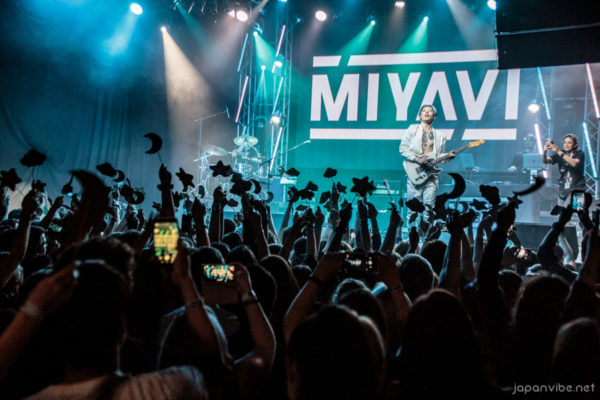 Just as in 2017, he had the trio line-up, but by now he managed to integrate his DJ (DJ Jonny Litten) much more into the show, while his usual drummer, Bobo, who could not make it to Europe this time due to conflicting schedules was replaced by a guy called Anthony Lopez, who is otherwise known as the drummer of The Absolute, a US rock band. After the main set, they came back for a lengthy, four song encore (the full setlist can be found below the photo gallery) and wrapped up the show with the title track off What's My Name?, the album that started a new chapter in his career back about a decade ago. It was a great show and it was great to see that Miyavi, even after all these years, still finds new ways to improve and develop his signature music style even further.
01.Stars
02.Flashback
03.In Crowd
04.Rain Dance
05.No Sleep Till Tokyo
06.Tears on Fire
07.Other Side
08.Guard You
09.Selfish Love
10.What A Wonderful World
11.Under the Same Sky
12.Ha!
13.Strong
14.Fire Bird
15.Raise Me Up
16.Day 1
Encore:
17.Fragile
18.Long Nights
19.The Others
20.What's My Name?