Acid Mothers Temple's recent releases and their upcoming Europe tour dates!
It's been known for a while that AMT's main group, Acid Mothers Temple & The Melting Paraiso U.F.O. will appear at the Liverpool International Festival of Psychedelia (alongside Kikagaku Moyo and many others), so everyone was expecting a longer European tour around that period… and now the dates are out! As usual they will be on the road for a long while, well over a month, playing shows nearly every day, covering most of the continent.
And talking about AMT… it wouldn't be them if there weren't a bunch of recent releases to mention, so let's see what they released this year so far: a new album, Wake To A New Dawn of Another Astro Era on Important Records in June, a 2 CD collection called The Early Acid Mothers Temple Recordings 1995-1997 on Norway's Synesthetic also in June and a self released live album from March, called Last Concert of the First Chapter that was recorded in 2015's 14th Acid Mothers Temple Festival.
Recommended reading: an interview with AMT leader Makoto Kawabata from last year.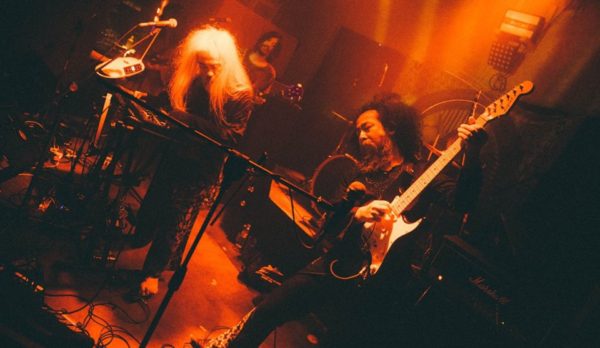 Acid Mothers Temple & The Melting Paraiso U.F.O. European Tour 2016 : Wake To A New Dawn of Another Astro Era Tour 2016
Lineup:
Kawabata Makoto : guitar, synthesizer, voice, speed guru
Higashi Hiroshi : synthesizer, theremin, harp, voice, noodle king
Mitsuko☆Tabata : guitar, guitar-synthesizer, voice, maratab
Satoshima Nani : drums, voice, another dimension
S/T : bass, voice, space & time
2016.09.20 – UK, Cardiff: Clwb Ifor Bach
2016.09.21 – Ireland, Cork: Crane Lane Theatre
2016.09.22 – Ireland, Letterkenny: Regional Cultural Centre
2016.09.23 – Ireland, Dublin: Whelan's
2016.09.24 – UK, Liverpool: "Liverpool International Festival of Psychedelia"
2016.09.25 – UK, Norwich: Owl Sanctuary
2016.09.26 – UK, Doncaster: Vintage Rock Bar
2016.09.27 – UK, Bristol: Exchange
2016.09.28 – UK, Brighton: Hope & Ruin
2016.09.29 – UK, London: Corsica Studio
2016.09.30 – UK, Birmingham: Rainbow
2016.10.01 – UK, Glasgow: Nice N Sleazys
2016.10.02 – UK, Dundee: Buskers
2016.10.03 – UK, Stourbridge: Scary Canary
2016.10.04 – Spain, Madrid: El Sol
2016.10.05 – Spain, Oviedo: La Late de Zinc
2016.10.06 – Spain, Vigo: La Fábrica De Chocolate
2016.10.07 – Portugal, Leiria: "Yeah Yeah Festa"
2016.10.08 – Portugal, Barreiro: "Outfest"
2016.10.09 – – –
2016.10.10 – France, Montpellier: The Black Sheep
2016.10.11 – Italy, Savona: Rain Dogs
2016.10.12 – Italy, Bologna: Locomotiv Club
2016.10.13 – Italy, Roma: Planet Live
2016.10.14 – Italy, Venezia: Spazio Aereo
2016.10.15 – Italy, Torino: Magazzino Sul Po
2016.10.16 – Italy, Milano: Santeria Social Club
2016.10.17 – Austria, Graz: Music House
2016.10.18 – Slovenia, Ljubljana: Kino Šiška
2016.10.19 – Croatia, Zagreb: Club Klub
2016.10.20 – Austria, Vienna: Fluc
2016.10.21 – Czech Republic, Prague: Klub 007 Strahov
2016.10.22 – Switzerland, La Chaux de Fonds: Bikini Test
2016.10.23 – – –
2016.10.24 – – –
2016.10.25 – France, Lyon: Sonic
2016.10.26 – France, Paris: Le Petit Bain
2016.10.27 – Belgium, Bruxelles: Magasin 4
2016.10.28 – Belgium, Hasselt: MOD
2016.10.29 – Netherlands, Utrecht: DB's