Goth-Trad, Broken Haze, Carpainter & more @ Boiler Room's Tokyo Bass stream… in a few hours!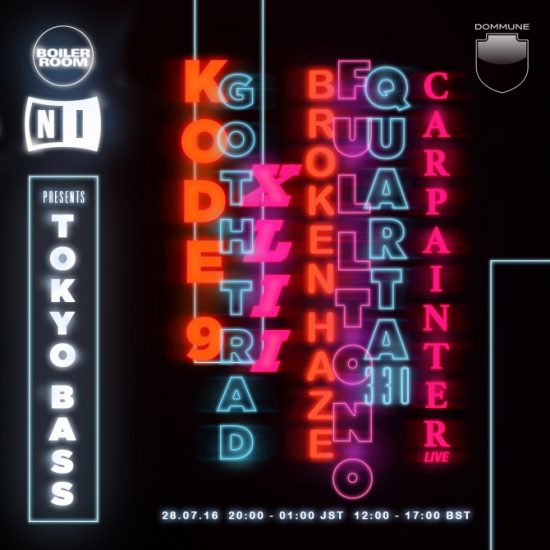 The Boiler Room crew's been working with Japanese artists for a few of years now and they already had a couple of excellent online stream shows (that are now mostly available on youtube, so be sure to check 'em out) that included: hip-hop label Jazzy Sport, noise legend Keiji Haino, the heavy rock of Bo Ningen and Boris, the later along with God Of Noise Merzbow and of course Tokyo's dubstep crew Back To Chill led by Goth-Trad. And now the later returns (probably spinning a few tracks from his upcoming record) for yet another round, but this time along with a very diverse lineup that includes mostly local breakbeat, footwork and bass music producers: XLII, Quarta330, Fulltono, Broken Haze, Carpainter. And Scotland's Kode9 as a pretty excellent bonus! All in a show quite fittingly called TOKYO BASS, with altogether five hours of bass heavy madness, starting in about two hours from now!
Further info and online stream will be available here: here @ JST 20:00 / BST 12:00 / CET 13:00
running order was:
Carpainter
DJ Fulltono
XLII (from XXX$$$)
Broken Haze
Quarta330
Kode9
Goth-Trad
Part of the stream is available here.