After long years, Maximum The Hormone is finally back!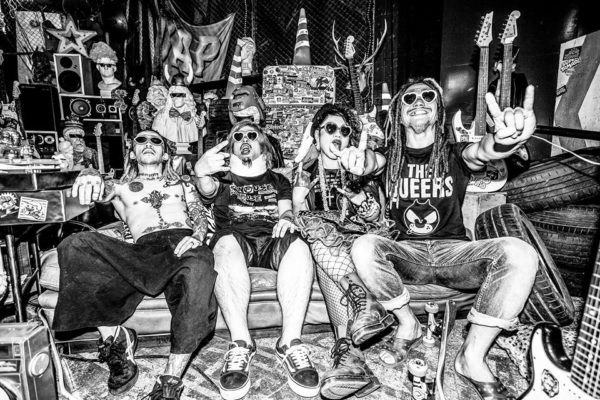 Maximum The Hormone had its huge, domestic and international break back in 2006 when two of their songs were featured in the extremely popular Death Note anime series. While pretty much all anime songs are either pop tunes, or up-tempo melodic rock songs, they were something completely different: their music was insane, hysterical, but incredibly catchy at the same time, switching between brutal and extreme metal sound (complete with death growls and lightning fast guitar riffs) and sugarcoated cheesy pop parts. They had a highly successful album out the following year, but since then their career was somewhat bumpy. They went on hiatus several times, either due to health issues or drummer Nao's pregnancy and as a result, they only released one new album, 2013's Yoshu Fukushu since 2007. But it seems that the band is back for good at long-last and they dropped two music videos recently!
The first one, haikei VAP-dono came out back in September and it was kinda like an announcement about them switching labels from VAP to Warner turned into a song. That one had a surprisingly straightforward, melodic punk rock sound, but their new one, Maximum the Hormone II -Let's Talk about Menkata Cottelee (or: korekara no menkata cottelee no hanashi wo shiyou), that was released just days ago, marks their return to their trademark, insane, unpredictable style. Also, their new mini album will be out tomorrow, containing the two above mentioned songs, two other new tracks and an alternate track of one of those as a bonus.
これからの麺カタコッテリの話をしよう (korekara no menkata cottelee no hanashi wo shiyou)
2018.11.28
01.Maximum the hormone II ~これからの麺カタコッテリの話をしよう~
02.G'old~en~Guy
03.肺脂西班牙 (we're the 俺)
04.拝啓VAP殿
05.G'old~en~Guy (劇場版アニメ予告編 ver)(Bonus Track)