Qujaku: new album and European tour!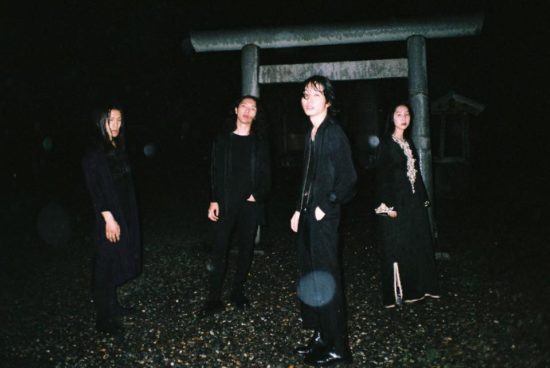 Qujaku, one of the best new Japanese underground bands from the last several years will return with a new album this August, followed by a European tour! They formed as The Piqnic back in 2013, released two demo CDr's and an album, had a short EU tour, then changed their name to Qujaku in 2016. They visited Europe a few more times since then (check the live report and interview from last year) and released three EPs, the latest being S, that came out last October, but this will be their first full length under the new name.
Titled simply Qujaku, the album will be released on vinyl as a double 12″ and will drop on the 16th of August on So I Buried Records, limited to 500 copies. It will come with nine tracks, including two older ones, Keiren from their 2016 EP and a new take of ZyouK, the title track from the The Piqnic album. They also uploaded the album's opening track, the nearly 20 minutes long shoku no hakumei to soundcloud and with its incredible mixture of noise rock, shoegaze, post rock and heavy psychedelia, it clearly takes the band's sound to new heights.
The tour itself will contain 18 shows in six countries and will include two festival appearances, one at Nox Orae Festival in Switzerland and one at HUB Festival in Cardiff, UK. Half of the dates will be in the UK and the rest of the tour will take them to Belgium, Germany, the Czech Republic and Hungary… where they will play a show Budapest organized by JapanVibe! Check the full schedule and the album's track listing below:
2018.08.16 – UK, Nottingham: JT Soar
2018.08.17 – UK, York: The Crescent
2018.08.18 – UK, Newcastle: Head Of Steam
2018.08.19 – UK, Preston: The PPL
2018.08.22 – UK, Birmingham: Hare And Hounds
2018.08.23 – UK, Chester: The Golden Eagle
2018.08.24 – UK, Cardiff: HUB Festival
2018.08.25 – UK, Wrexham: Tŷ Pawb
2018.08.26 – UK, Bristol: The Old England
2018.08.27 – UK, Brighton: Sticky Mike's Frog Bar
2018.08.28 – Belgium, Gent: Trefpunt
2018.08.31 – Germany, Frankfurt: ExZess
2018.09.01 – Switzerland, La Tour-de-Peilz: Nox Orae Festival
2018.09.03 – Hungary, Budapest: Dürer Kert
2018.09.04 – Czech Republic, České Budějovice: TBC
2018.09.05 – Czech Republic, Brno: Bajkazyl
2018.09.06 – Czech Republic, Prague: Theremin
2018.09.08 – Belgium, Brussels: Magasin 4
2018.09.09 – UK, London: The Lexington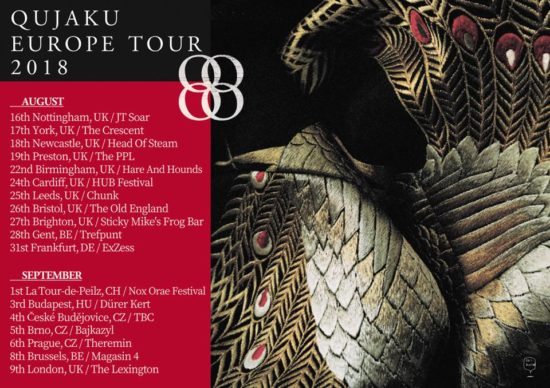 Qujaku
2018.08.16
01.Shoku No Hakumei (蝕の薄明)
02.Kami Ga Korosu (神が殺す)
03.ZyouK
04.KEIREN
05.Ave
06.Hadaka No Inochi (裸の命)
07.Kagamie (鏡絵)
08.Yui, Hateno Romance (結い、果てのロマンセ)
09.Sweet Love of Mine