Qujaku @ Bajkazyl Brno, Brno, Czech Republic, 2017.04.24
After their first, short European tour in 2015 and a few more EU dates last year, Qujaku set off on its first proper, long Europe tour this spring with 24 dates in six countries. About half of these are UK dates, but there were also a couple of shows in Germany and Belgium and also one in Switzerland and one in the small city of Brno in the Czech Republic. After their totally mind-blowing show in Budapest back in 2015 (still under their original name, The Piqnic) I obviously wanted to see them again and as they skipped Budapest this time, I ended up going for the Brno show. It took place in a tiny, very underground, but quite lovely venue called Bajkazyl Brno, just a minute or so away from the train station and it was a weird mixture of an anarchist bar, a bike repair shop and a live venue with approx 80-100 capacity. There were about 50-60 people I think, which is quite nice especially as it was a Monday evening.
There were two opening acts, The Contact High Qujaku's touring partners from Wales and a local band called Fat Old Donald. The latter was the first to play and while the poster said that they are an ambient band… well, that wasn't really true. At least they definitely weren't playing what I consider ambient, they were more like a trippy, somewhat post-rockish mixture of progressive-, psychedelic- and noise rock and they were actually quite good and interesting. And the guys from Wales played more or less similar music, but with more a lo-fi kraut rock thing going on and they weren't bad either, but their show was pretty much ruined by their guitar amp, which wasn't just too loud, but it was also distorting everything so horribly, that it turned the music into a complete mess. Too bad, as otherwise they sounded nice.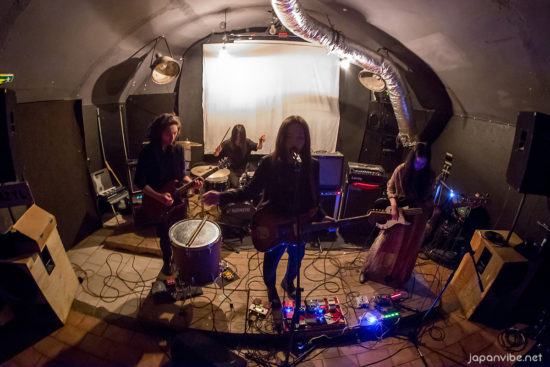 Since their tour in 2015 Qujaku did not release much new stuff: they only came out with two two-track EPs, one last year called Keiren and H, a 10″ one just before the tour, plus they had another new song on the Provoke compilation and that was it. So, not much, five tracks altogether, but all of these were extremely strong ones, taking their sometimes noisy, sometimes quiet mixture of shoegaze and psychedelic rock one step further. And their show, which was as short, but as amazing as the last one, was all about these new tracks: they started with the two brand new ones from H, first the quiet Yuu and then Gyakushi, that also starts out somewhat quietly, but builds into a noisy monster and then they proceeded to play the tracks off the Keiren EP. And that was the main set, with only four tracks, but actually still close to 40 minutes. And even though it was still short, it was built up perfectly: the slow and repetitive Yuu warmed up the audience, getting them ready for the trippy, guitar-driven madness of the other three tracks, that dragged everyone into the psychedelia-laced dark and heavy world of Qujaku. Of course the audience wanted more, so they went back in time a bit to their The Picniq era and played Zyouk, the slow, grinding and devastating title track of their full album.
They are clearly one of the best live bands around in Japan nowadays and when I saw them for the first time, I said that on an international level they could be the next Boris or Mono and with this long tour they got one step closer to that. I don't know how familiar the rest of the audience was with their music, but it was clear that by the end they were completely hooked and I'm pretty sure it was the same at the tour's other stops as well, so they are in the best way of building up a solid audience. If only their releases were easier to get in Europe! And speaking about releases… the merch table was a goldmine: besides the new EP and Keiren, they also had copies of one of their early demo CDs, the above mentioned Provoke compilation and a solo album from their guitarist Soushi Mizuno, that turned out to be pretty damn good. They are still on tour now and have a couple of more dates in the UK (check here for the list), so, check them out if you can!
(About the photos: Fat Old Donald and Qujaku performed in almost complete darkness, with only two very dim light bulbs behind the drummers illuminating the stage, while for some reason the "better" lights (well… two slightly bigger light bulbs in the back corners) were only turned on during Contact High's show. So, the photo quality is not the best this time, sorry about that!)