"Our life story saved lives"- an interview with Yoshiki
Yoshiki is a true living legend who had a deep and lasting influence on Japan's music scene: he is the founder, drummer, pianist and leader of cult band X Japan, he was one of the godfathers of the visual kei scene, he founded the seminal label Extasy Records, worked as a producer, played for the Emperor and worked with Queen's Roger Taylor… just to list some of his achievements. But even after all this, he remained down to Earth and when he took part in the recent round of theatrical premiers of We Are X, a documentary about him and X Japan, all across Europe, he did not only took part in Q&A sessions with fans after the screenings, but also tried to grant time to all media representatives who applied for an interview. And this included Tímea Baksa, representing SoundOfJapan.hu (Japan Vibe's Hungarian sister site), who sat down with Yoshiki for a 20 minutes long chat in Vienna on the 15th of October to ask him about the documentary, his work, his plans and the upcoming X Japan album. You can find the Hungarian translation here and the English original below… in Japan Vibe's first ever guest post: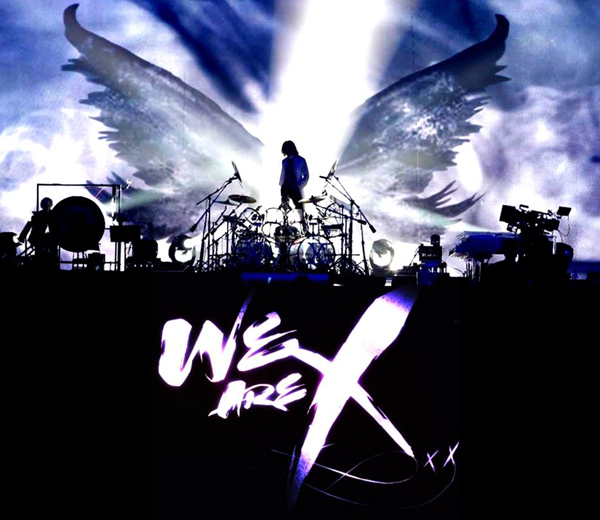 You are travelling a lot recently, so how are you coping with all of the stress, that your work puts on you?
Yeah, I'm OK, I mean, I'm enjoying it.
Do you take longer holidays?
Not really, it's hard to draw the line between work and holiday. I love my work, so, basically, every day is a holiday. I go once in a while to a place called Sedona.
How did you choose these stops for the promotional tour? It is all Western and Northern Europe, can we expect a theatrical release in Eastern Europe too?
It's not my choice, I mean, the distributor is choosing, I think, where the demand is. Hopefully we can release it in more cities.
The response to We Are X has been overwhelmingly positive so far, although some critics mentioned that this film rather documents your life and not exactly the whole of X Japan. Was this the concept from the beginning?
We gave the director and the producer 100% control, so I didn't know till they finished the movie. Then they chose that kind of direction.
Are you happy with how it turned out?
It's hard for me, you know, to say it's a great movie or a bad movie, because I'm the subject, but after this film was released, so many people came to me, or the director saying: "because of the film, I decided to live". People, who were very depressed, or tried to kill themselves, but this film, our life story, saved their lives. So I have to say, I'm happy for them.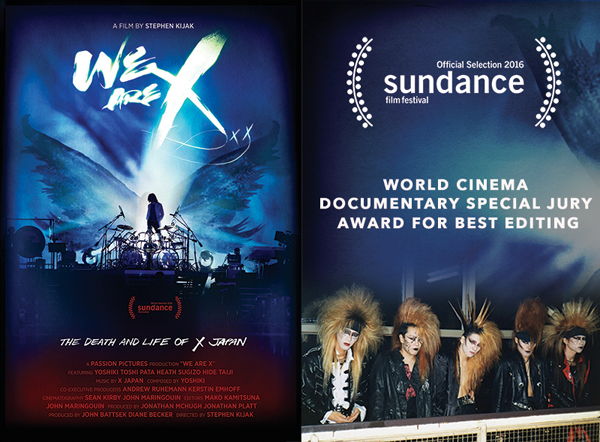 There is interesting thing you mention in the movie, that you have created a stronger Yoshiki and you are performing him daily. What is real Yoshiki like, behind the mask of the vampire rock star?
I don't know… Sometimes I'm very strong… I think I'm strong in general, but… especially after the time hide passed away, I was suffering, I didn't wanna live, but at the same time I didn't want to take my own life, because my father took his own life, so I didn't know what to do. At the same time, after hide's death, a lot of people tried to follow his path, tried to die, I was like, I need to stop this. To create a strong Yoshiki to say, "don't do this, think positive". Inside, I was totally deteriorating, I wanted to die. That's why I had to create my strong Yoshiki to act.
It's interesting how your stage persona is a rebellious, daring person; you used to wear lace dresses on stage, with feminine make-up and long hair. How did you come up with this concept, with this kind of stage persona?
We were playing super heavy music, a lot of critics told us, why don't you dress more manly? But we were just rebelling against anything. We were more androgynous, sometimes I would wear a wedding dress, thing like this. I think rock music has more freedom, to do anything. So we went opposite. We kind of enjoyed it, like every day was Halloween.
Mentioning dresses; you once modeled a kilt, right? How did that happen?
A … kilt? (Yoshiki is visibly surprised here). …. Oh yeah! … It was a black one though. I did model it, that's right! I thought it was cool.
There's something I'm personally really curious about, as a language learner: when you were writing Art of Life, you were just in the process of learning English, am I right? Did you write the lyrics in Japanese and then translate it?
When I was writing Art of Life, I think it was 50-50. I wrote some lines in English, some in Japanese and translated the latter. I had an English teacher helping with the translation as well. At the time I was learning English intensively.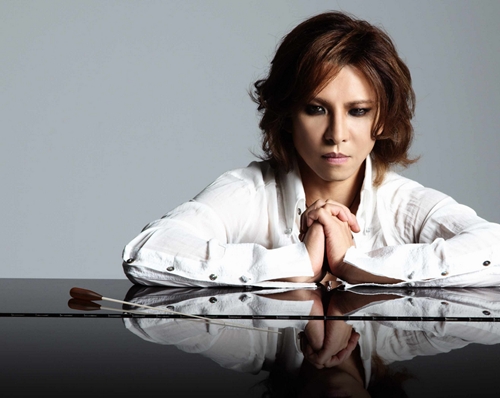 In general, does music come first when you compose, or do you write lyrics first?
Usually music first, sometimes lyrics, too.
Everyone is really on the edge already about the new X Japan album, what is this album like?
It's still very edgy, some heavy songs, a bit of ballads; an evolved version of X Japan. We wrote so many songs, hundreds of songs, we narrowed it down to 10 something. There are several interludes, 40 second songs in between. It's a very strong album. 20 years ago we released an album called Dahlia, that was the last album (the band broke up in '97, shortly afterwards and resumed activities only ten years later – editor's note). When I was promoting the album, I was not happy, the album was just OK, the label was freaking out that I was not saying good things about our album. But this one is pretty strong.
Will we get it as a Christmas present, maybe?
Next spring. I wanted to finish recording by Christmas. It's gonna be released worldwide, so it is going to take some time.
You recently had acoustic tour in Japan, and I have seen footage of it, it really looked amazing. International fans loved the show. Are you planning an acoustic world tour with X Japan?
I had to do acoustic because I couldn't play drums, still haven't really played drums yet, just touched it a little bit. I'm not supposed to play drums at this moment, so there's a big chance, yeah. It's great, I didn't know fans loved it that much. I was dealing with the pain so much, I couldn't check the response.
By the way, I think international fans would love to see your Niconico broadcasts with English subtitles, like on Youtube Red.
Oh, it's a good idea. I'll think about that.
Do you read comments on social media, or international forums?
I try to, as much as I can. They send me messages on Twitter, Instagram and Facebook.
I know this sounds a little weird but… have you ever read the X Japan fanfictions?
X Japan fan fiction? No, what is that? [looks really surprised. I explain him what fan fiction means, he looks baffled]. I haven't checked it. I'm curious what kind of fiction they write! [I suggest him to check for himself, because it would be embarrassing to tell him personally. He laughs. I think he actually knows what they are about].
This year is the 35th anniversary of founding X. [He looks surprised: "Really? Oh, I missed that!"] You have accomplished so much as a musician already, what kind of dreams or wishes do you have for the future?
I don't feel like I accomplished… well… what I'm supposed to accomplish, yet. It is also my dream to fulfill hide and Taiji's dream, the members' dream. I need to bring X Japan to the next level.
I wish 35 more years for X Japan, then!
[laughing] Noo, we play super hard, so… 5? Maybe 10? You never know, maybe 5 years later I will say the the same numbers. I can't imagine that long, though.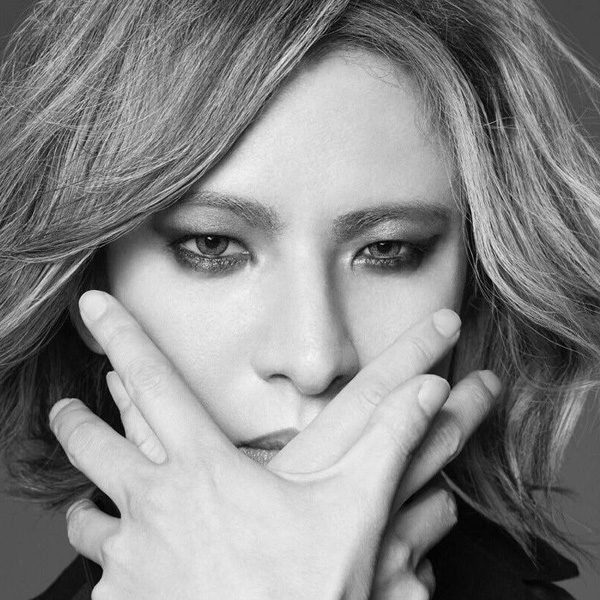 And some questions from the open Q&A session:
Are there any differences when you play your own song or someone else's song?
Whatever the music, I put the same emotion into it.
You share good days and bad days on Instagram. Is it hard for you to share your vulnerability?
It's like this film. It was kind of difficult at the beginning to show my weak side, but I think everyone has a strong and a weak side. But if you are brave enough to show your weak side, then it makes you pretty strong. We have some kind of mission in this world, we are so lucky to be here. No matter what happened to you, we shouldn't give up. Nothing is impossible, everything is possible.