Japanese New Music Festival with Tsuyama, Yoshida & Kawabata in Europe NOW!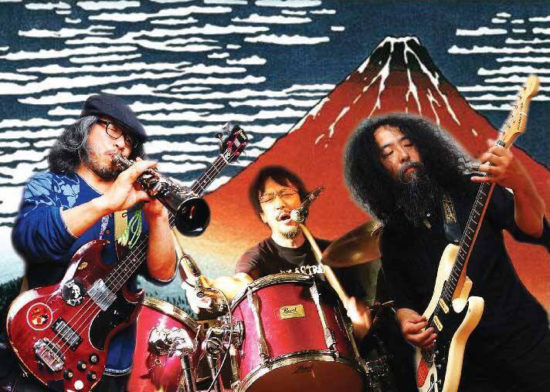 It is a bit late as the tour already started two days ago, but the crazy Japanese New Music Festival, a traveling showcase / music circus which features three underground legends, Tatsuya Yoshida (of Ruins and Zeni Geva), Makoto Kawabata (Acid Mothers Temple) and Atsushi Tsuyama (ex-Acid Mothers Temple) performing as different units is on the road in Europe yet again! This year's festival features the following units:
ACID MOTHERS TEMPLE SWR (Kawabata/Tsuyama/Yoshida)
PSYCHE BUGYO (Tsuyama/Yoshida/Kawabata)
ZOFFY (Tsuyama/Kawabata)
AKATEN (Tsuyama/Yoshida)
ZUBI ZUVA X (Yoshida/Tsuyama/Kawabata)
RUINS ALONE (Yoshida Tatsuya solo)
KAWABATA MAKOTO solo
TSUYAMA ATSUSHI solo
Check the tour dates below and the AMT website for more info!
2017.05.18 – Norway, Oslo: Kafe Haerverk
2017.05.19 – Sweden, Stockholm: PSB
2017.05.20 – Sweden, Gothenburg: Truckstop Alaska
2017.05.21 – Danmark, Copenhagen: Bryggekaelderen
2017.05.22 – Germany, Hamburg: Stubnitz
2017.05.23 – Germany, Bremen: Spedition
2017.05.24 – Germany, Bonn: Kreuzung An St. Helena
2017.05.25 – Netherlands, Amsterdam: Occii
2017.05.26 – Belgium, Brussels: Magasin 4
2017.05.27 – UK, London: Raw Power Festival – The Dome
2017.05.29 – France, Paris: Geite Lyrique
2017.05.30 – France, Nantes: La Scene Michelet
2017.05.31 – France, Brest: La Vauban
2017.06.01 – France, Lyon: Grrrnd Zero
2017.06.02 – Switzerland, Geneve: Cave12
2017.06.03 – Switzerland, Zurich: Schlosserei Nenninger
2017.06.04 – Switzerland, Bern: Reitschule Rossli
2017.06.05 – Switzerland, Luzern: Industriestrasse 9
2017.06.06 – Italy, Bologna: Freakout
2017.06.07 – Italy, Rome: Traffic
2017.06.08 – Italy, Molfetta: Eremo Club
2017.06.09 – Italy, Venice: Ai Biliardi
2017.06.10 – Slovenia, Ljubljana: Channel Zero
2017.06.11 – Croatia, Zagreb: Kset
2017.06.12 – Austria, Graz: Forum Stadtpark
2017.06.13 – Austria, Vienna: Rhiz
2017.06.14 – Slovakia, Brastilava: A4
2017.06.15 – Czech Republic, Brno: Mersey
2017.06.16 – Czech Republic, Praha: Cafe Trilobit
2017.06.17 – Poland, Warsaw: Mozg
2017.06.18 – UK, Edinburgh: Summerhall