Debut album from PKCZ with an all-star LDH featuring cast
Last year when I wrote about how LDH and their acts are changing the face of JPop (which eventually turned out to be the second most popular post on the site) I already mentioned PKCZ, the agency's DJ and producer unit… that will finally release its first album next week! While officially LDH's main guru, Hiro is also part of the project, he isn't really doing much, so it is basically down to the other three guys: DJ Makidai, former member of the agency's main act EXILE, Verbal, one half of famous JPop / club music act m-flo and DJ Daruma, formerly of revolutionary duo Dexpistols, who is one of Japan's best and most respected club DJs (check here for a photo report + video from last autumn).
Besides having a couple of tracks on the excellent HiGH&LOW soundtrack, up till now they did not have any releases on their own, but this will change on the 2nd of August with 360° ChamberZ… which does not only pays tribute to Wu-Tang Clan's classic first album with its title, but actually features one of the legendary crew's members in one of its tracks, Into The Circle. That song, which is an interesting mixture of pop and drum'n'bass elements, got its own music video recently, but this is actually the fourth video for the album (see them all below) and judging from these four new tracks,  360° ChamberZ will not be the party hard club music collection one would expect from the three members. Actually even by LDH standards, they are rather pop oriented, but of course there might be some club bangers hidden amongst the other new tracks. So, it will be quite interesting to hear the full release, especially as it features a massive supporting cast of LDH acts and also some friends who already worked with them for the above mentioned HiGH&LOW album: the rapper Anarchy and Masta Simon & Sami-T from legendary Yokohama dancehall crew Mighty Crown.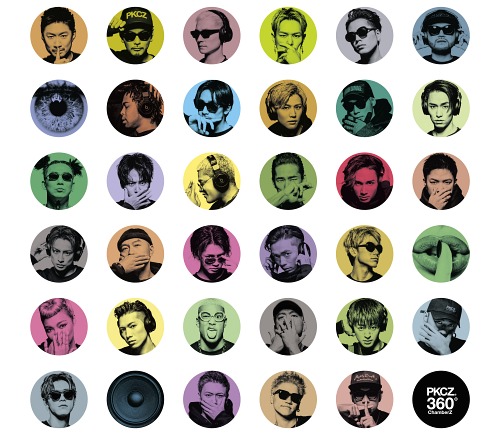 360° ChamberZ
2017.08.0201.Play That feat. Hiroomi Tosaka, Crystal Kay, Crazyboy
02.Cult of Personality feat. EXILE Shokichi
03.World Is Yours feat. Crystal Kay, Mighty Crown (Masta Simon & Sami-T)
04.X-Ray feat. Sandaime J Soul Brothers from EXILE Tribe
05.Unity feat. Doberman Infinity
06.Beauty Mark feat. Hiroomi Tosaka, Sway
07.T-Rex feat. Crystal Kay, Crazyboy, Anarchy
08.Chain Breaker (Album Ver) feat. Hiroomi Tosaka, Crazyboy
09.Roam Around feat. Generations from EXILE Tribe
10.Mighty Warriors (Album Ver) feat. Afrojack, Crazyboy, Anarchy, Sway
11.MightyCrown (Masta Simon & Sami-T)
12.Into The Circle feat. Method Man (Wu-Tan Clan) & EXILE The Second
DVD
01.Opening CG: 360° ChamberZ
02.X-Ray feat. Sandaime J Soul Brothers from EXILE Tribe
03.Roam Around feat. Generations from EXILE Tribe
04.Into The Circle feat. Method Man (Wu-Tang Clan), EXILE The Second
05.Play That feat. Hiroomi Tosaka, Crystal Kay, Crazyboy