Tokyo 2016 #1: Tokyo Pop with FEMM, Lisachris and more @ Kawaii Monster Cafe, 2016.09.02
Tokyo 2016 is a 13 part series of photo & live reports from September, 2016, documenting a deep dive into the city's various underground music scenes.
When I finally returned to Tokyo this September, my main goal was the same as during my first trip back in 2009: to go to as many concerts and parties as I can and to dive into the city's incredibly diverse and enormous music scene as deeply as possible during such a short time. The result was: 17 concerts & parties in 17 days, including pretty much every genre from hip-hop and metalcore through indie-rock and electro house to goth-rock and dubstep. All this in a wide selection of venues in and around Tokyo from tiny, rundown clubs to huge arenas. So, from now on, get ready for a long series of live reports from that trip, all of which will be collected under the tokyo2016 tag. I will not include all of those 17 events though, only the ones where there was no "no photo" rule, but that's most of them actually. So, let's start with the very first event I managed to go, literally just after arriving to the Big City Of Dreams.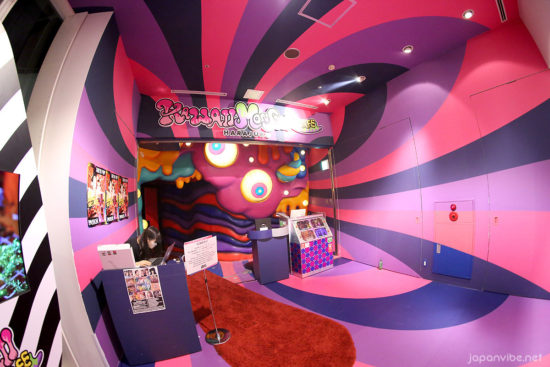 The Kawaii Monster Cafe is one of the strangest places in Tokyo. Which is quite a feature actually, but its totally outlandish interior is an attack on your senses with its avalanche of colors and giant bunny heads and mushrooms and monsters and disco ball ceiling and bananas and its giant-creamy-cake stage. It is like walking through someone else's wild, LSD induced trip. Just opposite to Laforet, the iconic department store in the center of Tokyo's street fashion district Harajuku, the place serves as a theme cafe & restaurant in the daytime, offering some quite bizarre drinks and cakes and meals (check out their menu), but sometimes they also hold various events, such as the Tokyo Pop party, held every first Friday of the month. It had its first anniversary this August and it is more of a DJ party, with some live acts and short concerts thrown in to mix things up a bit and the resident headliner is the mannequin pop duo FEMM (check out the email interview I did with them just before the trip).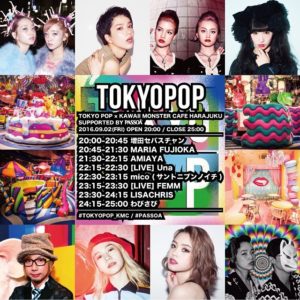 FEMM was in my "should see them live" list anyways and this event seemed like the perfect place to do so… but it was a close call: our plane arrived to Narita Airport early evening and the party started around the same time, at 20:00 (a quite unusual starting time in Tokyo… more on that in the upcoming feature about the city's club and live house scene). While we knew that we will certainly miss the first couple of acts of the night, we really wanted to catch FEMM, who were scheduled to start at 23:15. And after running through the airport, catching the fastest train to town, then running through Shibuya to check into our apartment and leaving immediately for Harajuku, we ended up arriving about 10 minutes before their show started. Just in time!
We arrived around the end of Mico's DJ set, catching her last couple of tracks of catchy club music and then it was already time for Japan's strangest duo. Who claim to be mannequins and are usually carried to stage by staff members, but here, due to the rather unusual stage, they had to climb a couple of stairs themselves, but of course they did so with their trademark, robotic moves. And they never, for one moment forgot their roles and performed their songs and dances while moving around like dolls, not showing any emotions on their face. It is one thing to see them in videos, but a performance is different. I mean… you can retake a video as many times as you want and it is kind of easy to make them look all dollish there, but to see their perfect lifeless mannequin act up close and personal is…. just amazing. And maybe a bit creepy as well.
Based on the videos floating around on youtube, such as this one, their regular showcases are half DJ set, half performance, but here, fortunately nothing interrupted their performance. Which was short, clocking just a bit over 15 minutes, but besides including tracks such as We Flood The Night and Astroboy (unfortunately there was no Fxxk Boys Get Money though), it also featured one of their finest song, the excellent POW!, that they released early this year:

After they walked off stage (of course while waving to the audience like robots) Lisachris took over the DJ booth, but the dollish duo returned later to take pictures with whoever wanted… and even though of course most of the audience wanted to snap a couple of photos with them, it still did take that much time, as the place was quite far from full. Originally I expected the club to be crowded, but there were only about… 60 or 70 people maybe? But still it was a very colorful crowd, with some wild street fashion outfits, that are so typical of Harajuku and quite a few foreigners as well (iFlyer has a party report up with a bunch of audience shots, so check that out). Lisachris, who is mostly known as an underground hip-hop trackmaker and part of the Yentown crew was spinning a pretty good and diverse selection of (mostly hip-hop influenced) club tracks, but when the DJ duo Wabisabi took over to wrap up the evening with their very old school pop / R&B / hip-hop set… I felt that it is time to leave, as that kind of music is just not my cup of tea. Overall to see FEMM live was a great, though slightly bizarre experience, but actually I can hardly imagine a better way to kick-start a trip that's all about diving into Tokyo's pop culture and club scene than with the combination of the city's strangest pop act and the city's weirdest theme restaurant.