Napalm Death Is Dead / Space Grinder / 1000s Of Cats / Cunts @ DRRPNC, Budapest, 2016.07.07
When the wonderfully named Seven Dead Space Cunts tour came to Budapest, the promoters decided to add five local acts to the bill and name the event (quite fittingly) International Anti-Music Summit, so in a long night of short concerts we saw altogether ten (mostly) noisecore acts on stage: four from Japan, including a surprise guest, one from Slovakia and the aforementioned five from Hungary. The whole thing took place at DRRPNC, a basement turned rehearsal space turned underground live venue and while I was not counting it, I am not sure that the total playtime of the night passed the 60 minutes mark, as most of the shows were about 5 to 10 minutes long… or some even shorter. And as it lasted from 21:00 to well past 01:00, it was pretty much like a long wait disrupted by short, brutal blasts of noise and chaos.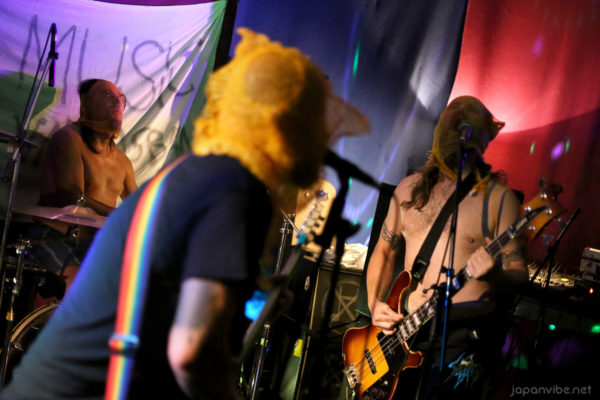 The local acts, many of them sharing members, were all pretty fine… some of them were more grindcore, some of them more noisecore, but all with an assload of distortion, growling vocals and all that good stuff, sporting wonderful names like Ratca$h and Wormpride. The first foreign act to hit the stage was Slovakia's Sedem Minút Strachu, who wore their trademark bag-masks and played a very, very messy kind of grindcore / noisecore. It was actually them who put this awesome little eight date Eastern European tour together for the Japanese acts… and that's not all they do, as beside this, one of their members also runs a distro and a label, plus the band was involved in loads of collaborations since they formed back in 2012. And one of those collabs was a split CD with the first Japanese band to play, Napalm Death Is Dead, the duo of Hirotakanto and Ucchy. They started out with a series of second long bursts of bass & drum & vocals chaos, pretty much like the hilarious 233 Songs track from The Gerogerigegege's classic Recollections Of Primary Masturbation CD, before they finally plunged headfirst into glorious improvised noisecore madness. For about two minutes. As by the time you could really get into the groove, it was already over. It was damn short, but most definitely sweet.
Next up was the infamous one-man-project, Space Grinder. Known for his violent concerts, in Japan he usually plays with a full band, but here it was just him and his harsh noise background, joined by one of the Sedem Minút Strachu guys on drums. And it was the weirdest concert of the night. Even though he had two microphones prepared for him at front of the stage, he somehow managed to destroy them both in a matter of seconds, so from then on it was pretty much just the drums and the wall-of-sound background noises with him running around in the audience, shouting, dragging and waving the mic stand. Someone tried to fix one of the mics and give it back to him, but he did not care much, just kept on marching up and down, eyes wide open, shouting once in a while, before suddenly leaving for the backstage.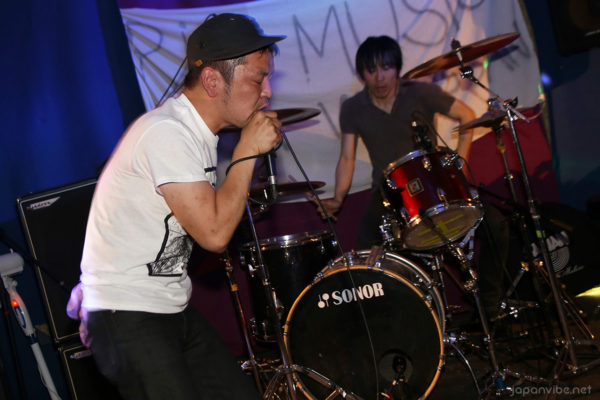 There was one more band on the bill, Ucchy's other duo, Cunts, that just joined the tour for the last three dates, so they actually played their first ever EU performance in Budapest! However, before that, we were in for a surprise: there was a lady with the Japanese crew that Ucchy introduced to someone earlier as his wife, so everyone supposed that she is just traveling with them for fun or to help… However after Space Grinder, instead of setting up the stage for the drums/vocal duo, they just placed a mic at front of the guitar amp and she came onstage and started to play one of those very typically Japanese naive, indie pop like songs, complete with simple guitar chords and a bit childish vocal, that are so sweet and lovely, that you just couldn't possibly dislike them. It turned out that her project's name is 1000s Of Cats and the music was as cute as the name. At first the audience was pretty much in shock, as her performance was so out of place and surreal after all the grind-noise brutality, but eventually they got totally hooked and after she performed her little three song set, they even called her back for an encore. So, she played another song, a bit more up-tempo, altern rockish one and together with that, I think she actually played the longest set of the whole event.
After this strange little detour, it was finally time for the Cunts, who were the perfect closing act, playing easily the best set of the night. Cunts is a guy called Fuckin' A on drums and Ucchy on vocals, and they play a quite amusing kind of not-too-serious noisecore, complete with ultra-fast and complicated irregular rhythms, Fuckin' A's frantic drumming style and Ucchy's out of control vocals and ballerina like moves. Totally awesome stuff. If Ruins suddenly decided to start playing grindcore, it would sound something like this. Fortunately they played a relatively longer set (=passing the ten minute mark), finishing it with the second encore of the night. Their unique take on noisecore was so damn amazing that I actually ended up buying the only release they had on sale there, their latest tape (released for this tour by the Sedem Minút Strachu guy's label) even though I do not even have a functioning cassette deck at the moment.
So, it was a truly excellent event, not only because it was full of great acts, but also because over here in Europe we rarely have a chance to experience the wonders of Japan's infamous grindcore / noisecore underground up close and personal. And now, before the gallery and a short clip from the Cunts performance, here is the complete lineup for the night:
Ratca$h (Hungary)
Protoplasma (Hungary)
Wormpride (Hungary)
Septic Assault (Hungary)
星际之门 (Hungary – yes, yes, no mistake, it is a local project)
Sedem Minút Strachu (Slovakia)
Napalm Death Is Dead (Japan)
Space Grinder (Japan)
1000s Of Cats (Japan)
Cunts (Japan)