Crystal Lake @ Szene, Vienna, 2017.10.30
There's been a Japanese metalcore revolution of sorts going on in Europe the last several years, with bands like Crossfaith and Coldrain (and FACT before they disbanded) doing successful tours, but even though their more recent albums got a European release thanks to UK's JPU Records, one of the biggest and most important bands of the scene, Crystal Lake never came to the continent… until this October. First they announced a German festival appearance back in August, then some UK dates and finally two more club gigs: one in Switzerland and a tour final in Austria's capital, Vienna. And that's where I caught them playing live at the city's popular rock / metal venue Szene along with a bunch of mostly local bands.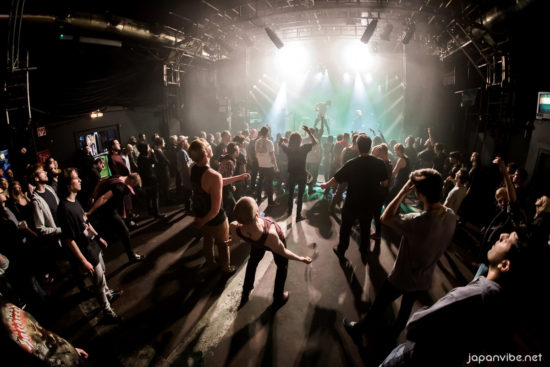 These four acts included the two bands they were touring with throughout Europe, Sweden's Aviana and Vienna's own All Faces Down, plus two other locals, We Blame The Empire and Here For a Reason. I missed the latter as I was doing an interview (coming soon!) with Crystal Lake's singer, Ryo during their set, but managed to check out the other three and… well, they all played more-or-less melodic metalcore / post-hardcore and while they weren't bad, especially Aviana, but none of them left a really lasting impression. Unlike Crystal Lake… I actually already saw them last Autumn back in Tokyo, at Hachioji RIPS, when they were opening for Shadows along Her Name In Blood, but that club was so insanely small and crowded, with a very low ceiling and stage, that unless you were in the first two or three rows, you haven't got a chance to see anything. So, it was just not the real deal. Szene on the other hand is a very decent club, with an approx 400-500 capacity, a huge stage, great sound and great lights. Well, usually great lights, as this evening the light tech guy seemed to forget about the lights at the front of the stage, so it was all backlit, which did not affect the show at all, just made taking proper photos quite a bit of challenge.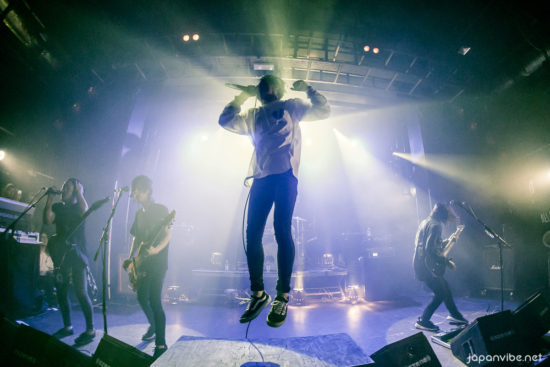 As expected the setlist included their latest track, Apollo and besides that it was a best of kind selection from their three longer releases since Ryo took over vocal duties in 2012: the Cubes EP from 2014 and their two subsequent albums, The Sign and True North. And while the latter has more melodic songs than any of their previous releases, for this show they picked the harder, more aggressive ones and it was a damn good decision: they started the show with a blast, opening with Prometheus and they kept on raising the stakes from then on, with banger after banger, not letting the energy level down for a moment. And it wasn't just the excellent setlist that made it a highly memorable show, but the band as well: they were truly in their element, enjoying the show a lot, going more and more crazy towards the end. And Ryo turned out to be a terrific frontman, interacting with the crowd all the time, spending a lot of time down in the pit, singing directly to the audience.
There was some delay in the beginning of the evening, so Crystal Lake ended up starting quite late and while some people decided to leave after local favorites All Faces Down, the ones that decided to stay, even if they did not know the band previously definitely did not regret their decision. As the show was a blast. It is one thing to see live videos of them or seeing them from the back of a tiny, crowded club, but here, experiencing this show truly up-close-and-personal, I could really see why many consider them one of the best live bands in Japan. I hope the band enjoyed this tour just as much as the audience enjoyed this mind-blowing tour final and I hope that, just like some of their peers, from now on they will be regular guests in Europe. Check out the video and set list below and scroll down for the massive gallery!
01.Prometheus
02.Matrix
03.Six Feet Under
04.Rollin'
05.Ups & Downs
06.The Sign / New Romancer
07.Metro
08.Apollo
09.Omega
encore
10.Hatred