Experimental act Contagious Orgasm returns to Europe!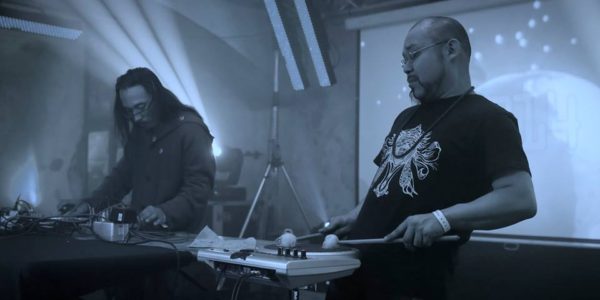 (photo is taken from the official Contagious Orgasm facebook page)
Hiroshi Hashimoto's project Contagious Orgasm, which is active since 1987, has an extremely diverse output: while the early albums were excellent excursions into noise, industrial and dark ambient territories, the later C.O. releases (including a few out on Ant-Zen) started to shift towards experimental electronic music and the more abstract side of IDM. He also had a long line of collaborations with artists from all over the World, so he's got pretty good international connections and already played in Europe a couple of times… and this Autumn, he will be back for another round of live dates. This time joined by TZII from Belgium (whom he worked together with on 2012's Blind Shadows album) and DJ Nure Onna + Sardinia's 1997EV as "Special Guests".
Below are the tour dates and some stuff to listen to: a preview from a recent CD, Loop Liberation (which was actually rcorded back in '97, but was only remastered and released early this year) and a new track posted on the soundcloud account of C.O.'s label SSSM. But if anyone wants to get more familiar with Contagious Orgasm, there is two part podcast, straight from Russian which is a pretty good starting point: its first part features material from early C.O. releases, while the second part deals with the more recent output.
More info about the tour @ facebook
Contagious Orgasm / TZII / DJ Nure Onna / 1997EV
Those Shadows Are Still Blind Tour
2016.09.20 – Switzerland, Geneva: L'Ecurie
2016.09.21 – Switzerland, Chaux-De-Fond: Le Lac
2016.09.22 – France, Strasbourg:
2016.09.23 – Germany, Stuttgart: Schienenfest
2016.09.24 – Austria, Vienna: Ernst-Kirchweger-Haus
2016.09.25 – Austria, Graz:
2016.09.26 – Croatia, Zagreb:
2016.09.27 – Slovenia, Lubjana: Pritlicje
2016.09.28 – Italy, Milano: Macao