Bridear's third EU tour is coming up this autumn!
Japanese all-girl metal and rock bands are getting more and more exposure in Europe recently and one of these acts is Bridear, a five piece power metal outfit hailing from Fukuoka.

They formed in 2011 and started out as a pure melodic power metal band, but later on they started to incorporate some metalcore and other elements into their music as well, making it more diverse and edgy. They already played in Europe twice before: first in 2016, after the release of their first full-length Baryte, then early this year after releasing their second mini album, Rise. And it seems they love Europe a lot, as they will return yet again: their third tour is scheduled for this autumn and they will play quite a lot of shows all over the continent, starting in London on the 27th of September and after performances in Belgium, Germany, Hungary, Switzerland and Austria they will wrap up the tour in Epinal, France. So, check below for tour dates and some more info!
Updated (2017.08.12): There were some date changes: the show in Diest was cancelled due to problems with the venue and instead they will do another show at Paris Manga that day… but at the same time they added a new show in Belgium on the 29th! So, check the updated schedule below.


KIMI (vocals), Mitsuru (guitar), Misa (guitar), Haru (bass), KAI (drums)
Bridear official site / facebook / youtube / twitter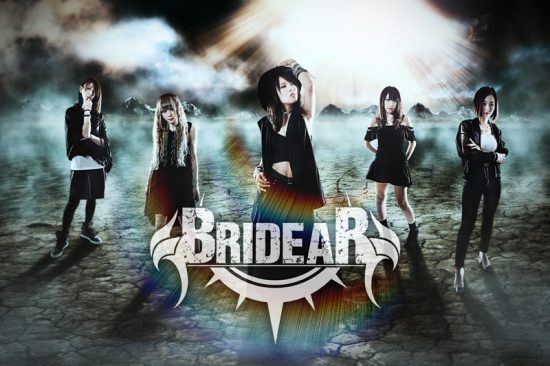 Bridear Tour 2017 – The Silver Lining
2017.09.27 – UK, London: Underworld
2017.09.29 – Belgium, Maasmechelen: Jan Hertog
2017.09.30 – France, Paris: Paris Manga
2017.10.01 – France, Paris: Paris Manga
2017.10.02 – Germany, Weinheim: Cafe Central
2017.10.04 – Germany, Stuttgart: Kellerklub
2017.10.05 – Czech Republic, Pilzen: Divadlo Pod Lampou
2017.10.06 – Austria, Wels: Schl8hof (Schlachthof)
2017.10.07 – Hungary, Budapest: Mondocon
2017.10.08 – Austria, Graz: Explosiv
2017.10.10 – Swizerland, Luzern: Schüür Konzertzentrum
2017.10.12 – Swizerland, Neuchatel: Bar King
2017.10.13 – Swizerland, Chur: Palazzo Beat Club
2017.10.14 – France, Epinal: La Souris Verte