Acid Mothers Temple & The Melting Paraiso UFO @ A38, Budapest, 2017.09.29
Acid Mothers Temple ranks amongst the biggest legends of the Japanese underground for a good reason. They've been around for ages, they play a very unique take on psychedelic rock that they are never afraid to mix with jazz, metal, folk rock or whatever else they want to, they released over a hundred records, you could write a book about their strange album covers alone, the band's members take part in countless other rather incredible bands and projects and they've been on the road for decades now without ever stopping. AMT went though many lineup changes over the years with Makoto Kawabata and Hiroshi Higashi remaining its core members since the beginning and actually there isn't just one Acid Mothers Temple, but several, as they formed different versions of the band over the years with different lineups and concepts… but Acid Mothers Temple & The Melting Paraiso UFO always remained the main incarnation.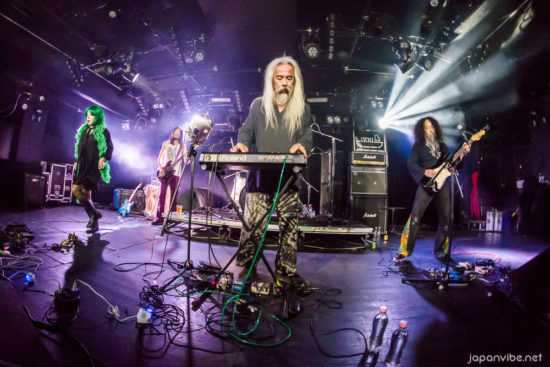 And even though they've toured Europe many, many, many times, I could never catch this version of the band live… until now, when they finally came to Budapest at the end of September. Actually already Kawabata brought his traveling music circus, Japanese New Music Festival here several years ago, that features him, Atsushi Tsuyama and drummer extraordinaire Tatsuya Yoshida showcasing a lot of their strange project bands that include a trio version of AMT called Acid Mothers Temple SWR. And while that one is quite amazing as well, still, it is just not the real deal, "only" a simplified version, that plays short, approx. 30 minute long sets at the end of the JNMF shows.
So, I was more than curios to see if the main version of the band lives up to the pretty high expectations live and… well, they did. With ease. The current lineup features Kawabata on guitar, Higashi on synth, theremin and harmonica, Mitsuru Tabata (who started wearing drag and using the name Mitsuko☆Tabata a year or two ago) also on guitar and two relatively new guys, Wolf (aka. S/T) on bass and Nani Satoshima (of Bogulta fame) on drums. The band's wonderful genre-mixing was present from the very beginning as they started the show with their take on Black Sabbath's The Wizard, adding a massive dose of psychedelic rock to the original's heavy metal and blues rock elements, complete with Higashi's harmonica and Tabata's drag dance performance. As always, most of the setlist consisted of old AMT standards and it was very similar to what we can hear on one of their latest releases, Astro Infinity Discotheque a live album that came out this April. It is the blueprint of their current takes on some of the most well-known AMT tracks, including OM Riff, Nanique Another Dimension and so on… but most importantly it includes the disco version of the immortal Pink Lady Lemonade! And while the whole show was an extremely trippy travel through the world of AMT, this disco detour was definitely the high point of the evening! The cool, groovy disco rhythm fits this masterpiece of psychedelia incredibly well and it manged to breath new life into the track that has been released in countless versions before and that they probably played at each and every show for decades now.
It was a perfect evening, absolutely worth the years of waiting… and even though Tabata and Higashi looked a bit tired actually, which is no wonder in the middle of such a long tour, not necessarily being in their top form obviously does not stop them from playing a perfect show and taking the audience on the trip of their life. An amazing band that really truly deserves the "legendary" title.