The Mirraz: Japanese English / #2021reviews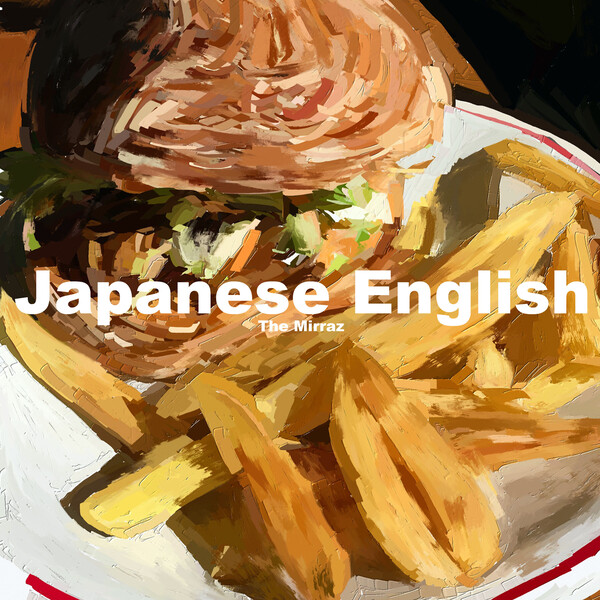 Ever since they formed in 2006 the The Mirraz had a very distinctive trademark sound with mostly fast, hyperactive indie-rock tunes, that were just perfect for their crazy live shows. They released 12 albums and several EPs that followed that sound, always with a couple of especially great tunes, but honestly, without much variety. It was fine though, if you liked that sound you could always safely pick up any of their releases and you got exactly what you expected.
Then Covid hit and it all changed. Officially a trio, but with all composing done by leader / singer Shohei Hatakeyama, in 2020's Last Straw, written in a very different world with no live shows to play, they turned towards a very different sound: in its core, it was still essentially Mirraz, but it switched to a much, much slower tempo, and while the music remained very groovy, at times it had an almost meditative mood, with several tracks incorporating musical influences that, up to that point, were foreign to the band. It was a very surprising and truly excellent album, easily one of that year's bests, which showed just how much potential they have. But it also raised some questions: Was this just a temporary detour? Or from now on this is the new The Mirraz sound? Listening to their new, follow-up album, Japanese English, released early December, it seems it was neither, instead it was a beginning of a new chapter that's all about expanding the band's sound and taking it to all new directions.
The album starts out on an upbeat note, but it is all done in a very different way than in the band's earlier period. The hyperactive feel is gone and is replaced by a cheerful, uptempo style complete with a touch of '60s British rock. After Fanfare follows the same path, but it is even more fun, a superbly written little charmer with an instantly recognizable chorus part and an upbeat rhythm. It is amongst the album's best songs, followed by Spinning Pinwheel, another highlight, which however, slows things down considerably. But even though it is a slower track, it is unlike the ones on Last Straw, it is without that somewhat psychedelic vibe and instead it goes for more of a melancholic feel, that also returns in a few other tracks later on. Ride Thunder is probably the one that is the closest to the old Mirraz sound, but then with Stay Gold and SYL the album returns to mid-tempo territory and then slows down even more with Vermeer Blue. That one is basically a ballad, with a slightly tacky feel, but done in a charming way and even though it differs from he rest, it still fits in the album perfectly. That's It and BOT returns to the UK inspired sound of the first tracks, with the latter being another standout tune and the album closes with the fastest song, Dull, but yet again, it takes all that fast, danceable indie-rock to a different direction compared to pre-2020 Mirraz.
In some of the songs, Hatakeyama even changed his singing style a bit and instead of the higher toned singing he is known for, he went for a noticeably deeper voice. Another new thing for Mirraz, but that is what this album is all about: instead of repeating what they did on Last Straw, they are following on its footsteps of experimenting and finding new ways and new sounds. It is somewhat strange to see a band starting to branch out so much after sticking to the same sound for 15 years, but, even thought the "old" Mirraz was great, it is a very, very welcome change, especially seeing that the results are so excellent.
Japanese English
2021.12.04 / digital
01.Décadence
02.Fun
03.After Fanfare (ファンファーレの後に)
04.Spinning Pinwheel
05.Ride Thunder
06.Stay Gold
07.SYL (再见)
08.Vermeer Blue (街路樹の色はフェルメールブルー)
09.That's It (それな)
10.BOT
11.Dull (だる…。)
_________________________________
A year in reviews: in 2021 I was somewhat neglecting the site due to the lack of free time, but now I try to make up for it as much as possible, reviewing several important / good / interesting albums that were released this year. One for each day throughout December, from a very wide spectrum of genres. #2021reviews