Noise, rarities and masturbation: new release from the legendary The Gerigerogegege!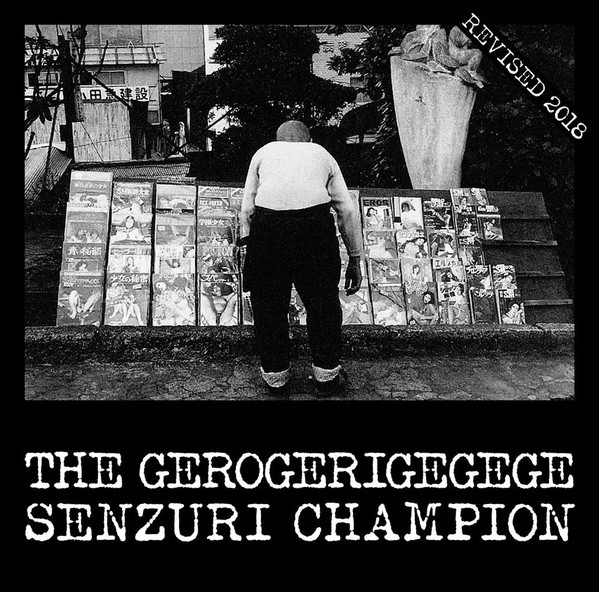 2016 marked the return of The Gerigerogegege, one of (if not THE) most infamous Japanese noise acts: Juntaro Yamanouchi's project stopped releasing new material in 2001, so, after a while everyone guessed that Gero was over once and for all, but completely out of the blue, he dropped a new album called Moenai Hai in April 2016. And it wasn't just some one-off return, from then on Gero was active again, playing shows and releasing new stuff once in a while… and the latest of these is a new CD called Senzuri Champion Revised that came out just a few days ago. As the name suggests it is supposedly a revised version of the classic Senzuri Champion from 1987, which was one of the first Gero releases ever, but actually it is more like a rather random collection of rarities and oddities from the mid-'80s. There are some live performances, an intro of sorts called Senzuri An(nu)al Report, a "Death Balearic Mix" of the title track and obviously some masturbation sounds recorded and sent in by Gero fans… so it is just as weird and outrageous as pretty much anything The Gerogerigegege ever produced.
There is also a two CD edition, which goes even more random on its second disc and mostly includes material that was recorded during the last few years: there is a minute long "DJ set" by Juntaro, a Gero cover by Bobuo Sakai (an early member of Sete Star Sept, now a solo act) and NRYY (Norihito Kodama), a live recording by noise band Haigan featuring Juntaro on vocals, a "medley" by The Omanko, an alternate name for Gero that was only used once previously, for a 7″ release in 1989 and so on… It's a total mess, but then again, that complete randomness and unpredictability it is just why we all love Gero so much. The CD was released by Juntaro's own label, Vis A Vis Audio Arts and a detailed tracklisting with additional info can be fund on Discogs.
Too bad 56k Performance, the amazingly hilarious Gero fansite (one of my favorite sites ever – check the archives here) is not updated anymore to review these new masterpieces by the one and only Gerogerigegege.