Miyavi: Imaginary / #2021reviews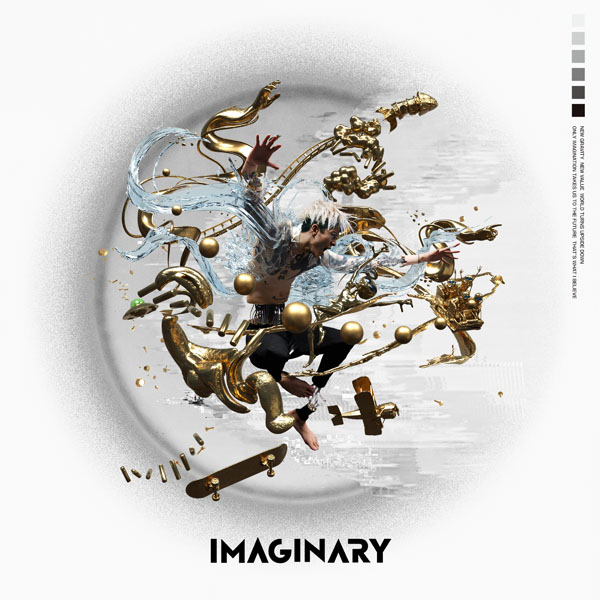 When Imaginary was announced Miyavi said that it will be a fresh and innovative album and while at some points it is, for the most part it is more like yet another round of the same thing that he's been doing for the last decade or so. Since he drastically changed his style sometime around 2010 and went for a lot more accessible and danceable sound, he dropped some very memorable albums, more recently including Fire Bird (2016) and No Sleep Till Tokyo (2019) along with some lesser ones, like the 2nd and 3rd part of his collaboration series, Samurai Sessions (2017 / 2018). Last year's Holy Nights was somewhere in-between: it already had that "I've heard it all already" feel, but it was still a decent one with several great tracks and no really bad moments. This new material however unfortunately includes several very, very weak songs, that almost manage to drag the whole album down.
Which is too bad, as there are some pretty good songs too. The opening New Gravity is a good example of Miyavi's trademark guitar centered pop-rock, just like the title track, which is also similar, but with a bit more of a J-Pop feel. Which is a rare thing here, as most of the album, as most of his recent material, goes for a lot more international sound. Warrior adds some drum'n'bass beats to the mix, which works pretty great and later also returns in Are You With Me?, a very light-hearted and fun uptempo track. Hush Hush, a duet with Korean singer Kang Daniel is also one of the better ones and it is a smooth pop-rock track and an interesting mixture of K-Pop and Miyavi's trademark sound. Actually these would make up a pretty great EP… but that's not all we get here. The album undisputedly hits its lowest with the two covers: both Smells Like Teen Spirit and Youth Of the Nation is terribly syrupy and awkward, but Living In Fire, I Swear and Dance With Me (which sounds like as if it from a bad Broadway musical) come pretty close to them. Weak, sappy tunes, that make you cringe and reach for the skip button, while ruining the dynamics created by the better tracks. And, as bit of an entity on its own, the closing Super Hero is a self cover that dates back to 2010 and while it isn't a very memorable one, it is still an upgrade to the original and also, it is always interesting to see how Miyavi connects with his early days, reworking some fan favorites from the distant past.
The album features a couple of guests from all over the world, just like all of his recent releases and these collaborations obviously help his international career a lot, as proved by his latest song, Snakes, a collab with PVRIS made for a League Of Legends related Netflix show and released just a couple of weeks ago. That one yet again incorporates some d'n'b beats and it is a superb track, easily better than pretty much anything from Imaginary. He just needs to find the right balance between being innovative vs. being as radio-friendly as possible and he's got the talent and potential to do so, as he already proved it many times… it just didn't really work out that well here. But oh well, everyone has weaker albums once in a while, so… maybe next time.
Imaginary
2021.09.15 / cd, digital
01.New Gravity
02.Imaginary feat. キンブラ (Kimbra)
03.Warrior
04.Smells Like Teen Spirit (Nirvana cover)
05.Living In Fire
06.Hush Hush feat. Kang Daniel
07.Youth Of the Nation feat. Troi Irons (P.O.D. cover)
08.I Swear
09.Are You With Me?
10.Dance With Me
11.Super Hero
_________________________________
A year in reviews: in 2021 I was somewhat neglecting the site due to the lack of free time, but now I try to make up for it as much as possible, reviewing several important / good / interesting albums that were released this year. One for each day throughout December, from a very wide spectrum of genres. #2021reviews