Behind The Shadow Drops @ Dürer Kert, Budapest, 2017.10.18
After a few other solo efforts in the past, Taka Goto, the leader of seminal post-rock group Mono launched Behind The Shadow Drops this year, which is his most serious solo project so far… and his best as well. The first album, Harmonic came out in September and it turned out to be a very interesting and diverse release, which, while it maintained a distinctive, melancholic and soundtrack-like sound throughout, had a little bit of everything from experimental electronic music to contemporary classical music and even had a few tracks that were reminiscent of the classic '80s soundtracks of John Carpenter and his peers. And even though Mono's post rock was not at all present, still, the atmosphere was actually quite similar to the band's albums.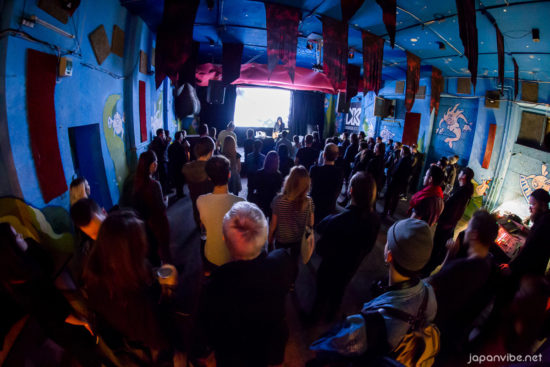 He was touring around Europe with this new material in October, playing one of the last shows in Budapest at Dürer Kert, one of the city's most important music venues. And even though Mono's shows here always attract a crowd, we did not have that many people now, only something around 60 or so… which is a shame, especially after such an excellent album. A local band, Isle Of Man was responsible for warming up and while their mostly instrumental music did suit the atmosphere and style very well, they just… weren't really interesting except for a few better tracks. Anyways, they still managed to set the mood for Taka who then took the stage, bringing only his guitar, laptop and a small keyboard along. But there was something else on stage as well: the huge projection screen behind him with accompanying videos for each of the songs of the set, all in vein of the abstract and monochrome visuals of the album's second music video, Ether:
And with this, he took the album's soundtrack-like nature to the next level. Besides the laptop's dim lights, the big screen was the only light source in the hall room and the music and visual were working in harmony so perfectly, that at times you just could not decide if you are watching a concert with background videos or a selection of mesmerizing experimental short films with accompanying live music. And the melancholic, almost hypnotic atmosphere created by this unity of audio and visuals just sucked you into Taka's dark and beautiful world… but by the time you could really get into it, it was over already. Of course we all knew it won't be a very long concert as the album itself is just about 45 minutes long, but still, as someone said after the show "it was enough to take your soul apart, but then it did not do anything else with it". Still, it was an amazing experience and I really hope that he will continue this project at one point and will build this new universe he created into something even bigger and even more beautiful.