Tokyo 2016 #10: Back To Chill 10 @ Club Asia, 2019.09.16
Tokyo 2016 is a 13 part series of photo & live reports from September, 2016, documenting a deep dive into the city's various underground music scenes.
Not many party series run for ten years and especially not underground ones, dedicated to a certain style of the ever changing electronic dance music scene. However Back To Chill, Tokyo's monthly dubstep party series, launched by the one and only Goth-Trad has been around for ten years now, it survived all the ups and downs of its chosen genre and it is still going strong after all this time. I've been closely following Japan's small, but excellent dubstep scene since the release of Goth-Trad's groundbreaking Mad Raver's Dancefloor album and the first dubstep and grime influenced tracks by Cycheouts Ghost, so, since the very beginnings and after attending a BTC party back in 2009, I wanted to return this time as well… and I got lucky. Because after the date of my trip was already set, it was announced that September's BTC won't be just the usual monthly party, but their 10th anniversary extravaganza!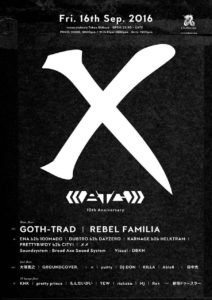 As always, the party took place at Club Asia (located in the Shibuya's incredible Dogenzaka club crossing, where you can find 10+ clubs and live venues basically next to each other), but instead of their regular Thursday night, for this special occasion they got a Friday date. And of course, they also presented a very special lineup. While at the regular, monthly parties they usually have 4 or 5 DJs in the main hall with a couple of regulars and the rest chosen from a rotating lineup, this one featured pretty much all the key players of the scene who are connected to BTC in one way or another. And besides the DJs, as an additional bonus, we also had a live act from Rebel Familia, G-T's long running duo with legendary Japanese dub bassist, Heavy (of Dry & Heavy and The Heavymanners fame). The duo itself started around the same time Goth-Trad launched his solo career, but while in the beginning he was doing more abstract and experimental stuff on his own and Heavy was known for his traditional dub music, Rebel Familia was always pure dance music, with insanely heavy beats and a very unique sound… and even though they haven't released anything new since 2007, they started to make occasional live appearances again the last couple of years. So, I was real glad that it was them picked as the special guests for BTC10 and they did not disappoint. At all. They played a best of kind of selection from their classic releases and those 10+ years old tracks did not age one bit, they were just as drastically danceable as back in the days and played thru the brutal Broad Axe Sound System, they sounded heavier than ever. And those, in for some real, old-school dub could check out the pretty nice live dub band Groundcover on the 2nd floor, which also had a nice selection of DJs, just as the bar area on the 1st floor, where, besides getting drunk, you could also pick up some nice stuff from the merch stands, including the special anniversary t-shirt and the brand new split CD by Dayzero and Karnage, that was released that very day.
The Rebel Familia live act was an amazing experience, but the DJs were just as good. The dream lineup featured: Goth-Trad, doing a solo live act, mostly playing his recent and upcoming tracks, 100mado and ENA, the two other BTC regulars who's been there since the beginning, Dubtro, who joined them a few years after the start (actually I think I saw his very first live act back in 2009), some of the very talented guys from the new generation that popped up the last few years (Helktram, Karnage, Dayzero and City1), and a few pleasant surprises: Meme, who usually plays in the 2nd floor hall and Prettyboy, who is more of a garage, grime & juke DJ / producer, but plays at BTCs once in a while. And all of them, except Meme, who was opening the night and G-T who was doing a live act, were doing b2b sets, with pretty unexpected pairings, which made the night all the more interesting. Everyone was sticking to their own styles, mostly spinning their own tunes, including a bunch of brand new dubplates and while the deeper, bass heavy kind of dubstep was the main direction of course, the party ventured into other territories as well once in a while. ENA, for example, went back to his drum'n'bass roots and Prettyboy, as expected, dropped some juke and grime tunes as well, but the best was saved for last. The last hour was reserved for an everyone vs. everyone kind of b2b set, which was just insane. All the guys gathered behind the decks, dropping their best tunes, trying to top each other and were having a great time doing it. And while it was all supposed to end around 5:30, it lasted nearly an hour more, with Goth-Trad taking back the decks at the end with a very special set, spinning 7″ reggae classics! A perfect end for a perfect night!
More dubstep @ Japan Vibe coming soon: an in-depth, exclusive interview with Goth-Trad and a History Of Japanese Dubstep feature… and more!
The main hall's lineup:
23:30 ~OPEN~
23:30 メメ (Meme) (30min)
00:00 Prettybwoy b2b City1 (50min)
00:50 Karnage b2b Helktram (50min)
01:40 Rebel Familia [Live] (30min)
02:10 ENA b2b 100mado (50min)
03:00 Goth-Trad [Live] (40min)
03:40 Dubtro b2b Dayzero (50min)
04:30 BTC b2b (60min)
05:30 ~CLOSE~