Miyavi returns with the third installment in his Samurai Session series… featuring some surprise guests!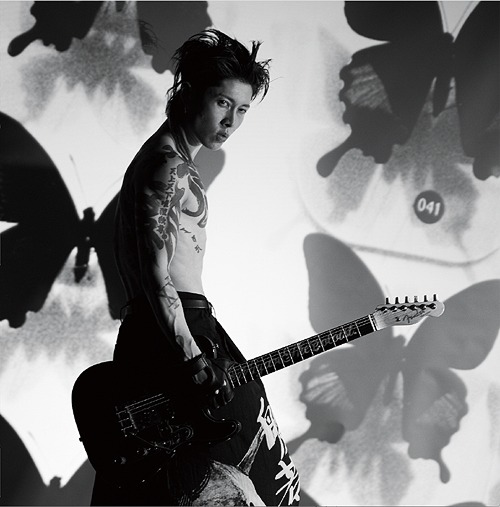 Miyavi's been really hooked on collaborations recently: he released the second part of his collaboration project called Samurai Sessions last November and while we had to wait five years for that since part 1 was released back in 2012, now he started to build up the next installment right away. Early this year he announced that he is to drop a series of digital only releases, all of them collaborations with other musicians and these eventually led to the recent announcement of Samurai Session Vol. 3 –Worlds Collide, due out early December.
While most of the 14 tracks will be brand new, the album will also include two of the digitally released song, but both in different versions: In Crowd was remixed and will also feature US rapper Bok Nero, while the track Miyavi did  with drummer / singer Shishido Kavka will appear in its Radio Edit version. Besides the closing Miyavi vs Miyavi track, all the other songs will have guest acts, including both new and old friends, plus a few massive surprises. On the previous Samurai Session releases he already worked with Kreva and Daichi Miura and now they will be back and join forces for a song called Rain Dance, but Seann Bowe, who was featured on two of this year's digital singles will also return for yet another round. We will also see rapper AK-69, who is obviously also a collaboration addict: besides appearing here he just released an album worth of collabs this summer that among many others included a song he recorded with Toshi, singer of local metal legends X Japan. And speaking of X Japan: going through the tracklist we can also see hide, the band's original guitarist among the featured acts… who died about 20 years ago. The album's intro features another massive surprise, even though a completely different kind: it's gonna be the main man, Samuel L. Jackson himself making a guest appearance!
Besides them we also gonna have a rapper (DUCKWRTH), two singers (Mikky Ekko és Gallant) and a pop (RAC) and electropop producer (NVDES) from the US, plus female singers from Japan (Miliyah Kato), Australia (Betty Who) and Malaysia (Yuna). So, it is indeed "Worlds Colliding" here with a very diverse and international lineup. The album will hit stores on the 5th of December in both CD only and CD+DVD versions, with the latter featuring footage from Miyavi's show at Zepp Tokyo this April.
Samurai Sessions vol.3 – Worlds Collide
2018.12.05
01.Worlds Collide (Intro) / vs Samuel L. Jackson
02.Rain Dance / vs KREVA vs 三浦大知 (Daichi Miura)
03.U.G.L.Y. / vs DUCKWRTH
04.In Crowd (Remix) / vs Bok Nero
05.Runway / vs AK-69
06.I'm So / vs NVDES vs Seann Bowe
07.Easy / vs Betty Who vs RAC
08.Knock Me Out / vs Mikky Ekko
09.Gentleman (Remix) / vs Gallant
10.Pink Spider (Remix) / vs hide
11.Get Into My Heart (Radio Edit) / vs Shishido Kavka
12.Our Love / vs 加藤ミリヤ (Miliyah Kato)
13.Me and the Moonlight / vs Yuna
14.Fragile / vs 雅 -MIYAVI-
Limited Edition DVD:
DAY2 World Tour 2018 – Live @ Zepp Tokyo, 2018.04.12