Madame Edwarda – new album and anthology with rare material from the '80s!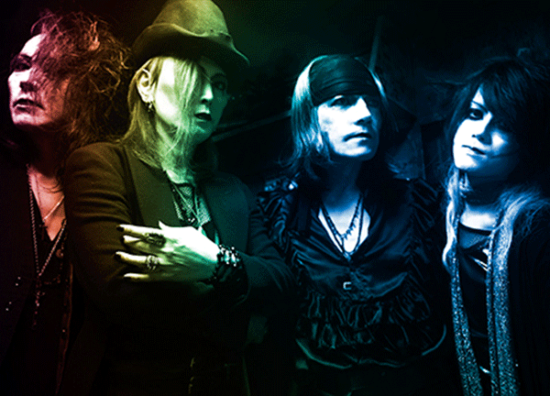 After re-releasing Illuminé, their cassette only release from 1986 on CD for the first time ever about a month ago, classic Japanese goth rock band Madame Edwarda rounded up their reissue series with a double CD collecting rarities from the mid-'80s. Doppelgänger, that takes its name from the party series the band's been running for years (check my live report here!) features 39 tracks (!) in total that were all recorded between 1983 and 1985 and includes live recordings, alternate takes and most importantly several previously unreleased tracks!
The band that was initially active between '80 and '85 reformed in 2008 and the reissues started in 2014 with CD editions of their 1984 album and their two EPs, previously only available on vinyl. Back then it was leading up to the release of Rêve Désir, the first new Madame Edwarda material in 30 years and it seems we have a similar scenario now, as Illuminé and Doppelgänger will also be followed by a new album! Weird Tails will be out late November and it will feature 17 brand new tracks. The CDs are available from the band's webshop and also from online stores like CDJapan and while no cover art is available for Weird Tails at the moments, you can find the track listing below for that and the reissues as well.
Illuminé
2017.09.15
01.混声合唱
02.Carnival
03.夜間飛行
04.夜想曲(ノクターン)
05.幻惑 (Carnival)
06.回転木馬(メリーゴーラウンド)
07.青い悪魔
08.大観覧車
09.サーカス
10.恋歌(ロマンス)
11.Carnival II (CD Bonus)
12.大覧車観 (CD Bonus)
13.Le Chateau
14.Honey
15.コクトーの剣
16.Marionette
17.La Nuit
18.夢想
19.Emeralde
Doppelgänger – Anthology 1983-1985
2017.10.20
CD1
01.月蝕狂想曲 – Lunar Caprice (Live And Previously Unreleased) 1984
02.Opéra (Live Version) 1984
03.Marionette (Live Version) 1984
04.Arabian Nights (Live Version) 1984
05.Le Sabbat II (Live Version) 1984
06.Lorelei (Live Version) 1984
07.Introduction (Alternate Version) 1984
08.Opéra (Alternate Version) 1984
09.Nosferatu (Alternate Version) 1984
10.The Horror Cafe! (Alternate Version) 1984
11.Nostalgie (Alternate Version) 1984
12.Le Sabbat (Alternate Version) 1984
13.Trench Coat – Prologue (Alternate Version) 1984
14.Trench Coat (Alternate Version) 1984
CD2
01.Low (Live Version) 1984
02.White-Darkness – Prologue (Live Version) 1984
03.ヒステリックな侯爵夫人 (Live And Previously Unreleased) 1984
04.Le Sabbat – La Fin Du Eros (Live Version) 1984
05.Arabian Nights – Prologue (Live Version)
06.Arabian Nights (Live Version)
07.Étranger – Maniérisme (Live Version)
08.Nosferatu (Live Version)
09.カロリーヌ (Live And Previously Unreleased) 1985
10.刑事舞踏 (デカダンス) (Live And Previously Unreleased) 1985
11.Carmen (Live And Previously Unreleased) 1985
12.Dr. Jekyll & Mr. Hyde (Live And Previously Unreleased) 1985
13.Le Sabbat – La Fin Du Thanatos (Live Version) 1984
14.Soirée (Live Version).2.15.Fill夢 ~Introduction Of メッキII (Live Version) 1984
16.メッキII ~Longtemps Du Temps (Live Version) 1984
17.Lorelei – Valse Infinie (Live Version) 1984
18.Unfinished Veil (Unreleased) 1985
19.Haunted (Unreleased) (1985)
20.Overture (Unreleased) (1985)
21.Cirque De La Nuit – 夜のサーカス (Unreleased) (1985)
22.Un Coup De Dés Jamais N'abolira Le Hasard – 賽の一振り (Unreleased) (1985)
23.Jeux D'artifices – 罠の戯れ (Unreleased) 1985
24.Hamlet (Live And Unreleased) 1985
25.メッキ (Live) 1983
Weird Tails
2017.11.27
01.JUDAS part1
02.INFERNO
03.Automatisme ~自動筆記(オートマティスム)~
04.DUEL
05.MARGINALIA
06.CATHEDRAL
07.†Weird Messiah†
08.Masquerade
09.Etoile part1
10.Lumiere
11.EZEKIEL
12.Melancholia
13.アンダルシアの犬 ~Un Chein Andalou~
14.G.O.D.S. ~Garden of Delights~
15.JUDAS part2
16.Etoile part2
17.Etoile FINALE