Charisma.com goes Pop Art!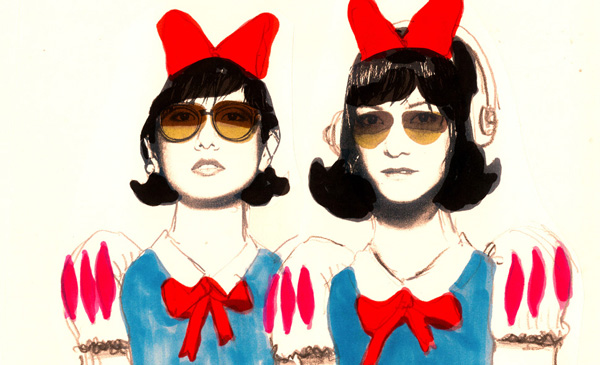 In the previous news post about them, I was already going on about how Charisma.com is the probably the strangest JPop duo out there nowadays (well, OK, besides FEMM), with extremely unusual themes and imagery. Since then they announced two new releases and these are just as strange in their own ways as everything else they did so far. The first one is a single dropping this week, that collects the theme songs from the children's anime Shonen Ashibe GO! GO! Goma Chan and it features one song with the duo: the ending theme, Gomamu, that they did together with Rip Slyme's Ryo-Z and it is an upbeat, fun song. (The other two tracks are by the cast's members.) Check below for the track list and a track-by-track preview, then scroll further down for Snow White pop art craze!
RON & Charisma.com: Hello Tomorrow / Gomamu
2016.10.19
01.Ron (ろん): Hello Tomorrow (ハロートゥモロー)
02.Charisma.com with RYO-Z Oniisan (RYO-Zお兄さん)(from Rip Slyme): Gomamu (ゴマムー)
03.Rie Kawamura (河村梨恵) feat. Charisma.com: Goma Chan to Ron Chan wo sagase! – Original Drama track (ゴマちゃんとろんちゃんを探せ! – オリジナルドラマ)
04.Hello Tomorrow (inst)
05.Gomamu (inst)
Their other year-end release will be out on the 22nd of November and it will be yet another EP, their forth altogether. It will feature five tracks, but only two of them are actually new, as it will include three tracks made for advertisement campaigns during the past two years. These will include two recent songs, the one for toothbrushes (see previous post linked above) which was renamed to urami tsumotte yama to naru for some reason and the one they did for a soft drink for stressed out women, moya moyashite. 999 is yet another tie-in track, this time for an amusement park, but unlike the others, this one isn't new, it is from 2015, but remained unreleased up till now.
One of the two brand new tracks, called Semi Sweet will be only included with the iTunes version of the EP, which, by the way, will unfortunately only have a limited CD release, as it seems, that they only gonna sell it at live shows. The other new song is the title track, called unPOP, which was also the inspiration for the cover art, done by Japanese pop artist, Masami Yanagida, who obviously have a thing for Snow White, as he not only used the character for the artwork and promo of this release, but also used it in several of his other works as seen here.
unPOP
2016.11.22
01.unPOP
02.999
03.moya moyashite (もや燃やして)
04.urami tsumotte yama to naru (恨み積もって山となる)(previously known as kirameku risou, yama to naru. (きらめく理想、山となる))
05.Semi Sweet (iTunes bonus track)