[Area Check] #001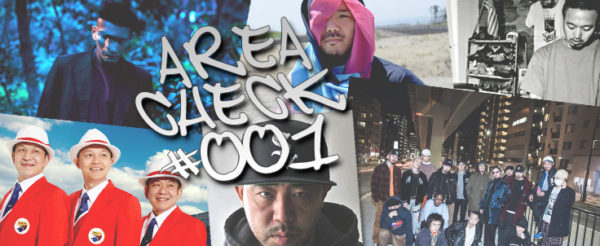 Area Check, yet another one of Japan Vibe's irregular series, will feature a selection of the best and / or most interesting recent hip-hop music videos from Japan, everything from the underground to the mainstream, from the old school to the new school. So, let's get started…:
One of the most promising hip-hop crews working in Japan nowadays is Tokyo's Yentown, which is a loose collective of MCs, DJs, producers and even fashion designers. While their music output is actually quite diverse (just check out the MONYPETZJNKMN releases), they are mostly known for their tracks using slow and heavy trap beats. And they are getting more and more punk lately… both in looks and attitude, as perfectly displayed in the these two recent videos:
This selection's coolest video is clearly this one. It is from a young dance crew, called Young Gunz, working under the Grand Master agency and actually it is not really a music video, more like a dance showcase with additional music by Proper Pedigree's Ryutaro Ishikawa and rap by T-Pablow:
And now back to the old school: Scha Dara Parr, a trio that formed back in 1988 was always known for its hilarious videos (and album covers) and heavily funk influenced sound. And their latest video, Let's Rock On that was released to promote their mini album, ani shinbou (あにしんぼう) back in April is yet another extremely fine example of this:
And even more old school hip-hop! But this time, from a younger guy, Ken The 390 who is from the Dream Boy crew and is known for tracks like the instant party favorite Bangin' and makkō shōbu (真っ向勝負), his most popular video so far, that has over 1.4 million views at the moment. For Rock The House, he went for a very old school approach and even infused it with a bit of Shibuya-kei sound.
AKLO is one of the most successful rappers lately, who had some real heavy hitters a few years ago (Heat Over Here and New Days Move), but somewhat toned down his sound for 2014's The Arrival. It was still a fine album, with some standout tracks, but his new one, Outside the Frame turned out much better. It has a mostly relaxed, mellow, but at the same time, still somewhat heavy sound and so far it is clearly one of the best Japanese hip-hop albums from this year. The below video for the title track came out a few weeks after the album's June release, but the two previous videos, We Go On and McLaren are also more than worth to check out!
Both of the above linked videos feature Salu, who also worked a lot with the Dream Boy crew… and who came out with his 2nd album back in April, that featured a wide variety of producers… including Macka-Chin who was already mentioned here at Japan Vibe before. (But yeah… even though Japan's hip-hop scene is incredibly vast, still, everything is connected in one way or another.) One of the standout tracks from Salu's album was Nipponia Nippon which got its own video, that actually looks more like a beautiful commercial for the Visit Japan! campaign.
One of the things that keep Japan's hip-hop underground buzzing lately is the beef going on between MC Kan (漢 a.k.a. Gami) and KNZZ. The later started to diss Kan and hiw crew, MSC in one of his tracks and when Kan showed up during his performance it quickly turned into a mic battle, which then turned into a fight. It is difficult to figure out who was responsible for starting the actual fist fight (but anyone can try to figure it out, as the whole thing is up here – things start to get rough after 19:00), but that doesn't matter much for us, what matters is that Kan released a comeback diss track about a week ago, accompanied with parts of the video shot during the fight… and the track itself is pretty damn awesome:
K Dub Shine, one of the living legends of the scene is back with a deliciously heavy track, called The Judgement Day, that evokes the sound of his first few, now-classic solo albums. The video is nothing interesting, but still, it is great to see the man back in his best form again.
Hunger is mostly known as the MC of hip-hop trio Gagle, but he also works solo once in a while and now he is out with an album, Sugoroku. He released music videos for two tracks (both produced by his fellow Gagle member, DJ Mitsu The Beats): one for furidashi and one for Ultravel. The theme of the album is traveling, as you can guess from the videos and the sound is all mellow and jazzy, but no surprise there, as that's pretty much the trademark sound of Gagle… no wonder they are the flagship act of the internationally renowned Jazzy Sport label. For more samples from the album, check the preview mix at soundcloud!
And more somewhat Jazzy Sport related stuff: Budamunk and Ill Sugi, two beatmakers who both had several releases out on the Tokyo based label released an album together back in March, called Spirit Of The Golden Era on Canada's Urbnet and more recently the opening track, Amplified Frequencies got its own video… which is actually just some footage shot at night from a train, but its minimalist nature and atmosphere still fits the track perfectly:
And a little chill out music at the end by Yoshinuma, who wrote and produced this little gem, and also directed the video:
Disclaimer: Area Check originally started at soundofjapan.hu, where it had three parts so far, all in Hungarian… and you can find those here.