Zeni Geva interview (2015.05)
Before the start of their EU tour in 2015 and their two gigs in Hungary, me and Bálint Kollár (from the crew of A38 ship, the venue where they played in Budapest) had the opportunity to ask a few questions of Zeni Geva's founder and leader, KK. Null, with an additional question, directed towards the duo's legendary drummer, Tatsuya Yoshida. I also did a more in-depth interview with KK. Null a few years earlier, back in 2006, you can find that one here.
You already played with Zeni Geva at the A38 Ship five years ago as a trio. What kind of memories do you have from that concert?
KK. Null: It was so tough to load in / out our backline. Also we had an interview and we were a bit nervous and worried because it was the first tour since we had restarted the band in 2009.
Since the last time you played in Budapest, long time member Mitsuru Tabata left the band, so you are now playing as a duo. Why did he leave and did this cause a noticeable change in the band's live sound?
KK. Null: You should ask him directly for the reason why. As a duo, the sound became more solid and intense, no fat, only bones & muscles with brains.
Zeni Geva's lyrics are usually very grim, but quite abstract at the same time. Could you tell us about their meaning and your inspirations?
KK. Null: The lyrics are about absurdity, alienation, frustration, contradiction, rage, etc….
Since you reformed Zeni Geva several years ago, you've been pretty active as a live band, but have not released any new material. Can we expect some new release in the future?
KK. Null: Finally we've just started to compose some new pieces and hopefully we will have a new album out next year.
Zeni Geva's sound is quite unique, so I wonder what were your main musical inspirations when you started the band?
KK. Null: Swans, Slayer, Art Bears, King Crimson, etc
After spending so long within the music scene, how do you keep yourself inspired and able to remain relevant?
KK. Null: Just keep trying to develop, improve myself, and keep doing whatever inspires me.
And one question for Zeni Geva's drummer, Tatsuya Yoshida: You was always involved in countless project and collaborations. Which ones do you consider the most important and interesting and what do you work on currently besides playing with Zeni Geva? Ruins Alone and what else? Also, I heard you was even part of a recent Phaidia revival?
Tatsuya Yoshida: Yes, Phaidia was resurrected first time in 30 years and I played drums. We already did 3 gigs since last december. Recently I have been active with Ruins Alone / Korekyojinn / Koenji Hyakkei and some improv unit, like Tyo Sokkyo (with Kazuhisa Uchihashi), The World Heritage (with members of ROVO and Korekyojinn). It is not possible to select whichever is the most important project because all of them are different.
One of your recent releases (a live recording with Rorcal and Process Of Guilt) was titled "Világvége". Whose idea was to choose a Hungarian word as the title?
KK. Null: Have no idea at all. I just played with them in Geneva and they just released it. All concept / idea are by them. (Edit: Meanwhile we learned that the title is coming from a flyer for an earlier Rorcal show at Szeged. This one.)
Hungarian drummer Balazs Pandi joined you in Europe and Japan for some shows last year and now the two of you will also open for Zeni Geva's Budapest gig. Please, tell us a few words about that.
KK. Null: We already played 5 shows as a duo in Europe 2014. In Japan we played 3 shows and we will play soon @ A38! I hope our music & performance will blow your minds away!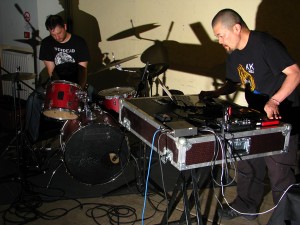 Disclaimer: this interview was originally arranged for soundofjapan.hu.
The Zeni Geva / KK. Null / Tatsuya Yoshida tribute mix I did in my radio show before the concert:
And a couple of shots from their show in Budapest in 2015. You can find the full gallery here.