Lycaon interview! (2014.09)
Lycaon had its first (and last, as they disbanded about a year later) European tour in Spetember, 2014, together with another visual kei band, Born (which, by the way, also disbanded since…). And before the tour, I had the chance to do an email interview with Lycaon's members, where I asked them about their music, lyrics, the visual kei style, their plans for the future and many other things.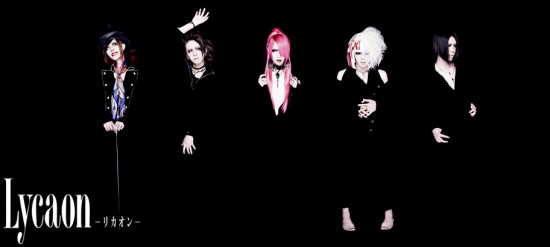 Would you please introduce the band members?
Yuuki (vocal): My name is Yuuki. I am in charge of the songs and the whip!
Zero (guitar): I'm Zero, the guitarist.
Satoshi (guitar): I'm a Japanese Rock'n'Roller!!!!
Hiyuu (bass): I'm Hiyuu, Lycaon's bassist.
Ichiro (dobok): I'm Lycaon's drummer, Ichiro. Nice to meet you.
Could you please tell us about how did you start to play together?
Yuuki: We gathered with friends to held auditions for band members.
Hiyuu: When we met, we immediately felt the necessary chemistry amongst us.
Lycaon's sound is very diverse and it also changed a lot throughout the years… how could you describe your music?
Yuuki: We change our music style quite freely, to always fit our current feelings. I think it would be unforgivable to stick with just one genre, especially because of the message and values that we aim to transmit with out music.
Could you name some of your favorite bands, the ones that had the biggest influence on you?
Yuuki: Kuroyume
Zero: T.M.R
Satoshi: There are so many bands like that, it would be impossible to list them all.
Hiyuu: Especially L'Arc-en-Ciel and X Japan, but there are quite a few more.
Ichiro: I prefer bands, who have beautiful melodies in their songs.
The word "Lycaon" means several things… it is the name of an animal species, but there were also several historical figures called Lycaon. Why did you choose this name and what does it mean for you?
Yuuki: We are deadly like a predator and change as quickly as a werewolf!
You have a lot of fans in Europe that does not speak Japanese, could you tell them about your lyrics? What themes do you usually deal with?
Yuuki: The themes can change song by song, but we have many lyrics written from the viewpoint of women. But we deal with many different themes from erotic play, through male-female relationships to our love for cats. So our repertoire is quite diverse.
In July you already announced your upcoming album for next February. It is an unusually early announcement, do you plan ahead that much?
Yuuki: With this early announcement we aim to widen and raise our fans' expectations. Until the release date, little by little, we will reveal some of the new songs at our concerts and also give a sneak-peek of the album's concept.
Can we expect any musical changes? Did you already write some songs for the album, or is it still in the planning period now?
Yuuki: I already have the songs in my head. They will be even more toxic and occult than our previous works and it's all gonna be religiously erotic.
Your PVs are always very impressive and spectacular. If you could work with anyone in your next video, who would you choose?
Yuuki: Gary Oldman!
You have very unique looking costumes. Who is responsible for them and do you have your own designers?
Yuuki: Each of us have a very distinct character and image, so we are free to dress the way we want, following our own, unique styles.
Zero: Ever since the beginning we choose our costumes for ourselves.
Satoshi: We all wear what we want and decide about our costumes individually.
Hiyuu: Actually we are all designers for a certain extent.
Ichiro: Recently I have a lot of ideas about my costumes that I really want to do in the future.
What do you think, why did visual kei became so popular worldwide? What makes it so attractive?
Yuuki: I would compare it to the situation with Japanese culture, or anime and mange. Because, without mixing with other genres, visual kei became a distinct style, a unique music sub-genre on its own right.
Zero: I think because it is such a peculiar and characteristic music genre.
Satoshi: It is all kind of like an unrealistic world.
Hiyuu: It is a unique and fascinating style.
Ichiro: I think it is because it contains such unique and characteristic elements.
During this tour, you will be playing with Born. How would you describe them with one sentence?
Yuuki: They are really crazy guys.
Zero: Lively and vivid.
Satoshi: CRAZY!
Hiyuu: They are crazy!
Ichiro: A lively and energetic band.
Do you have any message for the European fans?
Yuuki: Wait for us, because I will tame you all!
Zero: I love you!
Satoshi: Expect a wild and hot night!
Hiyuu: Let's spend a really hot night together!
Ichiro: Let me make you ride with my rhythms!
Thank you very much for the interview!
Disclaimer: this interview was originally arranged for soundofjapan.hu.
Extra thanks for Charlotte of B7Klan for making the interview possible and for Balázs Orsolya for the translation!