Jody: Jody / #2021reviews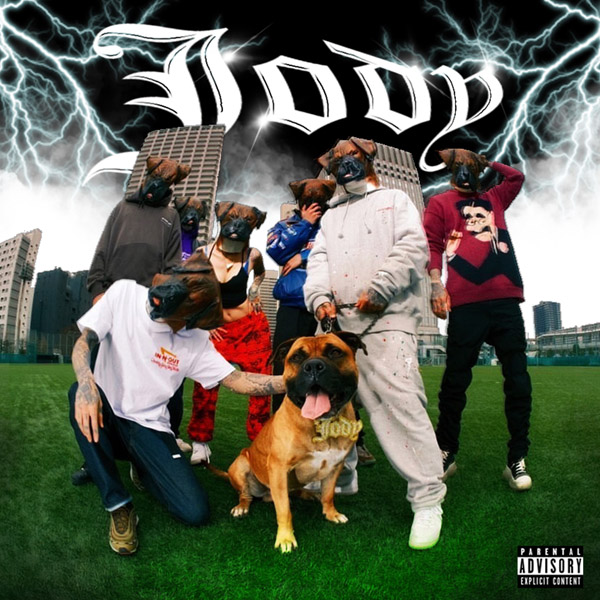 For me, Jody's Hajimattenai is easily 2021's best hip-hop / trap track. It is so, so over-the-top, with an insane, earth shattering, subwoofer killer bassline, the crazy, trippy rapping and its perfectly fitting music video's fckdup house party vibes… it is just pure, mad fun. I first ran into the video mid-summer when it dropped and it blew my mind… and was filled with familiar faces. Turns out that Jody is actually a new project by Yurufuwa Gang (so, Nene and Ryugo Ishida), JNKMN from Yentown and a producer called Hawo Beats. The latter also being responsible for many of the tracks with Yentown's DJ Jam and some others taking care of the rest.
And turns out they already released a self-titled album back in April. At first I was honestly a bit worried about this  one, as it happened many, many times with Japanese hip-hop releases that besides a few excellent lead tracks the rest of the albums were kinda weak… but definitely not here. It's a near perfect release, filled with great tracks, most of which are pure trap, but there is some more traditional hip-hop popping up here and there as well. And it's a pretty diverse release as well. While Hajimattenai is almost ridiculously hard-hitting the album starts out on a different, slow and trippy note, with some really cool, almost chill tunes, that still got Hajimattenai's totally high and wasted feel, then, a few tracks later things get out of control. There is some totally crazy stuff there, like Notice or Nene's Hanachan and the especially insane Dior, which was originally released as a Ryugo Ishida solo track back in 2020, but now re-appears as part of the Jody project… which was by the way named after a pit bull terrier that also pops up in their videos and photos.
There are some other trap heavy-hitters too, like Bad News and Dakara Nani?, while, for example Timothy Really has a somewhat more typical hip-hop style and also features the album's heaviest bassline besides Hajimattenai (no wonder tho, as both tracks were done by DJ Jam). There is also some crazy sampling going on especially in Okane kubaritai and UP which are built around slowed down Japanese traditional samples and Gyakuten Punch that has some African tribal voice bits and… I am not really sure about that, but something that might have came from some klezmer song originally? But it is so twisted around, that it is impossible to tell. The other tune that got its own music video, 555 is also something completely different with a fast, trance-like beat, while towards the end we get two lesser tunes, Yasashiina and Buchiage which does not really fit in with the rest of the album. But then again, it is just two tracks out of twenty, so who cares? Skip those and you get not just one of the year's best Japanese hip-hop albums, but also one of the best Japanese trap albums ever released. Superb stuff!
JODY
2021.04.06 / digital
01.JODY feat. Nene, JNKMN, Ryugo Ishida & Lunv Loyal
02.All My Shit feat. Nene, JNKMN & Ryugo Ishida
03.SHIRAFU feat. Nene, JNKMN & Ryugo Ishida
04.BURIBURI feat. Lunv Loyal, JNKMN & Ryugo Ishida
05.Swimming In The Double Cup feat. Yurufuwa Gang
06.Hanachan feat. Nene
07.NEW feat. Chinza Dopeness & Nene
08.Timothy Really feat. Chinza Dopeness, Ryugo Ishida, Nene & JNKMN
09.2t feat. Dopeboi Omega & W3
10.Notice feat. Yung Colty
11.Bad News feat. YTG
12.Dakara Nani ? feat. Nene & Elle Teresa
13.Dior feat. Ryugo Ishida & JNKMN
14.Okane kubaritai feat. Nene & Showy
15.Gyakuten Punch feat. ToyDog88
16.555 feat. Nene, JNKMN & Ryugo Ishida
17.UP feat. JNKMN, Nene & Ryugo Ishida
18.Yasashiina feat. Ryugo Ishida & Chinza Dopeness
19.Buchiage feat. JNKMN, Chinza Dopeness, Ryugo Ishida & Lunv Loyal
20.Hajimattenai feat. Nene, JNKMN, Ryugo Ishida & Lunv Loyal
_________________________________
A year in reviews: in 2021 I was somewhat neglecting the site due to the lack of free time, but now I try to make up for it as much as possible, reviewing several important / good / interesting albums that were released this year. One for each day throughout December, from a very wide spectrum of genres. #2021reviews