Chai: Wink / #2021reviews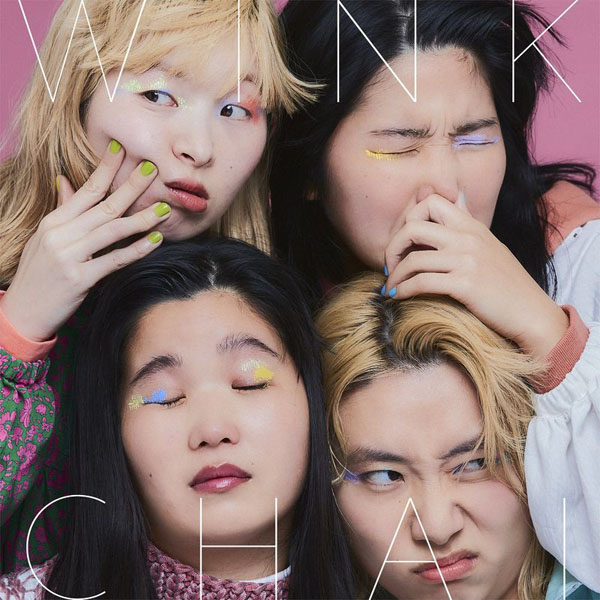 Chai became a surprise international sensation in recent years, thanks to their strangely charming sound, which is both naively childlike and highly sophisticated, incorporating influences from all over the pop music spectrum. At first it was just a couple of reviews on sites like Pitchfork, then their fun music videos got more and more hits from all over the world and at the end they found themselves doing international collaborations with a contract to legendary US indie label Sub Pop in their pockets. Wink is their third album (following 2017's Pink and 2019's Punk) and the first one released internationally by Sub Pop and while nothing groundbreaking is going on here, it is still a nice addition to their discography.
The album starts off with Donuts Mind If I Do a slower tune, heavily influenced by '80s city pop, another thing from Japan that completely unexpectedly got huge worldwide in recent years (and as a B side track for the single version of Donuts… Chai actually even covered Mariya Takeuchi's Plastic Love, the song that accidentally and single-handedly started the city pop craze). The following Maybe Chocolate Chips is a hip-hop influenced track featuring US rapper Ric Wilson, while the third one, Action is finally 100% pure Chai. Fun, weird pop made their own, unique way, it is not just one of the best tunes off this album but one of the best overall, up there with the likes of Great Job. The hip-hop flavor returns on END, while Ping Pong! is a collaboration with YMCK, introducing the long-standing group's 8bit aesthetics to Chai's audience. The rest of the album is more in line with their previous releases, with mostly mid-tempo pop tunes, but it never gets boring as each and every track goes to a slightly different direction, taking cues from various music genres, like that funky beat in Miracle, the deep house / garage inspired bass line in Nobody Knows We Are Fun or the soulful groove of In Pink (featuring US based singer / producer Mndsgn). Towards the end we get another surprise, Wish Upon a Star which is like a very, very generic slower Japanese pop song, the kind that floods the charts there all the time, but it is so unexpected to hear something so generic from them that even though we have heard stuff like that a million times, it still works.
Overall Wink is a solid album and even if it might not be as refreshing and fun as Pink and Punk was, it still adds a couple of new twists to the group's sound resulting in some very memorable songs. And while some of the rest are kinda just there and a few even have a filler sort of feel to them, they are still fine, and Wink remains an entertaining listen throughout with a couple of highlights.
Wink
2021.05.21 / cd, vinyl, digital, cassette
01.Donuts Mind If I Do
02.Maybe Chocolate Chips (チョコチップかもね) feat. Ric Wilson
03.ACTION
04.END
05.PING PONG! feat. YMCK
06.Nobody Knows We Are Fun
07.It's Vitamin C
08.IN PINK feat. Mndsgn
09.KARAAGE
10.Miracle
11.Wish Upon a Star
12.Salty (しょっぱい)
_________________________________
A year in reviews: in 2021 I was somewhat neglecting the site due to the lack of free time, but now I try to make up for it as much as possible, reviewing several important / good / interesting albums that were released this year. One for each day throughout December, from a very wide spectrum of genres. #2021reviews